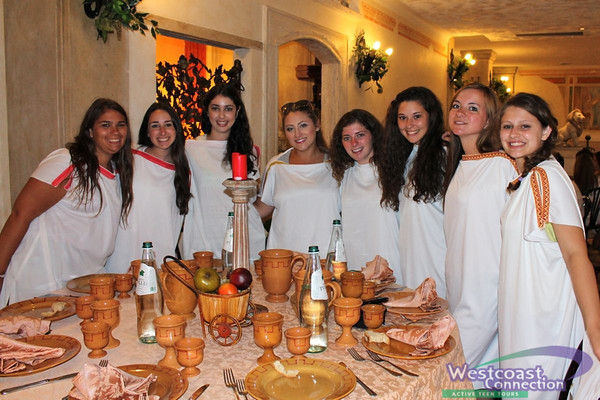 Hello again!
When in Rome, do as the Romans do, and it seems like the Romans like to eat! Our first stop in this glorious city was the Piazza Navona, a bustling little square where we ate dinner and browsed the many stalls with artists showcasing their work. Kennedi picked up a beautiful piece with sunflowers, and Jordan really enjoyed talking with some of the local vendors.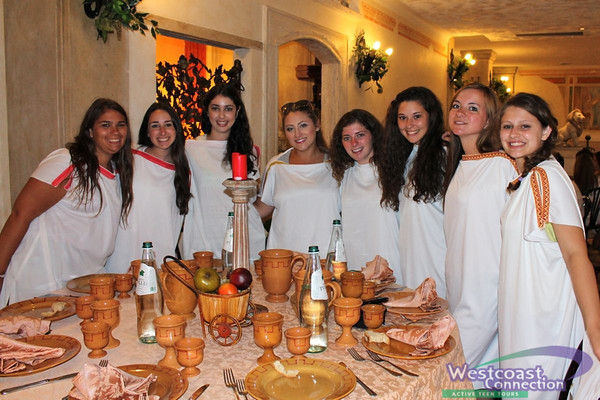 Afterwards we took a look at the city by foot and walked over to the famous and epic Trevi Fountain, where we all threw coins for good luck and happy returns. This was a great place to try more fantastic gelato, and is really beautiful all lit up at night. A short walk back to the hotel and some conversation on the rooftop patio tired us out before we tucked in for the night.
Our first full day in Rome took us to some of the most famous and spectacular sights in the city. Our tour guide Marta started us off with the Colosseum, where everyone was impressed by the size and grandeur from the inside of the arena. Next was the Pantheon, a showcase of Roman gods, and finally the Vatican City, where we visited the iconic Sistine Chapel. It was so neat to see everyone walking around and looking up to admire Michelangelo's famous work. We learned so much about Rome's history, and
Once we all had time to refresh we headed out to dinner, a whole evening experience at Papa Rex restaurant. Here we put on togas, drank from plentiful jugs, and were serenaded with opera classics as we ate ourselves full like roman aristocrats. Amanda and Sara T were so cute in their togas, and all that food completely wiped us out!
For our last day in Rome we headed out on the bus for a tour of the San Callisto Catacombs, where many previous popes have been laid to rest, and our guide Geoffrey led us through the labyrinth of tombs metres below the surface. Eliana was a little nervous at first but braved it through the entire tour. It was an enriching experience many of us were glad to have been part of. On the way from the catacombs Laura and Jared helped lighten the mood a little bit and took turns being DJ for the day.
The rest of the day we took to exploring little areas of the city, including the Campo Dei Fiori, where we browsed shops and picked up some of the most delicious fruit from the markets, and the Borghese Gardens, where we strolled like locals and took the time to smell the roses (literally). We've also got a new trip toy, a Rubik's Cube, which Brandon H and Justin really got into and have been learning tips from Trip Leader Ryan L.
For dinner we visited Trastevere, and beautifully old neighbourhood that is a favourite place for local university students, and a charming little area with restaurants where we split into smaller groups for some more private dinners. After that it was back to the hotel for some chill time of the roof top terrace before heading to our rooms to pack for our upcoming trip to Sorrento, and our first taste of the Mediterranean Sea.
The Westcoast Blogger