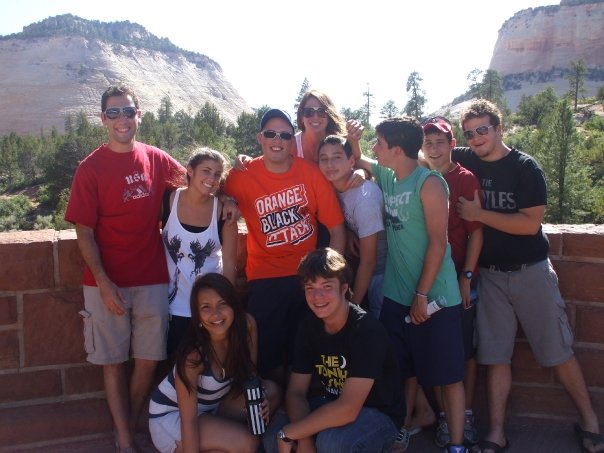 First up, Jesse.
Tell us a bit about yourself and how you got involved with Westcoast Connection / 360° Student Travel?
I enjoy travel (my most exciting trip was backpacking alone for almost a month through Europe) but I enjoy the summer camp aspect of Westcoast Connection / 360° Student Travel even more.  Summer camp has always been a big part of my life and I was at the same camp for over ten years as a counselor and then eventually as director.
While I was still in school, a friend of mine worked in one of WCC/360's office. I started working there during the busy spring time. After being involved with the company for five seasons, I asked to direct a program and it was one of my best summer experiences ever.  I haven't looked back since and probably should have made the jump to Westcoast even sooner!  I've been working full time in the office almost two years now and am one of the tour planners of our Community Service and Adventure divisions.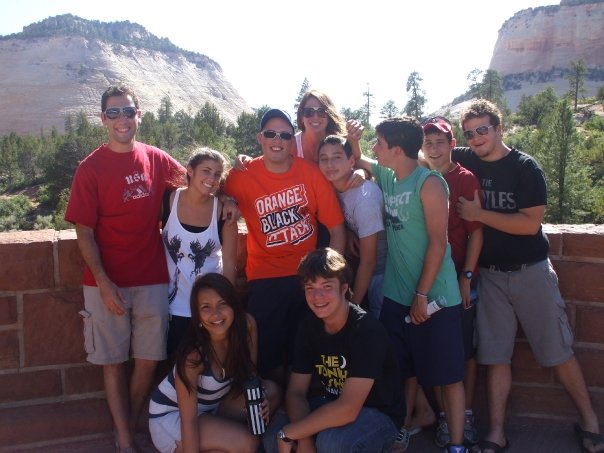 What do you do for fun?
I am an avid skier and eagerly await snowfall each year.  It actually snowed a little bit the other day and I couldn't help but spend a few minutes staring out the window.
I can't wait for the ski season to start and would love to hit the hills on a Westcoast Connection trip in the summer time.  I've attempted water skiing which is a very unsuccessful experience for me, but I was finally able to get up for my first time ever in Lake Tahoe this past summer (Blogger Commentary – The Lake Tahoe water ski lessons are one of my favorite activities too!).
What is this we hear about your "quirky eating habits?"
I don't know why, but on all the trips I've lead, my so-called "quirky eating habits" made it to center stage.  For one, I don't "do" pickles.  I can't look at them or touch them.  The one time I have EVER eaten a pickle was when I somehow promised my group that I will eat one at the farewell banquet.  One of my campers asked for a pickle from the hotel's kitchen and I ate one sliver of it.  Surprisingly it was crunchier than expected.
My favorite food is a grilled cheese and I wouldn't mind having one every day of the whole summer – without the customary pickle, of course. (Blogger Commentary – I've never heard of grilled chesse with pickles. I know some people enjoy Grilled Cheese and ketchup).
Do you have a favorite TV show?
My favorite shows no longer on the air are hands down Alias and The West Wing.  I actually met Jennifer Garner in New York City once! She's such a celebrity!
My favorite shows currently airing is tougher … but if I had to pick two they would be Entourage and True Blood.
Have you ever won a trophy?
I don't think I've ever won a trophy, but I did win a "gold medal" in a Sudoku competition once.
So, I know your birthday is over the summer. What is it like celebrating on a WCC trip?
This past summer, the first day of my trip was actually my birthday. One of my staff asked the Chinese restaurant we were at for a slice of cake and the waiter brought out the strangest looking dessert I've ever seen – apparently it was an authentic Chinese "good luck" dessert. For some reason it became a trend to celebrate it whenever we ate out. In fact, this past summer, we once celebrated my "fake" birthday at Buca Di Beppo in Las Vegas which was the exact same restaurant I celebrated my "real" one in 2008.
What is your favorite cereal?
I love breakfast on my Westcoast Connection trips.  My favorite cereal is Corn Pops and I've taken a liking to Kashi Good Friends – fiber is important!
What was one of your favorite Summer 2009 moments?
At Disneyland, they put on two incredible evening shows: Fantasmic, a special-effects laser show, and their famous fireworks display.  The problem usually is that the shows are presented back-to-back in completely different locations in the park.  This summer, my goal was to have my group experience BOTH of them.  What a feat!  As soon as Fantasmic ended in Frontierland we all bolted through the crowds to the main castle where we were able to enjoy most of the fireworks.
And, Mr. Brandon Steinmetz.
Tell us a little bit about yourself.
My name is Brandon and I've spent five summers on Westcoast Connection / 360° Student Travel programs. I have two brothers (Jason and Jamie). Any of my past tour members would tell you that I love ice cream, Starbucks, taking sick pictures and Westcoast!!
How did you get involved with Westcoast Connection / 360° Student Travel?
Back in 2002 I went on the American Voyageur trip (Blogger Commentary – I was on the American Voyageur in 2003!) and had the summer of my life. I knew it was something I really enjoyed doing and got hooked on it. For the past 3 summers I've been a trip leader and the photographer on different programs. This past spring I graduated from university and was lucky enough to be able to join the Westcoast Connection team!
We all know you're an avid photographer. Can you share with us your top 5 photos?
Blogger Commentary – Brandon sent me his top 30. I picked my top 5 from this summer …
Do you play any sports?
Some of my campers have promised they'd teach me how to become a better hockey player, I lack the hand-eye coordination! I also enjoy watching football and skiing during the wintertime!
What is the last song you listened to on your iPod?
Everyday by Dave Matthews Band!!
What is your biggest pet peeve?
My biggest pet peeve?? Blurry pictures!
What are your plans for Summer 2010?
Top Secret!!! I'll give you a hint though… Chances are you'll find me on one of Westcoast's amazing summer programs!
What's your "craziest" Westcoast Connection memory?
In the summer of 2008, there were 5 Brandon's on my trip!
Until next time,
The Westcoast Blogger