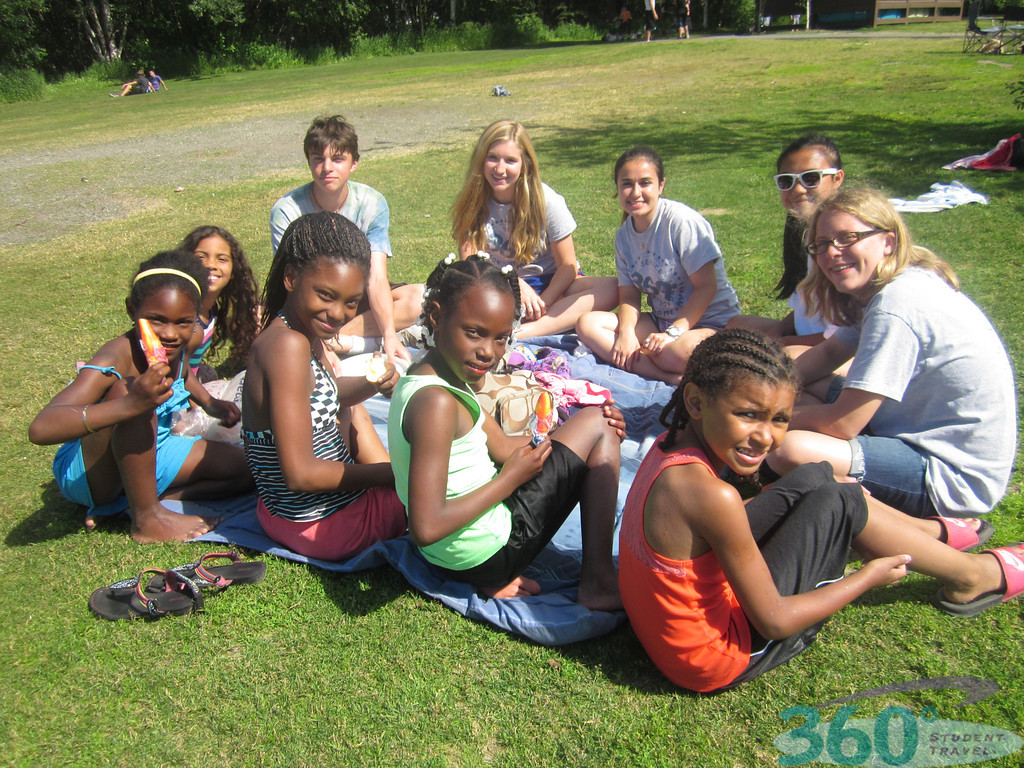 In Alaska, 18 young people from across the US and Canada came together for 20 unforgettable days. This is what we have had the pleasure of witnessing for the past three weeks. These young adults came to Alaska for a variety of reasons, from many different places, and all with a different and unique role in this little family we have formed. They have grown closer than any of us thought would be possible, and we're all so lucky to have had this experience together.
Last night was our final night as a group. It was filled with laughter and some tears as we shared hilarious skits and lip syncs, handed out "Moosie" awards, and listened as members of the trip 'toasted' the experience, sharing their unique perspective on how this trip affected their lives and the wonderful friendships they have made. Today they will fly off in different directions, but will all take a little piece of this trip home with them.
Now for a little recap on the last few days:
When we returned from Homer , we checked back into the dorms and then hit a movie, Despicable Me 2. We all laughed A LOT. It felt good to get back to our dorm rooms and shower, after camping at Peterson Bay during the days before.
On Wednesday our group had breakfast and headed to the Boys and Girls Club of Alaska. The weather was BEAUTIFUL! The morning was spent meeting kids and hanging out in the clubhouse and outside with them. Our trip members jumped right in, teaching the kids games like "Squirt" and "Bob the Weasle". Lindsey taught some kids "Catch, Don't Catch" and Mike and Daniel fell in love with a boy named Jaleel, because he had on a tee shirt that said, "Swag." Several of the kids were immediately drawn to Monica; she definitely showed her gift of working with kids as she sat and listened to their stories, getting to know each and every one of them! In the afternoon, our group was in charge of running field day outside. Several stations were set up that our trip members ran during the day, each one with a different physical activity. After the stations came the kids' favorite part of the day: THE WATER CANNON! The only way to describe it is a gigantic sprinkler that spits water out onto the kids. Tibbon and Dakota got soaked running around with kids in and out of the water. We also got to have a little ice cream
treat! Our trip members were exhausted at the end of the day.
The next day was also spent at the Boys and Girls Club. That day though, we knew what to expect and already knew quite a few kids. Ali had fun teaching some of the girls how to play volleyball, while Lisa, Josh, Mike, Gabe, Daniel, Chris, Alec, Mano, and Tibbon showed off their awesome soccer skills with some of the young boys. I think we were all thunderstruck by Chris's punting skills! During the afternoon our group ran stations again, but this time they had the opportunity to create the stations themselves. Just a few of the creative games our trip members ran were relay races by Monica and Lisa, "Hot Lava" with Ali and Perri, and "Jackpot" with Josh and Tibbon. The kids had a blast hanging out and playing with our groups.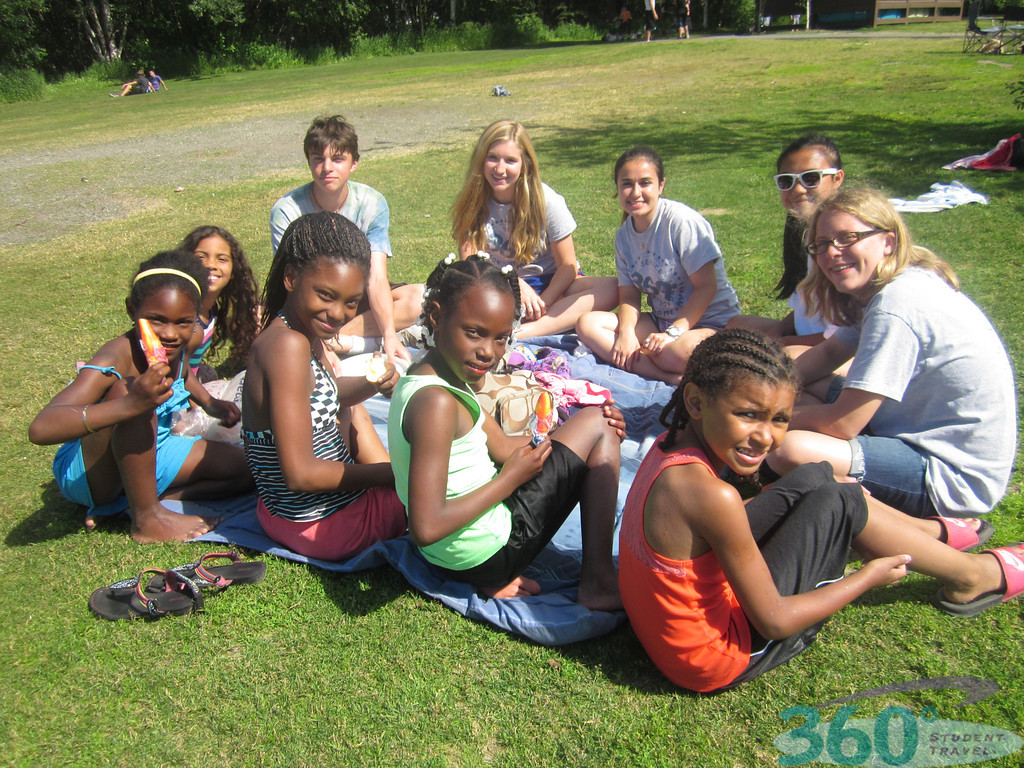 That night we went ice-skating! Perri impressed us all with her hockey-skating skills! Evan (though he admitted he wasn't the most experienced ice-skater) never gave up, getting better and better with each time around the rink. Mike awarded himself with the most improved skater award. Tibbon and Chris skated really well!
Our final day at the Boys and Girls Club brought us to Jewel Lake, a beach in Anchorage. While there we continued to hang out with the kids, playing football and volleyball, wading in the lake, and just sitting and chatting to them about their lives. Alec was kind enough to buy some ice cream for several of the kids, who were all extremely excited to have a nice cold treat on such a hot day. After our final day at the Boys and Girls Club, we went out to eat and celebrated Josh's birthday! His cake read "Swag XYAX Selfie Josh HBD" (if you don't understand, just ask a trip member!) The Mexican restaurant we ate at put a sombrero on his head and sang to him in
Spanish! It was fun!
 A couple of nights ago we worked on our airplane books, a little treat that each trip member will get before they get on their plane tomorrow. Each book has 20 pages, a page for each trip member to write the owner of the book a little message. No one can read their book until they get on their flight. It was fun thinking back on all the memories we have made during these 20 days.
Yesterday we had another gorgeous day, perfect for a bike ride, which is what we did! We rented bikes and rode the Tony Knowles Coastal Trail. Lindsey tricked us all, saying she didn't know how to ride a bike and then jumping on like a pro! Brooke showed off her biking skills, passing us all up on hills! Mano got a kick out of greeting passer-bys with different "Hello" voices.
In the afternoon we got to spend time at the Anchorage market, a huge open market full of neat crafts and souvenirs. The trip leaders, along with Gabe, Mano, Mike, Tibbon, and Josh had their final reindeer dog! We wrapped up this evening with a delicious dinner at the Fire Tap. Then, each group performed their very hilarious lip syncs and skits. We never knew about Beth's awesome rapping skills until tonight! Finally, our trip members shared their thoughts on the trip and the bonds they have formed. It was a touching evening for all. And now, after many hugs and perhaps some tears, we'll head home and back to our lives. But we know our trip members are leaving having learned a lot about themselves and others, along with gaining some  amazing and lasting friendships. We're so thankful that we were  blessed with such an amazing group of teens this summer. What an unforgettable 20 days.
We will miss you!!!!
 The Westcoast Blogger