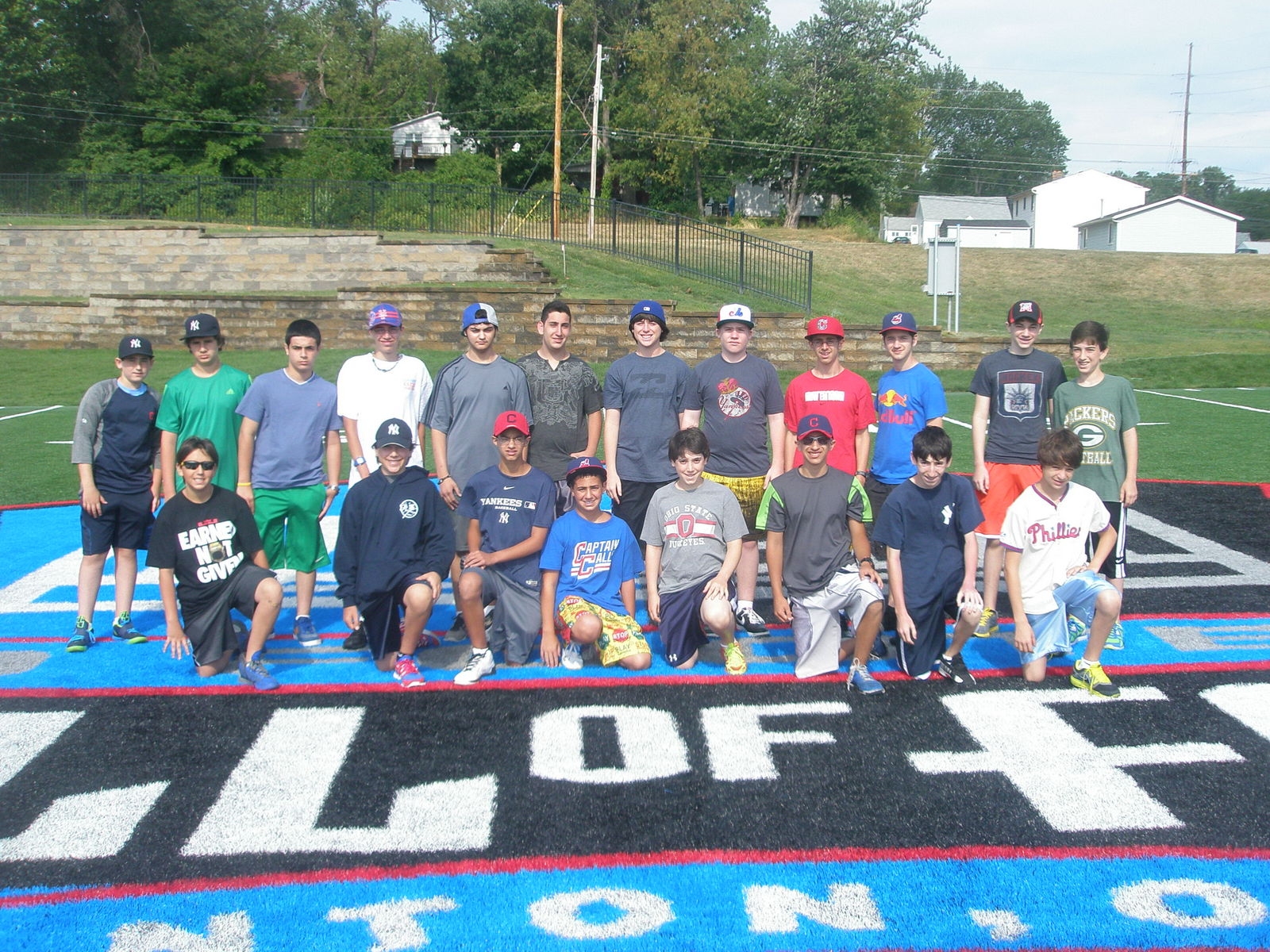 Hi from Ohio!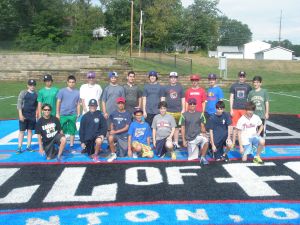 Does anyone have any ideas as to how we might have started our 4 days in Cleveland? How about – at a baseball game! And what a game it was. With many of our trip members sporting the new Cleveland Indians ball cap, we fit right in as if we were all Indians fans. Progressive Field has so much to do and the boys took advantage of the activities at the stadium. Hayden demonstrated a cannon of an arm of his own by throwing a 68 MPH fastball which was tops for his age group in the entire stadium.
After the game, we headed on over to the bowling alley and had our first West Coast Warriors vs Downtown Connection competition. Not only are our boys baseball fanatics, but they are quite the bowling studs as well. David Z's pancake style approach was so successful, he needs to have it patented. In the end the West Coast Warriors were just too strong and took a 1-0 series lead.
What a busy day our second day in Cleveland was. The tour of Progressive Field was certainly interesting, but the highlights of the day came in the evening at the batting cages and at whirly ball. For the first time, the guys had a chance to show off their baseball skills. Arthur and Justin both demonstrated their switch hitting abilities with 70MPH fastballs coming at them. Matt has such a smooth swing, we call it "Poetry in Motion". From the right side of the plate, Jake, Zack and Oliver were tearing strips off the ball. Stephen and Owen both showed their ability to hit for contact in the soft ball cages and are clearly eager to get on the field and play for real.
Whirly Ball was a huge hit. Downtown Connection was able to tie up the series 1-1 with some strong team performances.  Dylan scored on several occasions and was just too dominant in his cart to give West Coast Warriors any hope of victory at all. Congrats to both teams on great sportsmanship and effort. A great time was had by all.
Canton Ohio was our next stop, as we took a day trip to the football hall of fame. There was a gorgeous turf field outside, which gave us an opportunity for game 3 of our friendly series between the West Coast Warriors and the Downtown Connection. The play of the game was made when Charlie threw an outstanding pass to Mark who was able to secure the ball for a long first down.  The West Coast Warriors prevailed and have taken the lead in the series 2-1. Inside the hall of fame, we had a ton of fun being arm chair quarterbacks. Max has some serious talent and should consider becoming a future as a football analyst, as he was able to predict nearly every passing pattern perfectly.
Finally, the moment the boys have been waiting for. It's time to play softball. Will was outstanding at shortstop, Sam was smooth on the base paths, and Brandon A demonstrated a great glove at first base. To be honest, all 20 of the boys demonstrated their talents on the field, at the plate, and sportsmanship in the dugout. In the end, the West Coast Warriors won the game 4-3 and have taken a 3-1 series lead.
We spent our last day in Cleveland at Cedar point, home of some of the world's biggest roller coasters. The boys genuinely enjoyed spending a gorgeous day outside, inconsequential of the roller coasters. It was a fantastic opportunity for the boys to spend time with lots of different people on the trip, as their partnerships for the day seemed to be constantly evolving. We are so lucky to have such a tight-knit group and we look forward to giving you another update in a few days.
Until next time…
The West Coast blogger