Hello family and friends of California and the Canyons!
We just finished up in Las Vegas, and (you guessed it) we had a phenomenal time! On our drive to Vegas, we watched the movie Dodgeball. Coincidentally, the movie takes place in the hotel at which we stayed, the Monte Carlo!!
While there, we saw many of the famous hotels and Vegas landmarks! We saw the infamous "dancing" fountains at the Bellagio, the strip from high up at the Stratosphere, and ate gelato at the Venetian. As soon as Marcela B. was given her gelato, it fell right on the floor, giving us a good laugh. Thankfully, the kind folk at the Venetian gave her a replacement right away!
Additionally, just when you thought we wouldn't meet any more celebrities, we did! While perusing the Forum Shops, we bumped into Amir Johnson, an NBA player for the Toronto Raptors. Our basketball nut, Matt S. was especially excited about this encounter.  He was very friendly and was gracious enough to allow us all to snap pictures!
We must also mention that the much talked about Vegas pools did not disappoint us! This trip blogger caught Jordan S., Jackie H., Bailee, Bella C. and Danielle F. swimming around in the lazy river and wave pool!
Trip members also enjoyed the Coca-cola and M&M stores. Most trip members went to try some sodas from other parts of the world. Some were much better than others, but it was certainly a comical experience trying them all! Gia S. was especially excited about the Coca-cola store, and Whitney R. and Sarah R. had the funniest reactions to sodas they didn't enjoy! Trip members also got to try many different types of M&M's at their store! It was a fun night all in all!
Congratulations to our VIPs from Las Vegas – Marcela B and Matt S. They are both enthusiastic, helpful and considerate trip members that we are fortunate to have on the trip!
That's all I have for now – until next time! We are off to go camping near Bryce Canyon!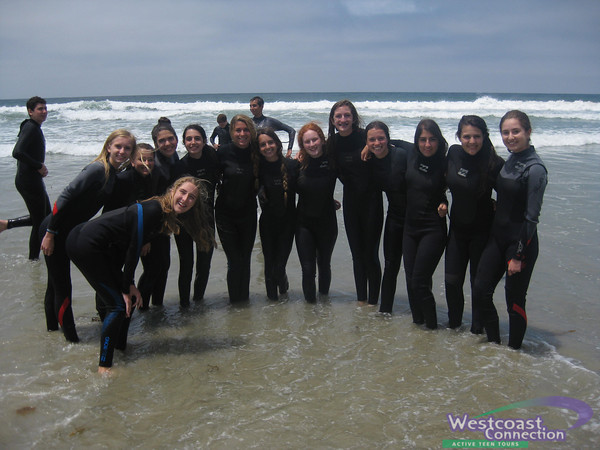 The Westcoast Blogger