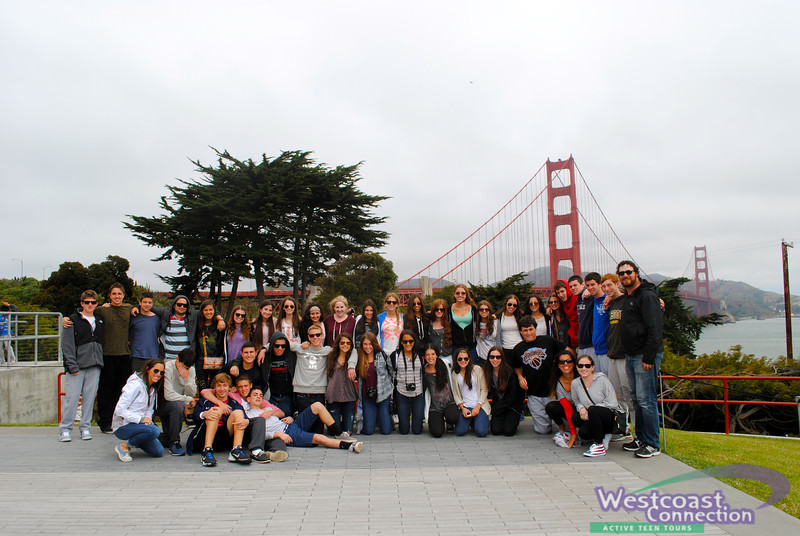 Dear Friends and Family of Californian Extravaganza,
We are writing to you from Sausalito California.  We've been very busy the past couple days, and are so excited to fill you in on all the fun things we've been up to!
After spending a week on the road, we made our way to CALIFORNIA!  As our coach bus passed the "Welcome to California" sign, we played a fun mix of music.  Our group is fortunate to have unbelievable singers – Taylor, Andrea, Julia G, Julia W, Dani C and Allison belted out lyrics, and are pretty talented at coming up with harmonies!  We enjoyed lunch at Squaw Valley, and spent the afternoon at an outdoor ropes course.  We were so impressed to see how adventurous the group was.  Lauren showed off her climbing skills, and despite Jon's fear of heights, he pushed himself to finish the course.  His face was priceless when he finished! After an exhilarating afternoon, we made our way to our camp site for the next two days.  Cori is a pro at putting up tents at the campsite.  She led her team with ease.
The town of Lake Tahoe is quaint, with a picturesque view. The following day, we enjoyed a relaxing beach day.  All of us had such a great time together.  The water was cool, the sun was shining, and everyone hung out on the beach.  In groups, we all had the opportunity to go out on the water to go waterskiing, knee boarding and tubing.  We then had a delicious BBQ on the beach, and enjoyed a sunset cruise in the afternoon.  I overheard "There is no place I would rather be right now" while walking around the top deck of the boat.  Music was playing and the water was sparkling.  We all had a photo shoot on the top deck – shout out to Avery and Sammy, who captured some stunning photos of the scenery, and of their friends.
The next day we made our way to San Francisco!!  Driving into the city was pretty special.  If you've never been here before, from the bridge, you can see the city's steep hills, and bright colored buildings reflecting off the water.  That night we had a great dinner at the Metreon and then capped the night off at a disco where we all had a blast dancing!  After some dance offs, we headed back to the hotel, to rest up for a busy day 2 in San Fran.
Alcatraz – WOW.  What an experience.  Aside from the boat ride to get to the island, the audio tour we took was fantastic.  The sound effects that accompanied the stories while touring the prison was amazing!  We then went for lunch at Pier 39, enjoyed some delicious sweets at Ghirardelli Square and capped off the afternoon with a cable car to China Town (where we ate dinner).
On our last full day in San Fran, we walked across the Golden Gate Bridge and ate lunch in Sausalito (where I am writing this from now!).  The skies were clear and we were able to take great group photos in front of the bridge.  Amanda, Shelby, Stephanie and Emily took some great shots together – as well as Jake C who mastered taking a photo that made him appear to be "holding" the bridge in his hands!
Later today we will be going Lombard Street and then to a baseball game (Giants vs. NY Mets).
Until next time…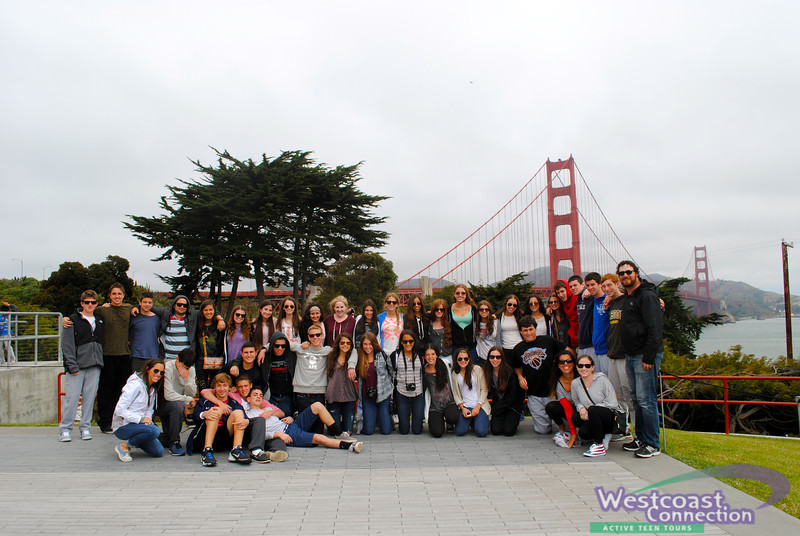 Gavin, Skylar, Jesse, Allison, Jamie
Your Trip Team