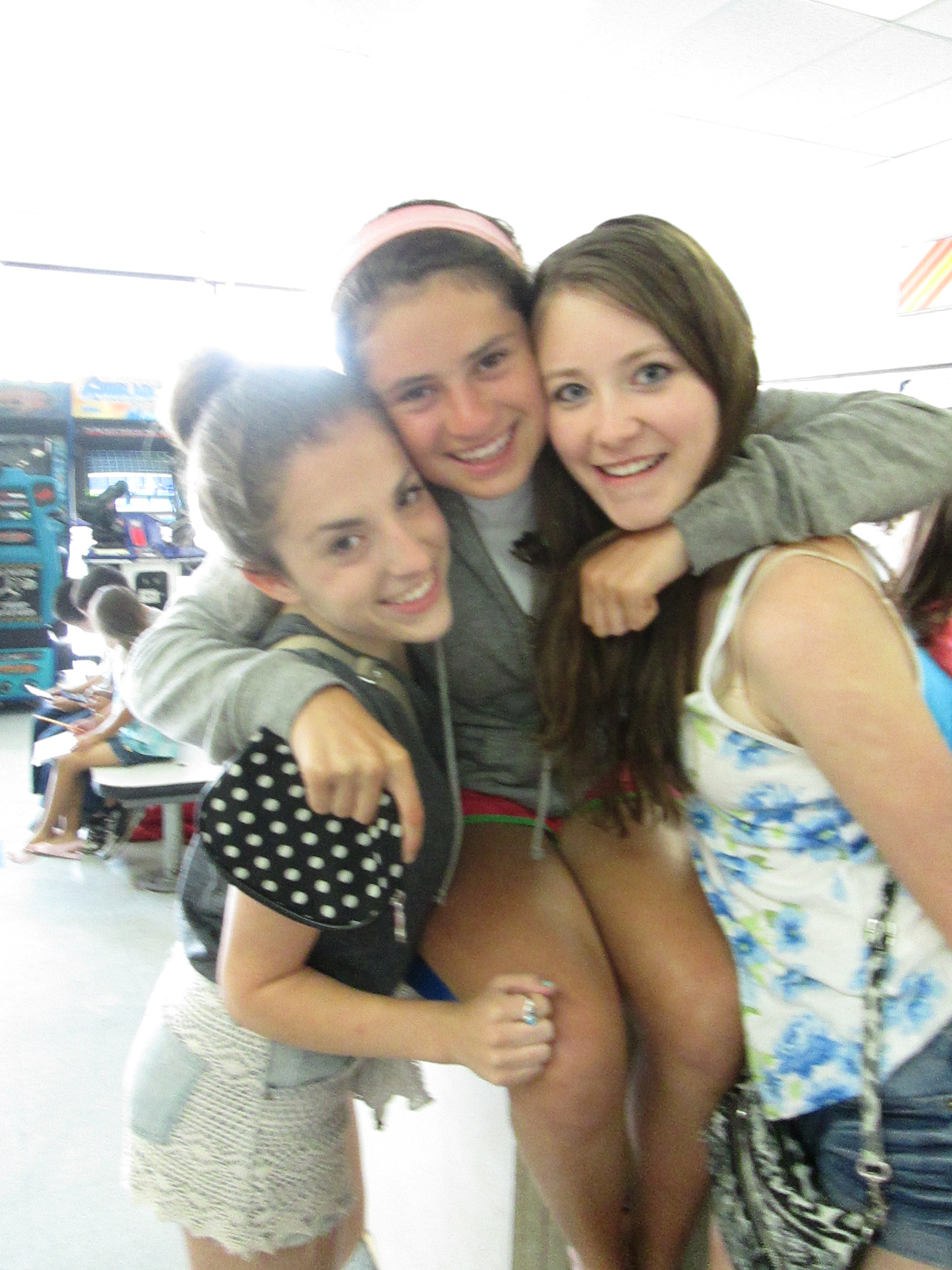 Hello Parents,
Here is an update on our adventure.
Day 8 – Life in the Movies
Welcome to LA! We trekked out of Ventura straight to Universal Studios for a day of movie history, thrilling rides and yummy food! Our first activity was with the whole group going on the Backlot Studio Tour. Wesaw the outdoor sets of Desperate Housewives, the Bates Motel from Psycho, and a collection of film cars (the Delorean from Back to the Future, Knightrider's Kit and the Jurrasic Park vehicles). It was so cool to see these pieces of film history! The tour also had some interactive parts. AJ, Jessie and Marlo got a kick out of the King Kong 3D experience where we "traveled" to Peter Jackson's Skull Island, and witnessed a battle between Kong and dinosaurs. There was a simulation of an 8.4 Earthquake (which they used in an episode of Bones), a robotic Jaws encounter, a car explosion from The Fast & The
Furious, and a Mummy simulation.
The rides at Universal were great! The biggest hits were the new Tranformers ride and the Mummy indoor roller coaster. There were also some games where Jack won the biggest stuffed animal.
We had a fantastic group dinner at the Hard Rock Cafe and then explored the City Walk area of Universal. Allison, Ali, Romy, Rachel and Lee bought matching skull bracelets (parents, be sure to ask to see them!).
Day 9 – Welcome to Hollywood!
On day 9, the trip experienced their first taste of Hollywood! We started off by exploring Venice Beach where some trip members got temporary henna tattoos (don't worry, they'll have faded by the time we return them to you!). Eric is now our trip Superman :). We people watched and enjoyed the boardwalk. One of the famous treats of Venice Beach "deep fried Oreos" were enjoyed by Lauren's group.
Our next stop was the UCLA bookstore where we dressed up in UCLA spirit. The rest of the afternoon was spent at the UCLA campus using the pool, gym and other great facilities.
After the UCLA facilities, we went to Hollywood and Highland! En route, JP entertained us by pointing out fake celebrities like "J Lo's Cousin" or "Johhny Depp's Stand-in". We checked out Mann's Chinese Theatre to see the handprints of the stars where Allison matched handprints with Emma Watson (Hermione from Harry Potter), Parker matched hers to Jennifer Aniston, and Dylan R to Adam Sandler! We ended the night with some great meals and of course took pictures of the famous Hollywood sign.
Our last stop of the day was at Diddy Reise, where JP treated us all to ice cream sandwiches. These were not your average ice cream sandwiches either! You could pick the flavor of ice cream as well as style of cookie. It was delicious!!
So far, LA has not disappointed … Let's see what the next few days have in store for us! Maybe we'll see a celebrity!
Until next time,
The Westcoast Blogger