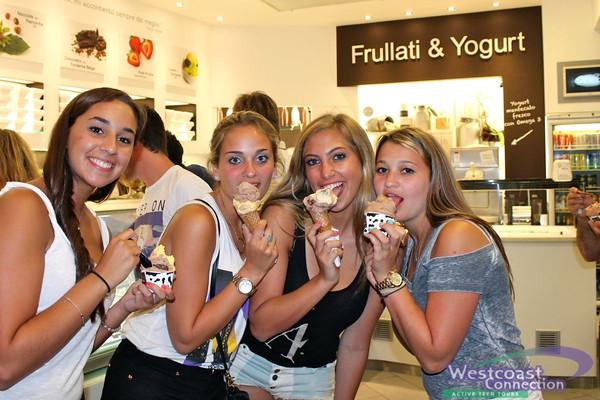 Buongiorno!
We knew we wanted to get to the east coast of Italy, but we didn't know how refreshing and relaxing it would be until we arrived in Rimini. Long stretches of beach and the waters of the Adriatic Sea greeted us as soon as we arrived in the city, and we could barely get off the bus fast enough. As soon as we got into our hotel rooms we put on our suits, headed straight for our private stretch of beach, lathered on the sunscreen and stretched under the Italian sun.
Dinner our first night was at Bounty restaurant which had a neat pirate theme, complete with a very chatty parrot. The food was plentiful, and we needed to build up our energy for our big night out dancing at Life Nightclub. Our private bus got us there a little early, and so we had the first floor to ourselves, but then second floor opened up and the music really got going. Carly and and Liz had an awesome time out on the dance floor, and we all left the place sweaty and tired, but feeling awesome.
The next day we arranged to have a major sleep in, and after a wonderful breakfast at the hotel we all rolled out feeling rested and ready for the beach. The water was calling us, and it was so warm! Alyson, Danielle, Sophie, Eduardo, Beau and Harrison joined some of the trip leaders for fun water games, while other trip members took in some sun. Liz, Ariel, Rudy and Emily G even rented a slide boat for their own personal water park – it was such a good time! We spent the better part of the day lounging around, getting snacks, and taking full advantage of this slower paced part of what has been an action packed trip.
For our second night we hit Chi Burdlaz for dinner, and this place was amazing! The pasta was cooked just right, we had our choice of pizza, and the chicken and french fries were also really good. As full as we were we still kept some room for dessert, and had some of the best gelato so far at 3BIS Gelateria –  the Snickers flavour was definitely a group favourite. We were already so full, but when you get gelato like that you don't say no.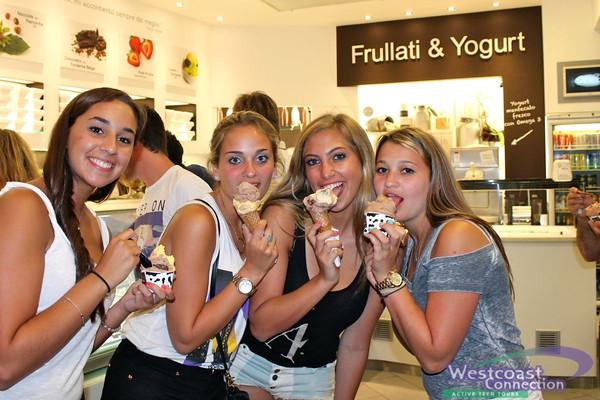 To finish the night off we took a stroll along the waterfront to a really cute little mini golf course. We had to work off all that food! There were quite a few good mini putters in our group, but that 16th hole was killer. It was a great mellow night to balance out the dancing the night before, and it made for a refreshing walk home. We needed an earlier night to pack and get ready for the big trip out to Rome the next day. Some amazing archaeological and cultural experiences await us, and I think we're ready to kick things up a notch in another amazing city.
The Westcoast Blogger