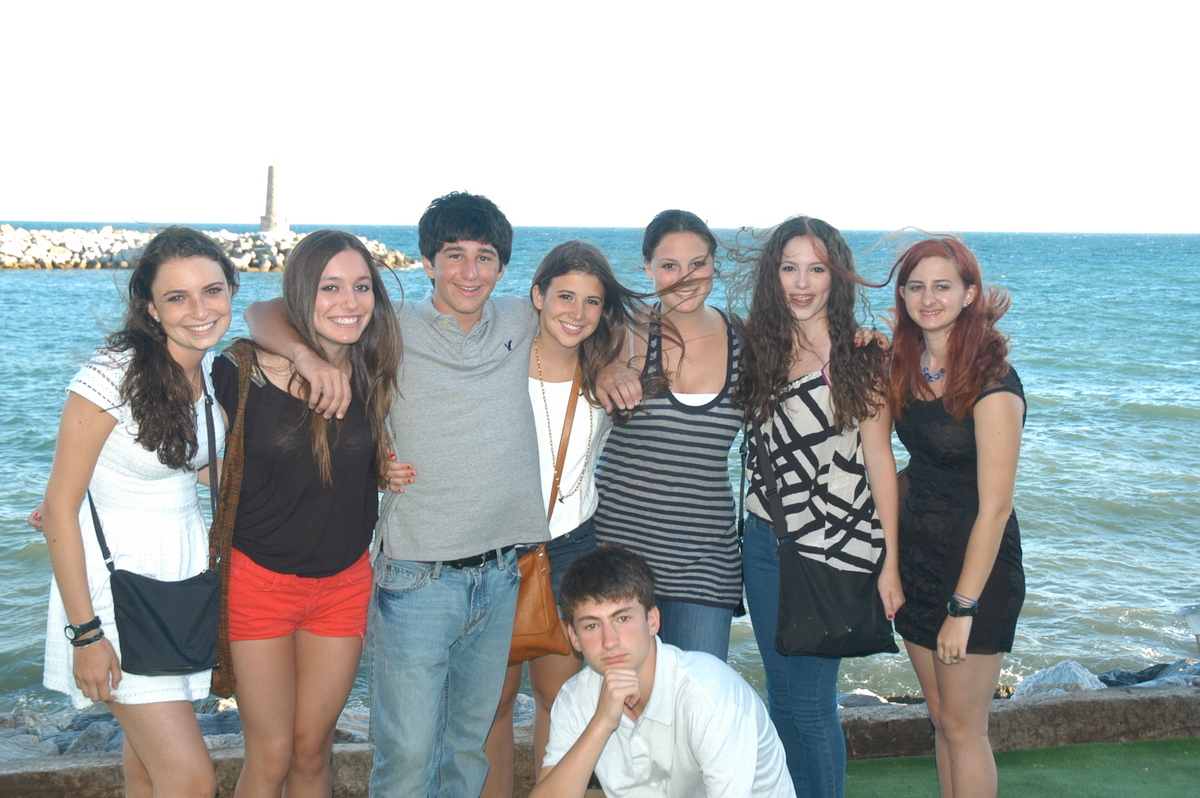 Hola!
Estamos disfrutando en el marvailloso pueblo de Marbella en la Costa del Sol en la region de Andalusia.  El jueves, hemos llegado a Sevilla, donde originó el baile de Flamenco y la tradicion de la corrida de torros. El viernes, fuimos a la Plaza del Toros, y aprendimos de la historia fasinante de esa tradición. Tambien, vistamos la catedral La Giralda, cuyo diseño es impresionante. Despues de un almuerzo típico de España, visitamos el Alcázar, el palacio royal.  Isabel comentó que ese palacio es su lugar favorito que ha visto en su vida. Cuando fuimos al barrio judío, Alexa D, Camille y Emma difrutaron unos helados riquísimos. Durante una cena impecable, Monica exclamó que Sevilla tiene la comida las mas rica en el mundo. Sophie, Brianna y Jordyn decubraron un lugar muy lindo en una plaza para comer.
Hello from the beachside town of Marbella! We have been having the most incredible time in the beautiful Andalusia, the famous southern region of Spain. On Thursday night we arrived in Sevilla, the original home of bullfighting and flamenco dancing. It is difficult to express the enchantment of Sevilla; it is one of the most quintessentially "Spanish" cities, comprised of narrow twisting roads, singing men, tiny tapas restaurants, and the music of guitars. On Friday morning we woke up and went to El Plaza del Toros, which is one of the oldest bullrings in the world. We got a tour of the ring and learned about its history, which we all found fascinating. Next we walked to the centre of town and got our first glimpses of La Giralda, the cathedral located in the middle of the city. It is the third largest cathedral in the world and its intricate design is incredibly renown. After grabbing lunch we went on a tour of La Giralda, and climbed up the tower where we got to see an incredible view of Sevilla.  After La Giralda, we went to the Álcazar, Sevilla's royal palace. The palace was originally owned by the Moors, which is the reason for its Arabian-feel. It has thousands of hand painted tiles. mosaic ceilings, live peacocks, hidden fountains and well-kept gardens; some of our trip members stated that it felt like a present day Garden of Eden. Isabel said "This is the most beautiful place that I've ever been". Next we explored Barrio Santa Cruz, the old Jewish quarter in Sevilla. Alexa D., Camille and Emma enjoyed some cool gelato in the heat of the Spanish sun. That night we headed to Alameda for dinner, an area of Sevilla that features a giant plaza filled with restaurants and musicians. Monica exclaimed "Sevilla honestly has the greatest food in the world". Sophie, Brianna and Jordyn discovered an awesome spot right on the plaza where they ended up receiving a free dish! Everyone utilized their new Spanish skills to order…we're so proud of their progress thus far.
El día siguente, tuvimos un sleep-in para recuperarnos de las actividades emocionantes. Tuvimos tiempo para descansar en la piscina en el techo, que tiene una vista marvaillosa de la ciudad. Visitamos la Plaza de España, donde Perri, Emily, Ariana, Sydney y Sammy sacaron fotos lindísimas. Despues, participamos en una clase de Flamenco antes del show de Flamenco. Era muy divertido! Gabby y Goergia compraron el vestido de Flamenco. Alex dijo "que impresionante!" cuando salia del show. Despues del show fuimos a una discoteca al lado del rio Guadalquivir, donde Taylor L. y Skylar se diviertieron mucho bailando.
The next day we had a late sleep-in, woke up and went to our rooftop pool, which has a breathtaking panoramic view of the city. Afterwards we went to La Plaza de Espana, a humongous plaza situated in the Maria Lusía park. Perri, Emily, Ariana, Sydney and Sammy all took amazing pictures while hanging out in front of the fountain. Afterwards we had lunch and headed over to a flamenco studio in the heart of the city, where we had a flamenco lesson! Everyone showed off their moves and laughed as we tried to imitate the motions of our teacher. For dinner we ate at an incredible restaurant located where the Ancient Arab Baths once existed in Sevilla, then we headed off to a real flamenco show! Gabi and Georgi purchased authentic flamenco dresses and flowers which they wore for the occasion. The show was breathtaking….Alex exclaimed "That was amazing" as he walked out of the building. After the show we went to a disco right next to the Guadalquivir river, where Taylor L. and Skylar laughed as they bopped to the music.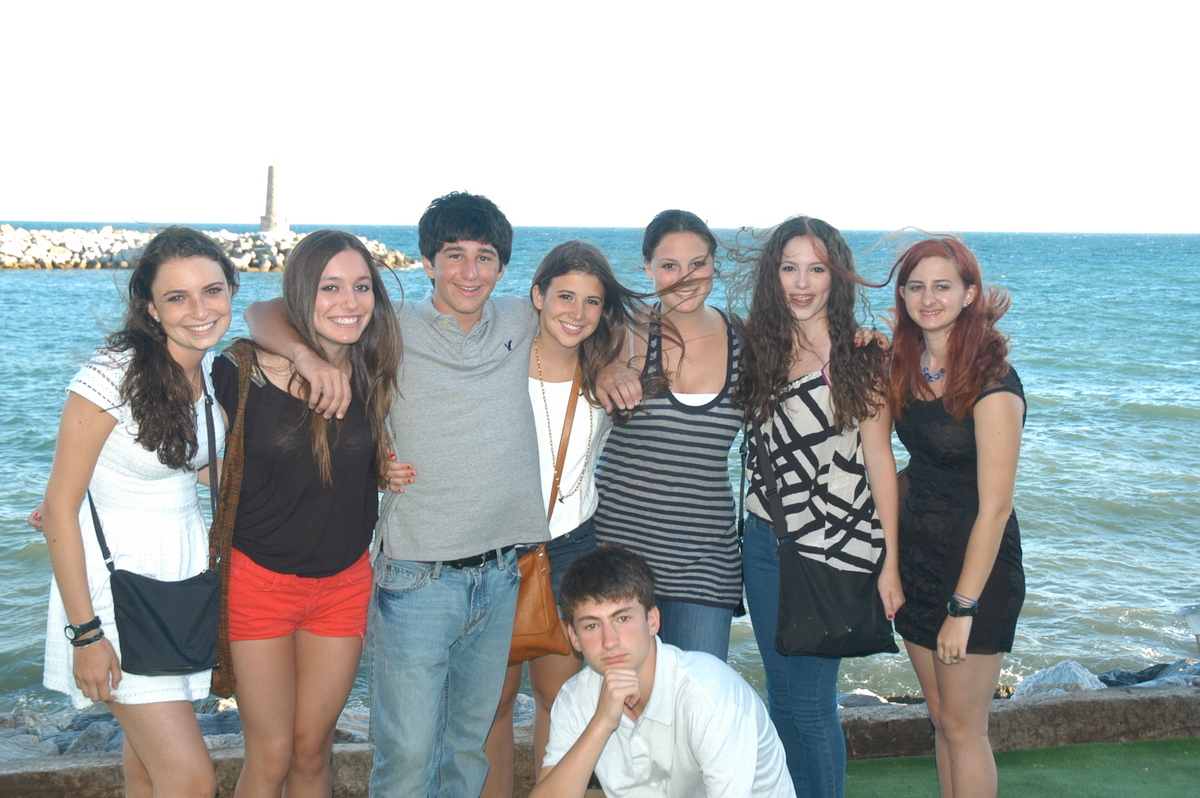 La siguiente manana dormimos hasta mas tarde, comimos el almuerzo y fuimos a Marbella. Caroline W., Caroline C. y Julia ayudaron a uno de los trip leaders a crear un divertido juego de "Would you Rather?". Llegamos al hotel, nos duchamos y salimos a comer cerca de la playa. Vimos la puesta del sol y jugamos el juego que las chicas crearon. Los chicos estan en sus primeras clases en Marbella, y despues vamos a la playa!
The next morning we drove to the beautiful Marbella! On the bus ride Caroline W., Caroline C. and Julia helped one of our Trip Leaders create a fun "Would You Rather?" game to play later in the trip. We arrived at our hotel, showered and dispersed to eat dinner in groups on the beach. We watched the sun set over the water and played the game that the girls invented earlier in the day.  Currently, the trip members are experiencing their first class in Marbella, and later we are heading over to the beach!
Nos estamos divirtiendo mucho en esta gran aventura, y no podemos esperar a crear mas recuerdos con los chicos!
We've been having quite the adventure thus far, and can't wait to make more memories with your amazing teenagers.
Hasta luego!
The Westcoast Blogger
Got yourself interested? Experience a 21-day or 28-day trip to Madrid, Barcelona and Costa del Sol and improve your language skills with our spanish programs for high school students.