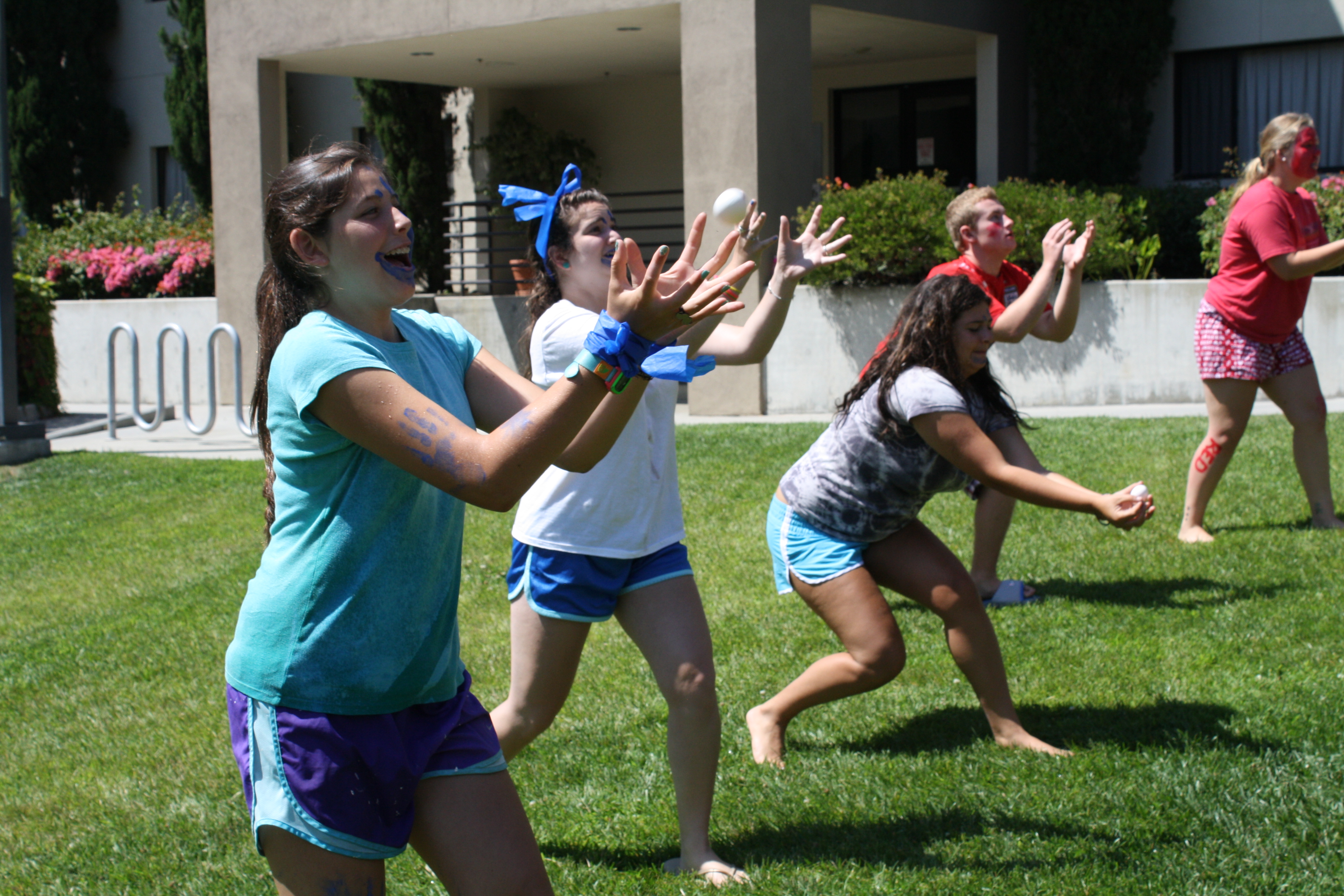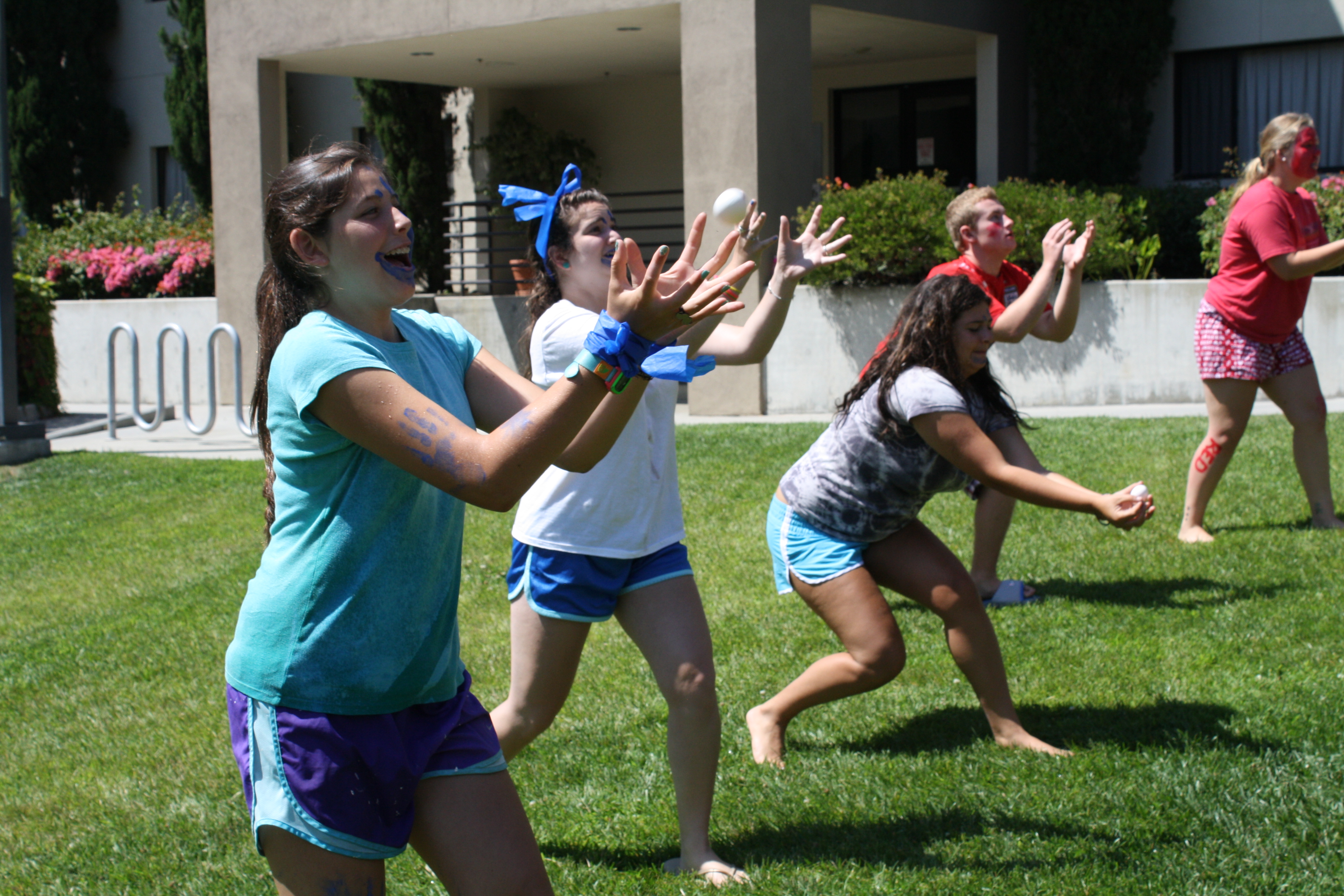 The final update from California Community Service:
Dear family and friends,
Well, we have almost reached the end of our trip and will be home soon. . . only two more days in sunny California before we board the plane toreturn home!  It's hard to believe how much we've experienced and how much we've accomplished in the last three weeks.  We're excited to be coming home to tell you all about the trip in person, and to share all of our amazing stories and pictures with you.
To wrap up the trip with a lot of spirit (and a little good-natured competition), we were divided into the Blue team and Red team to participate in our group's 'Color Competition'!  The three-day competiton started last Saturday with events involving whipped cream, water balloons, and a very messy egg toss.  All participants came decked out and covered in paint, displaying great team spirit, especially Gabby whose red superhero cape and spunky antics had everyone laughing and even helped us make some friends on campus!  Next the Red Team dominated the soccer game,with Jake L. and Ilana leading the team to a decisive victory.  The Blue Team performed a hilarious and creative skit, full of inside trip jokes, to take the lead, and then pulled out even further during the Fear Factor Food Challenge.  Sara, representing the Red Team, made avaliant effort to consume the food concoction, but it was Sabrina whose iron stomach was able to handle not only her own portion, but her teammate's as well, who brought home the win for Blue.
Our final event, 80s Prom Night, involved a trip to the Goodwill Store and creative costumes – neon, spandex, animal prints, mini-skirts, teased hair, and side-ponytails . . . we had it all! We rocked out to 80s music and took a ton of great photos.  Roman ("man, these pants are flexible!") and Erica were voted Prom King and Queen.  At the end of the night, a tally revealed that the Red Team's creativity had brought them into a tie with Blue, forcing a tie-breaking video scavenger hunt on our final beach day this Thursday.  Who will ultimately go home the victors?
On Monday we started our final, three-day service placement at the Boys and Girls Club of Santa Monica.  The Boys and Girls Club is an organization that allows children to pay $20 to join as members for an entire year, providing a safe place for kids to hang out, play, and learn while being supervised by positive role models.  Children travel from all over Los Angeles to participate in the summer program, representing a diverse range of races and socioeconomic backgrounds.  At the Boys and Girls Club, we were split into the various age groups from 6 – 12 years, travelling to different stations and participating with the children in games and activities.
We connected with the kids really quickly and, for many, this would be the "favorite" among trip service projects. Blake's camp experience really shone through as he played sports with the kids and made one little girl's day when he agreed to have his nailsdone.  Nour was a real favorite on the playground, running around and skipping rope with the girls while Gianna could be found hula-hooping, scootering, or taking her turn with Dance Dance Revolution.  Each day Shoshana and Rickiwere ushered into the "hair salon" to have their hair braided (knotted?) by little girls.  Arielle's kindness and willingness to listen made her a huge help to the staff and she was always surrounded by a crowd of children.  Erin was right in there with the boys, tossing around a football and participating in all of the sports on the playing field. Watching Jake C. and Dannielle say goodbye to their shadow and constant side-kick, Chevalier, was heartbreaking and evidence of the impact that we had on the children despite our short visit. Of course, the biggest impact was felt by us and several trip members expressed interest in volunteering at Boys and Girls Clubs back home.  Please take a minute or two to look at the pictures posted on our website – they truly are priceless!
And, of course, a trip to LA would not be complete without seeing a Hollywood movie!  And what better movie to see than the most recent Batman release! The trip consensus was that it was AMAZING, but the best reaction was from Lindsay, our resident movie-buff, who was brought to tears by the ending.  Our movie adventure will continue today with an evening trip to the Hollywood sign, Graumann's Chinese Theater, and the Walk of Fame and then again tomorrow with our trip to Universal Studios and City Walk.  There's so little time left, but still so much to do! We're off to pack for a final trip to the beach . . .
We miss you, but we're so grateful for all the love and support you've sent our way during the past three weeks. We can't wait to see you soon!
The Westcoast Blogger