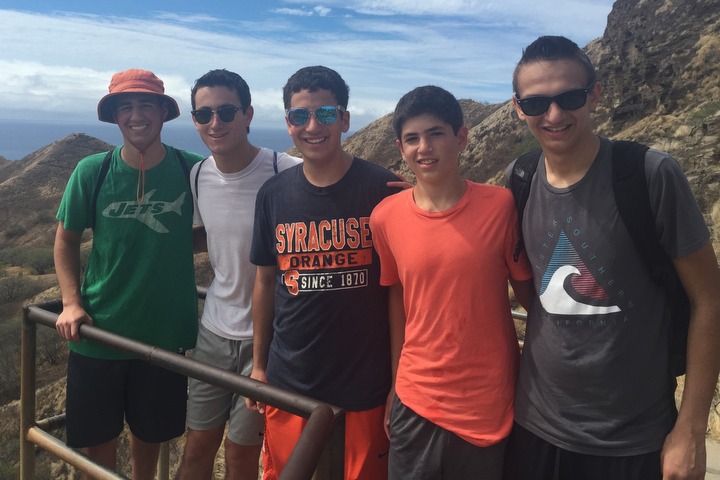 Aloha from Waikiki!
Our adventure in Hawaii began as we landed on Oahu and explored Waikiki, where the streets are full of people and entertainment. Many trip members enjoyed fresh pineapple smoothies and sported leis made of fresh flowers. There was even a Red Bull surf competition taking place just two blocks from our hotel with famous surfers!
The next day we set out to climb Diamond Head! The hike up the volcano was tough, but our group worked together to make it to the summit. We were lucky to have clouds in the sky and a light sprinkle to cool us down. At the top we all enjoyed the breathtaking views of Honolulu and the ocean-side while making sure to take lots of pictures.  Some group members even said they would have enjoyed running the trail! We continued our day with a visit to Pearl Harbor. It was incredible to be in the place where an important piece of American history actually happened. We ended our day watching the sunset over dinner and then went for ice cream and milkshakes.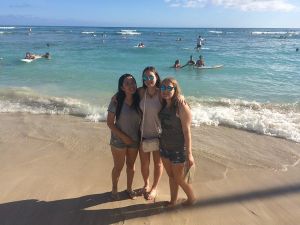 The next morning we enjoyed an ocean-side brunch where we watched the waves, outrigger canoe races, and surfers catching waves on the legendary Waikiki waves. After brunch we took to the beach and waves ourselves at Waikiki Beach. The group played in the waves all afternoon – no one wanted the afternoon to end!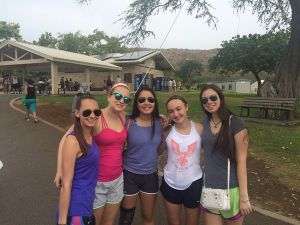 Our next two days were spent volunteering at the Waikiki Boys and Girls Club. The children were preparing for "Ohana (family) Night" and rehearsed dancing and singing for us. Throughout the day, many of the girls taught our trip members their dance routines. Trip members also organized various activities around the center. In the Science Center, some of our group members taught the Boys and Girls kids about the water cycle, and demonstrated with a "cloud in a jar". A different group talked about how to make moon sand and they enjoyed molding and squishing the mixture into different shapes. For our final science activity, the trip members led the members of the Boys and Girls Club in cooking homemade ice cream! Everyone enjoyed the cool treat. Our trip members also played ping-pong and a large game of dodge ball which is known as Sham Battle on the island. At the end of the day, we said mahalo to our new friends and wished them luck on Ohana Night.
Next up is the more relaxed, laid back island of Kauai! Aloha and mahalo to friends and family!
The Westcoast Blogger
Got yourself interested? Be part of this community service for high school students and travel to Hawaii & Alaska for a one-of-a-kind experience.