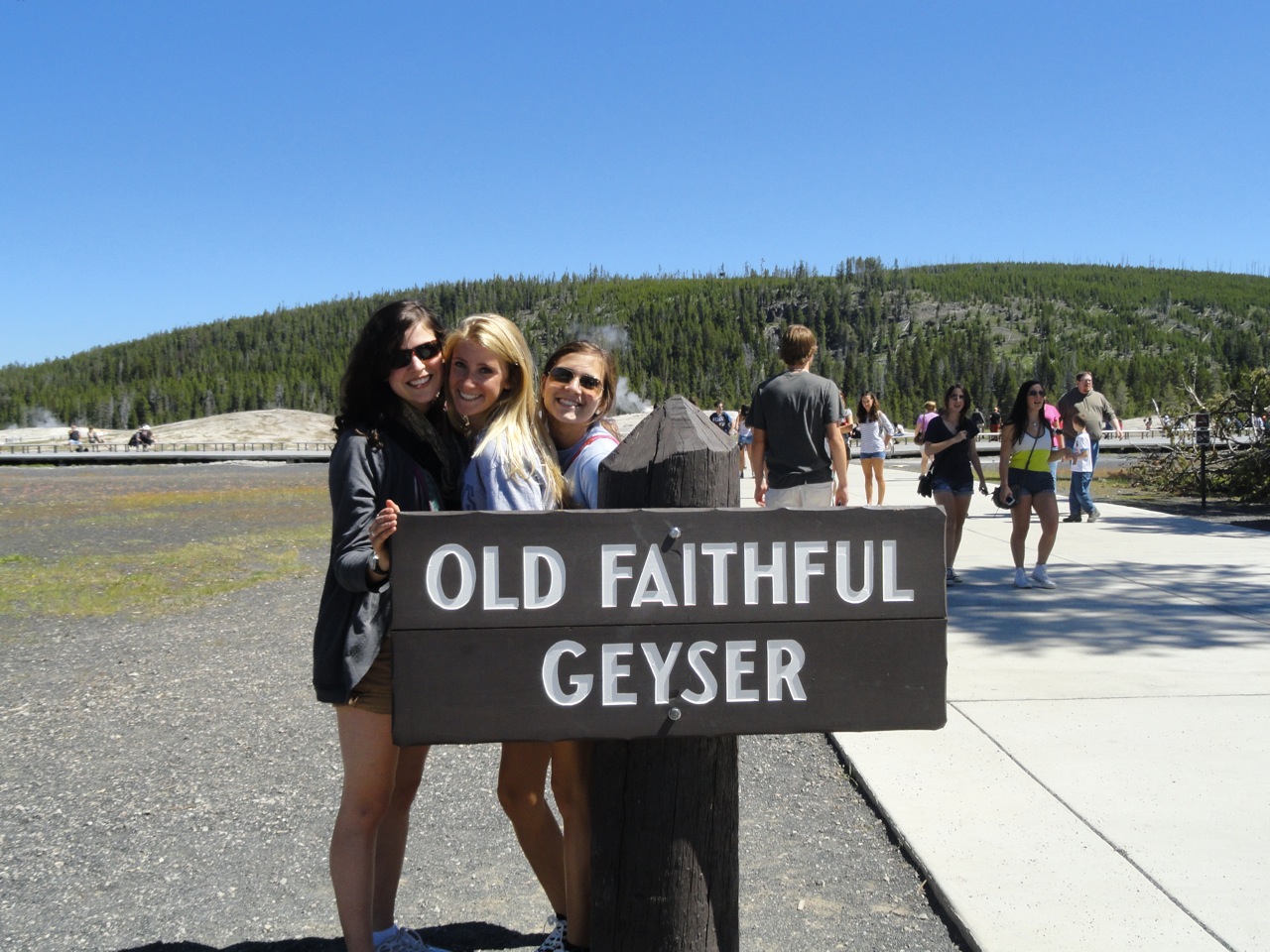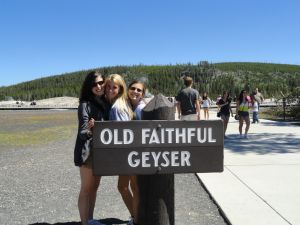 Hello again,
Our arrival at our destination in Jackson, Wyoming had us in awe of the stunning views of white-capped mountains.
After waking up to a beautiful morning, we made our way to Yellowstone National park, where we roamed around the gorgeous grounds. As we waited for Old Faithful to erupt, we explored the hot springs and smaller geysers in and around the area. At 11:56am on the dot, the group was ready to capture the eruption of Old Faithful. Following the eruption, we made our way to a picnic area where we had a delicious make your own salad lunch.
Alpine Sliding was next, and despite some hesitation, Jessica and Shayna conquered their fear of heights on the ski lifts that took us to the top of the mountain! With beaming smiles, Jared W. and Cole raced one another down the hill; it was an intense competition and the winner is still to be determined! We then made our way to Miller Park where the boys all played a solid game of basketball, and many of the girls enjoyed taking a walk through the town.
The next morning, we were off on our white water rafting expedition where Danielle W. and Polly dominated the rapids of Snake River.  It was a thrilled ride for everyone, especially Matt and Billy.  After our fun, we boarded the bus and made our way to Salt Lake City. Once at the campground, Lauren and Sydney led the crew in pitching our tents, while Maria, Fede and Ludo helped Booming Brandon's wolf pack to spice up our Italian style meal. Our after dinner activities included tie dying, where Lindsey showed off her talents, and Zumba where Danielle F demonstrated her skills. Everyone worked up their appetites again and we indulged in our evening snack of yummy chocolate fondue and fruit!
Jamie, Sammy, Evan and others started their 4th of July morning with a refreshing run, and were met with a tasty pancake breakfast upon their return! We spent the day at an amusement park where Jordan and Cory went on the monstrous roller coasters.  These good times were followed by the water park to cool off!  After a long day, the wolf pack SIENA cooked scrumptious fajitas that were enjoyed by the entire group. This was an extra special day as it was also Marissa's birthday and we enjoyed a delicious cake to celebrate!
We then made our way to beautiful Lake Tahoe.  On the way, we went to an incredible ropes course where all the trip members impressed us in their feats.  Ryan, Lauren and Pheobe scaled an enormous 100-foot tall tree; Hanna, Lexi, Keren, Liza, Darien and Nadya demonstrated their teamwork along the suspension bridge; and Jesse conquered his fear of heights and scaled many of the huge wooden structures. We pulled into the campsite and after Amanda's Pandas helped with dinner we were all ready for our evening program, the Dating Game, which had the entire group laughing. The night ended with a campfire and melting s'mores which were enjoyed by all, especially Josh and Spencer!
Lake Tahoe beach was the destination for our day of our waterskiing, wakeboarding and tubing adventures! Here Jackson showed off his wakeboarding skills, and Jared T's waterskiing talent shined. Steph D and Ali enjoyed the beach while Max enjoyed swimming the waters of Lake Tahoe! That afternoon we set sail on a gorgeous cruise of the vast lake – where Steph S laid back enjoying the views! Refreshed, we made our way back to the campsite where we all showed off our skills at the Talent Show – especially note worthy was Lindsay demonstrating her palm reading skills, and Logan showing off his drumming skills.
Until next time!
The Westcoast Blogger