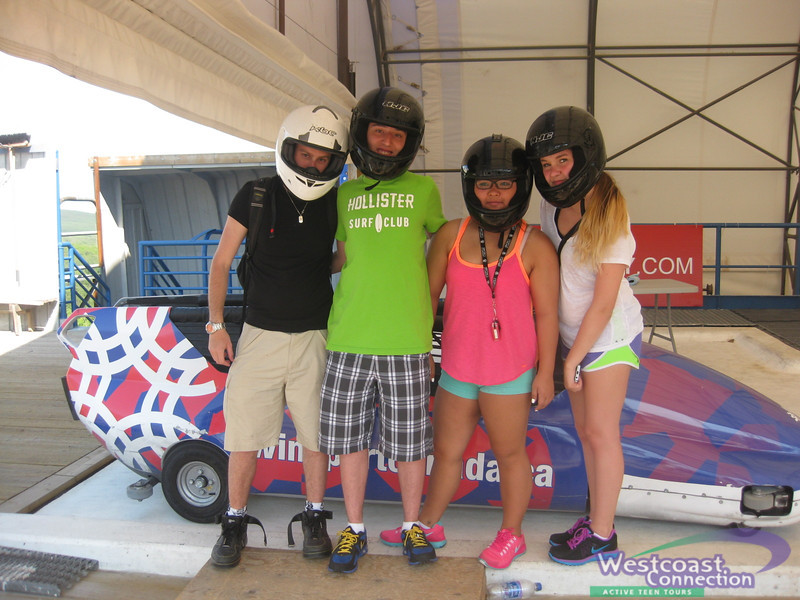 The Voyageurs started off Day 4 by heading to whitewater rafting on the Snake River. Everyone was so excited to grab a life vest and get on a raft. Spencer and Jarrett took the front seats on "The Ocho," the name of their group's raft, and strongly guided it through the rapids. We saw two bald eagles, a deer, and some surfers who were taking on the rapids.
After lunch we headed back to the center of town where Haley P., Vanessa, Sarah and Lauren really enjoyed learning a dance from Boy Scouts in the park – it was quite the sight. At mini golf, Mitchell discovered a new found talent, earning one of the best scores of the day (watch out Tiger). Back at the hotel some of the boys played a game of football in the pool, while Matt D., Zach B., Hannah and Amanda relaxed in the hot tub. Will, Matt S., and Ben K., kept everyone at their table entertained during dinner by playing a game of who can keep a straight face.
The next day we headed to Great Falls, MT for the night. On the way, we were lucky enough to watch Old Faithful erupt and see the Fountain Paint Pots. Sam, Jack J.  and Justin L. couldn't believe the hot springs' amazing colors. Everyone really enjoyed seeing all of the natural beauty Yellowstone holds.
Later that night the kids got to know each other better by playing a version of the dating game. Alec S. was called up as the lucky bachelor and had to take his pick of a date based on questions and answers by three contestants. In another round, we discovered Sydney T's ideal first date would be to go to the movies and have popcorn and M&M's!
We all had a blast at Laser Quest in Calgary. Spencer and Zach S. each came in first in their games. In the morning we went to the Olympic Park. Everyone was anxious to see what the bobsleds looked like and couldn't wait to get in them.  Jenny and Jolie went down the track like pros after Allie and his group were the first to brave the track.  It was such a thrill pulling 'G's'.
After a good meal at Jack Astor's, Ben T. couldn't wait to play basketball, while Courtney and Ben C. couldn't wait to get in the pool at the Rec Center. Zach M. cooled off in the pool after playing some basketball, and Sydney M. enjoyed the rope swings into the water. We hope everyone is enjoying their summer. We are off to Banff and the Canadian Rockies!!
Talk to you soon!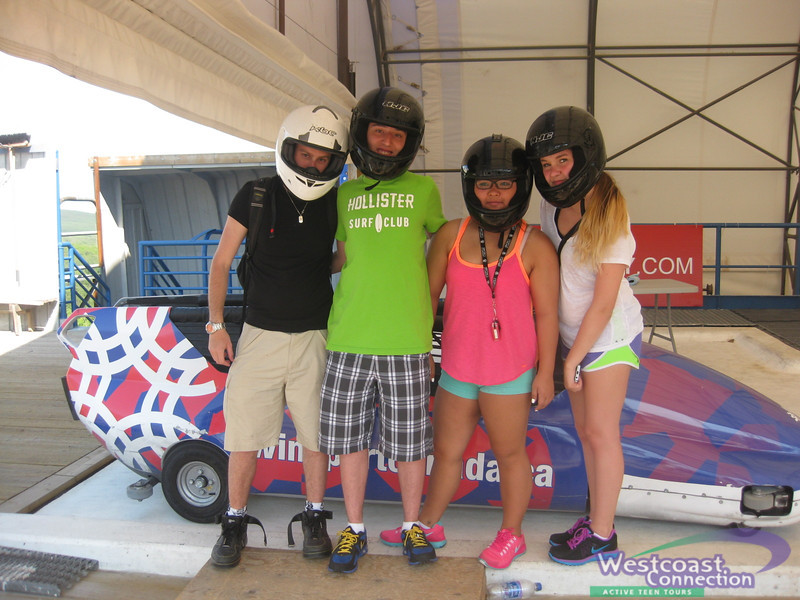 Over and out,
American Voyageur Staff