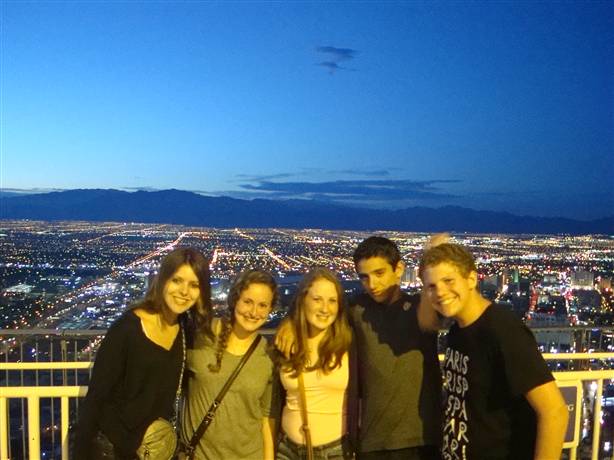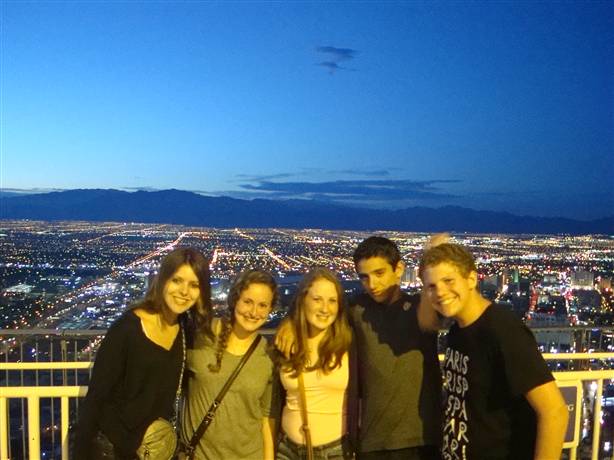 AmVoy #2 Parents,
Cruisin' came to an end! Has it been four days already?! We boarded the bus to San Diego and watched a how to video on the bus about surfing and proper stretching before hangin' 10. After a picnic lunch on the beach, we said "surf's up." Wait, just because we watched a video, does that mean that we are all already professionals? No! Have no fear, that is what instructor Sean was for!
After some great instruction with him, Jeremy talked the talk, and was able to walk the walk. His stance and technique was second to none. Grant made the waves of South Florida proud and Emily B. was so excited to be surfing that after a few minutes, she took off like a torpedo. Danielle on the other hand not only surfed, but played with some of sand crabs she found (crab cakes anyone?). We were sad that we had to leave the beach after what seemed like no time at all, leaving our dreams of becoming extreme surfers behind, but we were on to better and definitely larger things.
Souplantation for dinner was only fitting after four days of all you can eat buffets on the cruise. Sam R. and Jason had a jalapeno pepper eating contest. They wanted more spice in their foods and definitely found a way to bring on the heat. Just when we thought the desserts on the cruise were enough to satisfy the largest sweet tooth on the planet, Souplantation comes along! Lexi and Aja made their own chocolate sundaes, blind to the fact that they made them so large that a warm chocolate puddle began spreading across their table! On the bus on the way back to the hotel, Eden declared that her "rose" was the day spent surfing and our birthday girl, Erika, said that surfing on her birthday took the cake. Speaking of cake, right before bed we all got ice cream sundaes in honor of Erika's birthday. With our tummies full, we all hit the hay in order to rest up for another full day on AmVoy #2!
Day 32, holy moly! A week left? That is so very, very upsetting. Breakfast was enjoyed at Bruegger's Bagels where we sang happy birthday to Lexi (it is surprising that with the amount of singing AmVoy #2 does that we have not been nominated for a Grammy or picked up by a record label). Andrew put a huge smile on Lexi's face when he gave her a friendly birthday present! Another game of "Gotcha" started during breakfast where we learned of our trip's secret keeping inabilities ("Gotcha" is the game where you have to get someone out by getting them to say a word). During breakfast, we also had an impromptu game of charades. Steven's acting abilities were stellar; he had to act out the film "Finding Nemo".
On the way to the San Diego Zoo, Amanda thought that it would be entertaining to play animal noises on the microphone and have us all guess which animal was responsible for them (who knew that an Alligator made a "birp-ing" sound). On top of the animal noises, eagerly awaiting the zoo, Grant, Noah, David and Jeremy donned their animal hats (we are all hoping that those were only a phase). On the double-decker bus tour of the San Diego Zoo, friendly Gabi said hello to almost everyone we passed and Matt L. raved about the polar bears he saw. In keeping with the now infamous AmVoy #2 sense of humor, Jacob then mentioned how cool the black jaguars looked and Jared immediately responded that he has always wanted one (it was a bad car joke, we don't blame you if you didn't laugh) and when we reached the giraffe's, Jamie inexplicably knew the color of a Giraffe's tongue. Matt M. got a souvenir stuffed panda which he enjoys cuddling with on the bus and Ethan almost completed his postcard collection by adding the ones from the zoo to the others that he has from every place that we have visited so far! Emily K. decided that the sounds that she was hearing by the animals weren't enough and tried to make her own elephant noises. She managed to scare Sarah and Courtney away, as well as other pedestrians and Allie just stared at the scene, finding it absolutely hysterical! Finally, Sam H., Emily B. and Lexi got their faces painted with stars (Lexi had birthday girl scrawled across her face for half the day).
Ice skating after the zoo was a blast.  Our time was filled with heart-warming moments. Jeff taught Jason how to improve his technique and Aja taught Eden how to stop on skates. Erika impressed us with her technique and did not fail to remind us of her hockey background (her hockey idols would be proud). The Canadians amongst us, namely Emily K. and Ronni, did not fail to live up to the stereotype that Canadians are all born with skates on their feet, learning how to skate before they walk.
Dinner was at one of San Diego's best burger joints. Sam D. oddly enjoyed her orange-cranberry juice with her burger!! Dessert was double chocolate pound cake, dedicated to Lexi for her birthday! Once back at the hotel, relaxation was in order before we all turned in for the night …
Viva Las Vegas … here we come!
Jared & the AmVoy #2 Team
The Westcoast Blogger