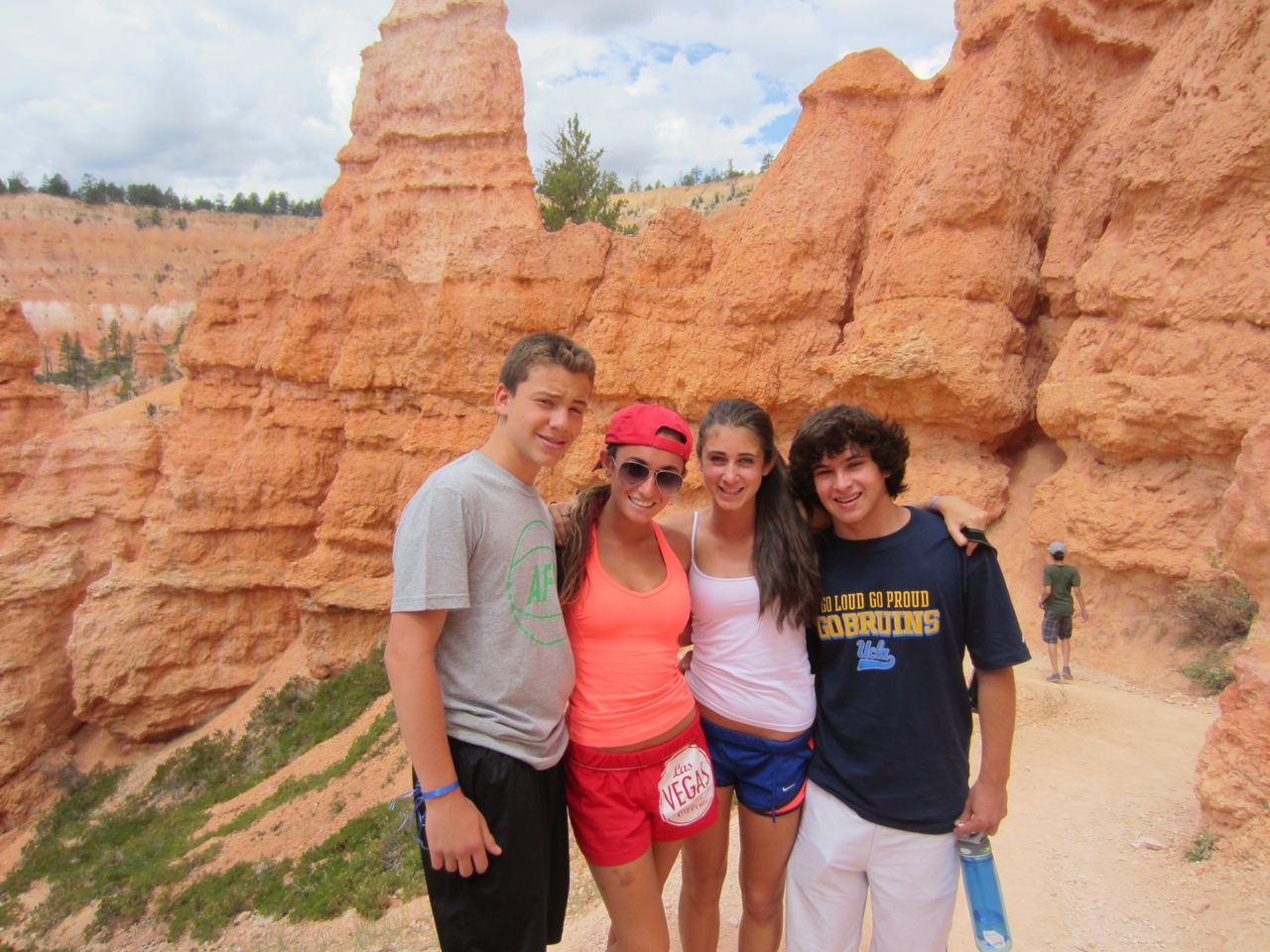 The Californian Extravaganza says hello from Vegas and the Canyons
Day 20
We got an early start on the road on our way to VIVA LAS VEGAS BABY! The sun was shining as we arrived at the Monte Carlo hotel, one of the hot locations on the Strip. After some sun by the pool, the whole crew headed to Buca Di Beppo for some Italian family style goodness. The chicken parm and cheesecake were a hit, especially with Sam K., who says the name of the restaurant in a flawless Italian accent. After dinner, we rode up 108 floors to the top of the Stratosphere. Jamie and Cole conquered their fear of heights and they braved "Insanity," a ride that dangles and spins you off the side of the building. Trip leaders Estee and Elliot went with Sarah and Bobby on the famous Big Shot, which shoots you into the sky up the needle of the Stratosphere and drops you back down, giving you a great view of Vegas along the way. Our next stop was the Venetian where Olivia and Ariana enjoyed some authentic Italian gelato and Cutler and Blake enjoyed checking out the shops. The grand finale for the night was a walk over to the Bellagio for the water show – Morgan and Sabrina were amazed at how cool the fountains were as they "danced" to the music. After a long day in Vegas, we are pooped, but we can't wait for a relaxing day of pool time tomorrow as we enter our final week together!
Day 21 – HAPPY BIRTHDAY JORDAN!
This morning's sleep in was a special treat and when we got up we made our way to Caesar's Palace and the Forum Shops. Kyle and Jake had fun walking around the Forum and Sam L. and Corey checked out the huge Nike store. Back at the Monte Carlo, Madi and Ava tanned by the pool. We all got ready for New York, New York where we enjoyed some time grabbing dinner and checking out the hotel that replicates New York City. After dinner many of us braved the roller coaster including Zach H. and Jesse D. who rode right in front and screamed their heads off. Following the ride we checked out M&M World and Coca Cola World where Cayla and Dani found adorable and witty boxers. Zach K., Matt A., and Sam M. sampled different coke and soda flavors from around the world. We have really enjoyed our time in Vegas and will miss the city but have so much to look forward to as we head for the Canyons!
Day 22
On our way to our final camping stop, we stopped at Zion National Park for a hike and lunch. The weather was great and the sun was shining.  PJ and Jordan were amazed at the beautiful views. For dinner we stopped at Chuck Wagon Cook Out where many famous Western films have been shot. We got to shoot our own version of a Western, with Liv and Gail playing the saloon girls, Jessica and Leah as Native Americans, and Eddie as one of the wild coyotes. After a delicious dinner and a heated debate over which movie was the funnier one, the staff decided there was only way to decide: trip competition games!! Captains of Blue Zohan- Max B. and Sydney and of Red Zoolander, Ryan A. and Gail. Our first activity was "Pass It Up", in which each team had to pass various items to the front of the bus in a race that ended in a Blue Zohan victory. At the campsite after all the tents were set up, each team had some time to prepare skits, songs, and cheers over snacks and fun.
Day 23
Our first activity this morning was a hike at Bryce Canyon but not before a delicious breakfast spearheaded by Eli and Liv. The hike was gorgeous and Andrew will tell you, the views were the ones right out of a postcard. After lunch back at the campsite, we had some more fun with our trip games! Max R. and Alec were hilarious in "Make Me Laugh" and Rachel, Hannah, and Ryan J. knew all the answers for trip trivia leading their teams to victory. For the Apache relay, Matt H., Alyssa, and Jason were team players in activities like human pyramid, spelling out your team name with the team members, and the M&M pie search. After dinner, both teams performed their cheers, songs, and skits and they were truly amazing!! Jesse L. was hilarious in his rap performance and Zach S. was the jokester of his team. In the end, the captains chose Sami and Luke as the blue team MVPs and Izzy and Mike for red MVPs. Both teams did an excellent job and had a ton of spirit, but it was Red Zoolander who came away with a victory!! It's been a long day of fun competition and games and we're all wiped. Can't believe it's our last night camping and we're off to the Grand Canyon tomorrow!
The Westcoast Blogger