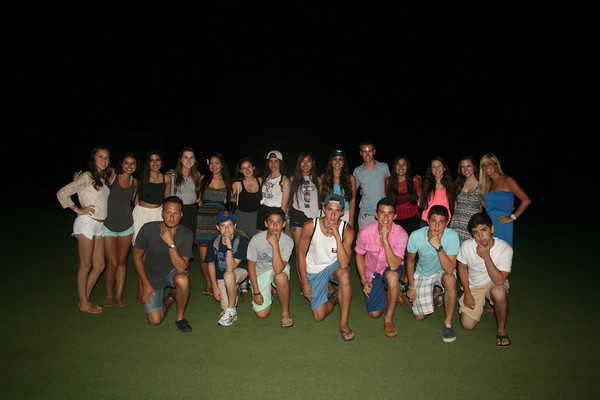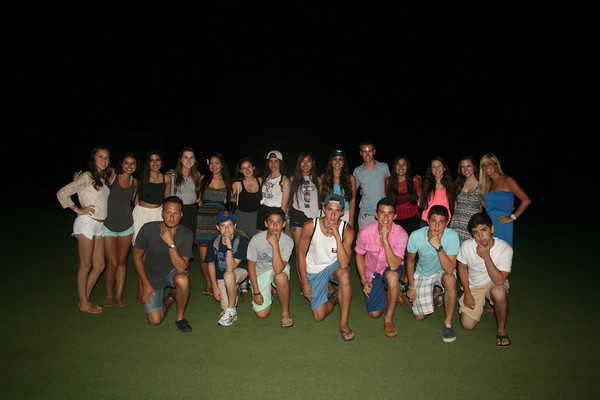 Up, up and away!
Aloha! These past few days we've taken it to new heights in more ways than one. We took our community service to the jungle and learned some cool new Hawaiian ways of life from Nature Jay our trusty guide.  Nature Jay showed us how Hawaiians are able to live off the land and taught us how to pick fruit from the tall trees. To power up for our community service we took the opportunity to eat fresh passion fruit, drink fresh coconut water and sugar cane juice. We learned to "precycle" and to use "laulima," meaning teamwork to clear a path for elderly people to access some of the most beautiful waterfalls in Maui. Ben and Noah had a little too much fun hoisting logs on to the pile with perfect form while Emily, Amy, Christy and Claudia kept us entertained with their beautiful singing voices. We met a local lizard who was passed around and seemed to be a highlight of the day to many of our trip members.  It was nice to help clear the area, see some of the elderly people we were helping and experience the beauty of the waterfalls ourselves. All in all, it was a great day.
Auntie Amy gave us Hula lessons on the beach which got us into a relaxing mood. We learned the art of hula dancing and that every dance tells a story. The group learned a story about a rolling volcano and recreated it in dance. As a whole they picked it up quite fast and both the boys and girls owned their final beach performance.
During this relaxing morning we were partnered up and spent time learning about each other's goals during lei making and learned the respectful way of placing a lei over someone neck. In Hawaii the process is only complete with a kiss on the cheek. It was nice to go around the circle and learn that some want to go to college, med school, travel the world and have a family. This was a beautiful piece of the morning where reflection and conversation flowed and brought us closer together.
Our next adventure took us to Haleakala National Park to go on a zip lining and hiking. Newbie's Sofia and Seline were all smiles as they flew through the beautiful landscape of Maui. The rest of us screamed, enjoyed the ride and tried to look as stylish as possible in the helmets and harnesses.
During the hike we chased the clouds and had the chance to touch and taste them. With every step we took the scenery was more and more breathtaking. Greg came fully prepared with runners, a water bottle, sunscreen and his iPod with a readymade Haleakala playlist specifically for the hike; he then exclaimed while walking through the clouds, "we hit turbulence!"
We took our trip up another level, literally, as we went even higher above the clouds to watch the sunset from Summit Point. It was chilly but we took cover in the rocks, sat back and enjoyed the most romantic setting in Maui as one big happy Ohana (family). Pictures and words couldn't do it justice, however, it was one of the most majestic views we have ever seen.
Next up, Trip members were divided into the red and blue team and competed in several challenges that relied on team spirit, leadership and sacrifice. The first challenge was the saltine cracker whistle challenge which Greg and Claudia breezed through defeating Rachel and Bryant. Our second challenge got messy when Will, Amy, Seline and Emmy had to shave shaving cream off of a balloon without popping it- they were all successful but Will and Amy cleaned it faster and more effectively to win points for their team. Claudia, Celia, Noah and Lily jumped at the chance to get messy in a blindfolded pudding feeding contest while Tyler and Ben dominated Sofia and Emily gave me a run for their money in a M & M whipped cream challenge. One of the most disgusting challenges was called Fear Factor. Contestants needed to eat a concoction of mush that trip leader, Martin put together. Sam, Seline, Noah and Amy ate peanuts, jam, mustard, hummus, espresso mix and the cheery on top- tuna. While their teams were gagging on the side these players meant business, especially Amy who was a champion for her team. Closing out the day were a series of team challenges. they began with an oreo challenge, egg drop challenge and one of our final challenges was called buried alive. Each team was to dig a hole on the beach and bury one of the strongest members of the opposing team. Bryant and Ben were selected and the teams had many laughs when Ben could not remove himself from the sand.
Our final days consisted of community service and surfing took our bonds to a whole new level which was an amazing end to a beautiful 18 days together.
At the Boys and Girls Club we played basketball, football, pool (regular mud bumper), cards, Wii dance which Lily rocked and touch rugby. Tyler was a natural rugby player and helped his team get a few tries- sign him for next season. Emmy and Rachel joined a couple of local kids in some foozeball games and learned a few things from these little guys. At lunch we were waiting on Sam and Rachel and we found them in a tree playing with some of the kids. it was hard to tell who was having more fun.
Surfing was a major highlight of the past few days. Absolutely everyone stood up and rode the waves like pros. Although everyone had their fair share of wipeouts there were some standout performances.  Emily, Christy, Claudia, Lily and Sofia attempted some fancy tricks and laughed along the way while Ben, Noah, Bryant and Greg successfully executed several tricks on the board. With coaching they doubled forwards and backwards, demonstrated the belly up cockroach, stood backwards, hung 10 and switched their bodies from side to side which was impressive as it was their first time. Seline rode a few waves right to shore and Kyra was a natural both giving the shocka, hang 10 sign, as they cruised along. Sam couldn't get enough and was nonstop smiles as he paddled hard against the waves for more action and Will and Tyler was up with ease with every wave. Emmy and Rachel enjoyed every wave, worked hard and were able to feel the pull of the waves beneath their board. Our kids couldn't stop talking about their adventures on the water. It will be an experience they remember for years to come.
We're not sure if it was Koas shade breaks, Flo's kind heart, sing-along dance parties in the cars or Wailukuuuuu but somewhere along the way we found our little Ohana.
Over the past couple weeks we experienced life as Hawaiians as we delved right into the Hawaiian culture. It was a humbling experience to be in one of the most beautiful places in the world and realize how happy the people were with so much less than us.
Through our community service we learned that you can accomplish amazing things and make a huge difference when you work together. We learned that a lot of hard work goes a long way and impacts those who need it most because if you're not willing to go the extra mile for someone else and give back then you get nowhere.  Our eyes were opened up by how appreciative people were of our work and we realized how lucky and blessed we all are with the family, friends and luxuries we take for granted. Finally, we learned the true importance of Ohana.
Thanks for trusting us with your children.  We're sad to say goodbye but happy to have seen them grow and evolve during the precious time we've had with them. With many memories made, friendships forged, future reunions planned and laughs shared we'd like to say goodbye and Mahalo!
The Westcoast Blogger