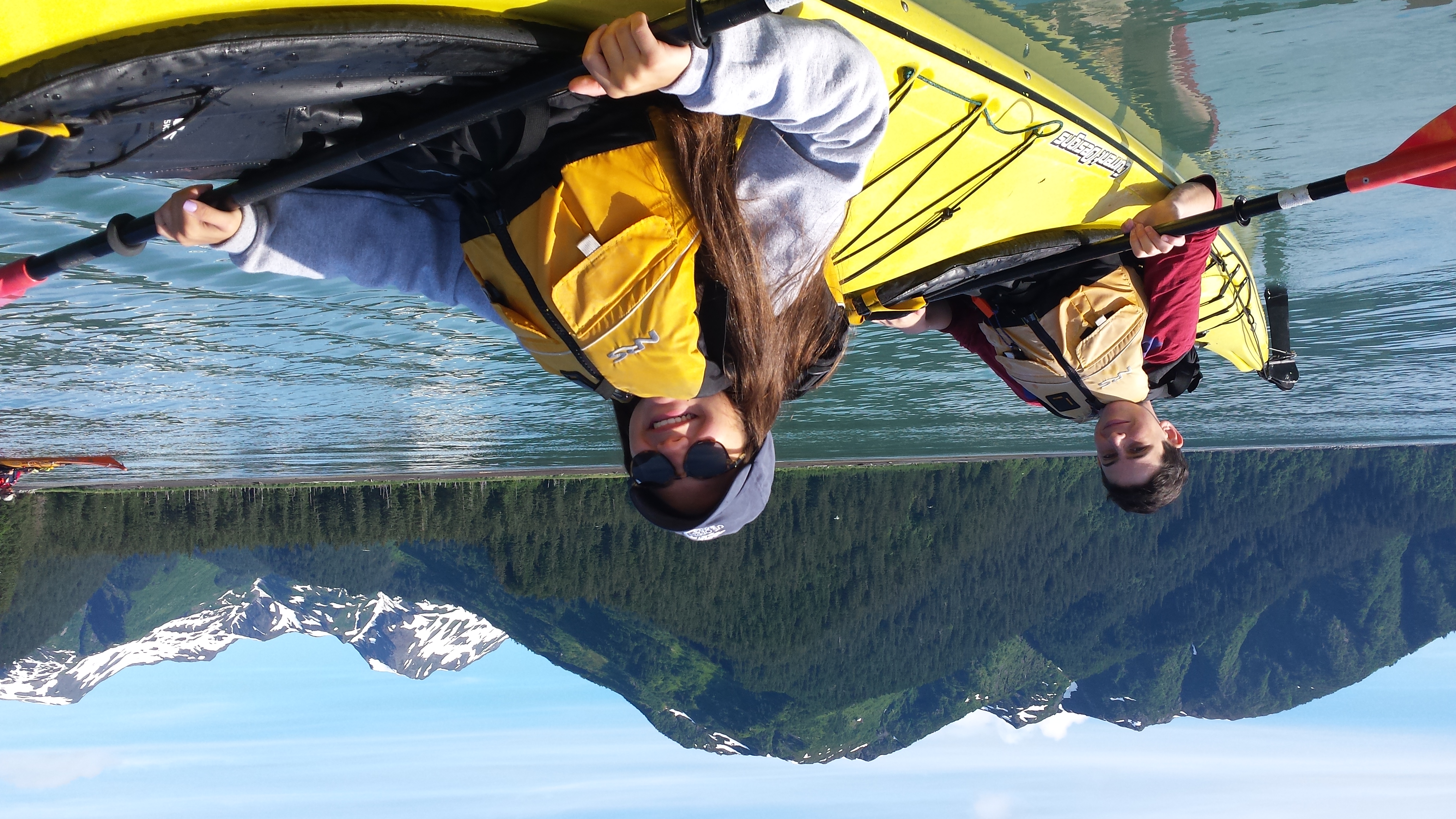 We waved goodbye to Anchorage and headed to the Alaska Wildlife Conservation Center, a place that is dedicated to rehabilitating orphaned and injured animals and providing wildlife awareness and education to the public. Encircled by mountains, we interacted with moose, porcupine, reindeer, and a bear swimming in a pond that reminded us of Buloo from The Jungle Book!
From there, we landed at our home for the next couple of nights, a cozy Bed & Breakfast in Cooper's Landing that had the MOST COMFORTABLE BEDS IN THE WORLD.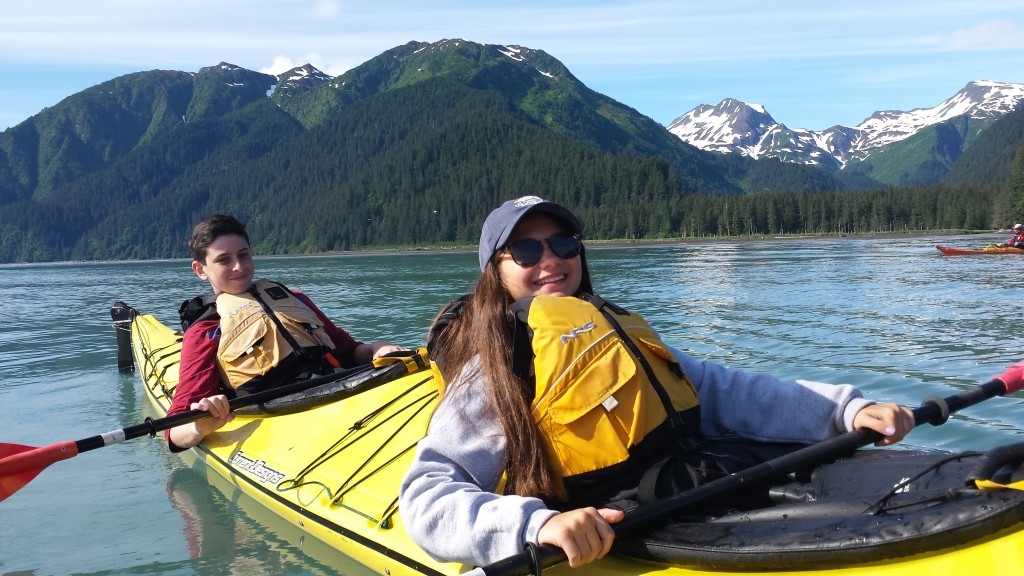 Well-rested, our next stop was sea kayaking in Seward. The water was a sparkling teal and the sun was on our side.  We also saw porpoises poking their heads above water as we stroked through the sea!  Lunch was as tasty as ever. Most of us ate at a local restaurant where all of the seating was in a diner-style school bus! Meanwhile, two of our trip members discovered a delicious food fair. Our next stop, the Alaska Sea Life Center, was a hands-on learning experience. We dissected squid!! Nicole and Max were brave surgeons, with no fear of the smell or the sight. We then entered the Center's exhibition, where we got up close and personal with seals, octopus, jellyfish and other beautiful sea mammals. As if the day couldn't get any better, we went dog sledding!! All of the dogs we rode with were race champions. They were fit, fast and super smart, working in sync and pulling us through the trails. When the dog ride was over, the fun had only begun – we got to play with puppies! Jenna got a bit emotional, shedding tears of love for these pups (*hint hint Mom & Dad) That night, back at the cabins, we sat around a bonfire and made s'mores. Danny led an awesome activity that made us reflect on our time in Alaska. We talked about highlights, challenges and things worth celebrating.
With Alaska behind us, Adam and Amanda were the leaders of our evening activity for our first night in Seattle, where we sat in a circle and exchanged stories that made us that much closer as a group. During our first official day in Seattle, we explored Pike Place market, picking up fresh fruit and sampling tasty dishes. We left the market with more than just full tummies; some of our trip members got beautiful sunflowers that they later planted in the city. ☺
From there, we sang our way to Experience Music Project Museum, where we wandered through guitar displays, indie gaming rooms, music theatres and DJ studios. In true group spirit, we came together to form two bands that rocked the stage.
Did we mention that this day happened to be July 4th?! In red, white and blue, we sat atop a huge hill at a park and watched fireworks burst into the sky. The light from the fireworks and the city lights across the park lit up the glistening body of water before us. The breathtaking view, music, American pride, and new friends all around us made this July 4th especially special.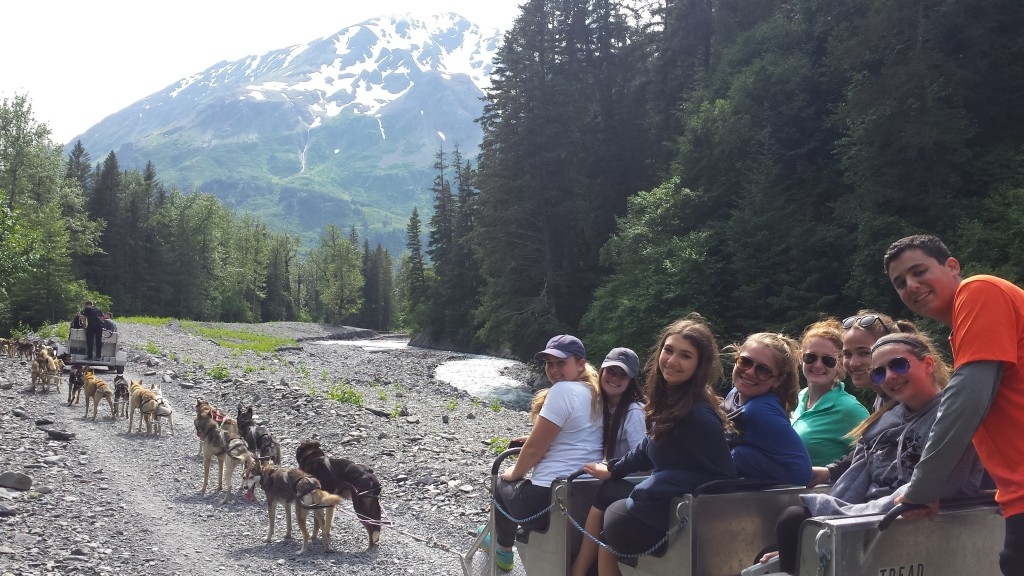 Got yourself interested? Be part of this community service for high school students and travel to Hawaii & Alaska for a one-of-a-kind experience.