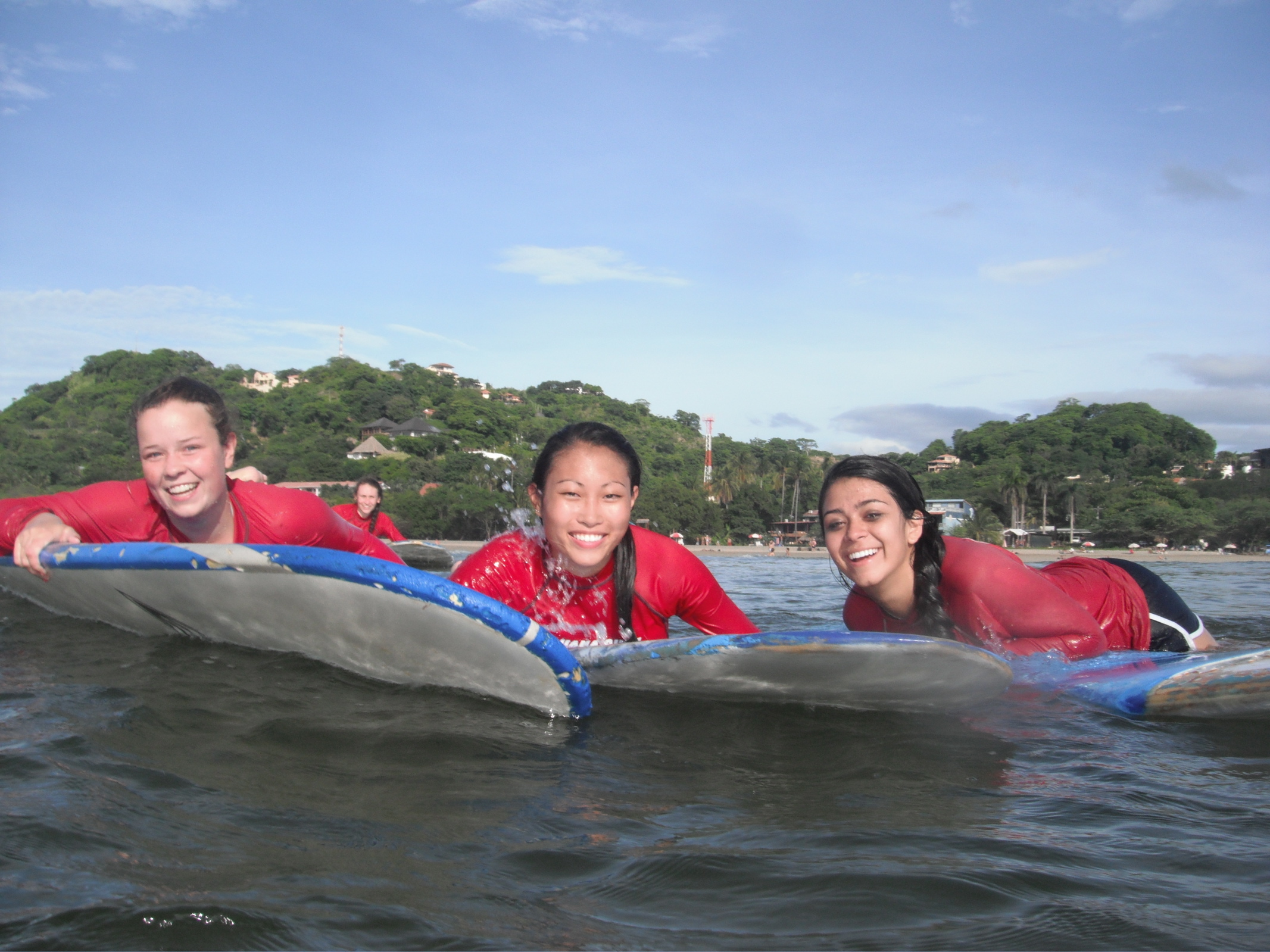 Buenos dias from Costa Rica!!!
Our Costa Rica crew arrived with gusto on Sunday afternoon. After some long plane rides everyone was excited to be in this beautiful country. We met our tour guide, Lucrecia, at the airport and hopped on a bus to our hotel. The ride took us through the city of San Rafael and up into the mountains. Our hotel, Hotel La Condesa, has breathtaking views of the mountains and the city.
Once we settled into our hotel we had a pizza lunch. Hailey was brave enough to try the pizza with unique vegetable toppings! There are some stunning outdoor gardens at our hotel so after lunch Josh, Nick, Steven, and Will played some football outside. Our group ate some delicious Costa Rican cuisine at the restaurant that night like burritos, nachos, and fresh passion fruit juice! Steven even tried the seafood meal. Michelle enjoyed watching the Costa Rican version of "Dancing With the Stars" at our restaurant and some of our easterners (Hailey, Jillian, Juliette, and Frankie) debated with the midwesterners (Jess, Mallory T, Steph, and Courtney) how to pronounce the words "backpack," "dad," and "bag." Our group was totally exhausted by the end of the day and hit the hay before another big day.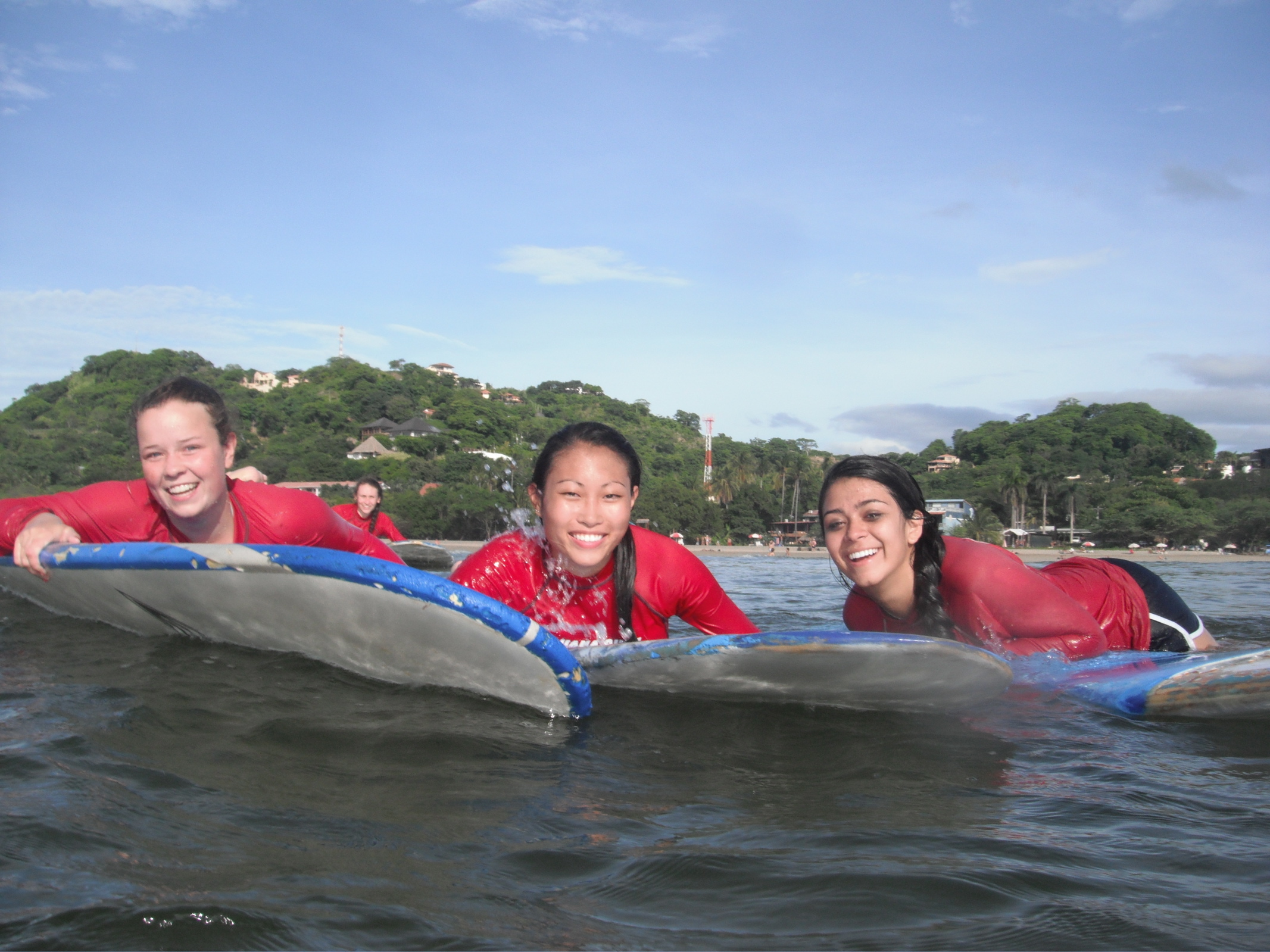 Today we woke up early to drive to the Pacuare River for our whitewater rafting trip. The drive took us through one of Costa Rica's cloud forests, a spectacular sight of foggy mountaintops, enormous leaves, and small waterfalls here and there. We got to the river and met our guides, who were all very energetic personalities.
The ride took all morning and part of the afternoon with a stop for lunch halfway down the river. The group paddled 18 miles, right through the middle of the rainforest! We had a lot of fun on the way. Nick, Hailey, Mallory W, Frankie, and Morgane made up a rap about rafting! "We're rafting today, threw our fears away, if we get wet we do not fret, but the raft is here so everybody cheer!" Josh and Julia were brave enough to sit in the front of their raft and did an amazing job navigating for their team. Will enjoyed giving some other rafts a surprise splash every now and then and Juliette and Emily volunteered to take a dip to help others practice saves. It was a fantastic trip and we were all master rafters by the end.
Our trip back to the hotel included a stop for some mamon, a unique and local fruit. It is red on the outside, with a white fleshy center. Mikayla and Charlie described it as tasting somewhat like a grape. During our mamon stop, we spotted a sloth in a nearby tree. Everyone was REALLY excited and took a lot of pictures.
Tonight we had dinner at another local restaurant and got to try some more new juices. Jordana, Danielle, Courtney, Dana, and Steph swapped silly jokes and riddles to pass the time. After dinner we had a rock, paper, scissors showdown which Will and Josh dominated; and finally, we ended the day with a short chat with the director of the Costa Rican Humanitarian Foundation, the non-profit we are working with for the next three days.
With all the adventure we've experienced already, it's hard to believe we've only been here two days! We are all very excited to start our service tomorrow at a daycare. That's all for now! Pura Vida!
The Westcoast Blogger