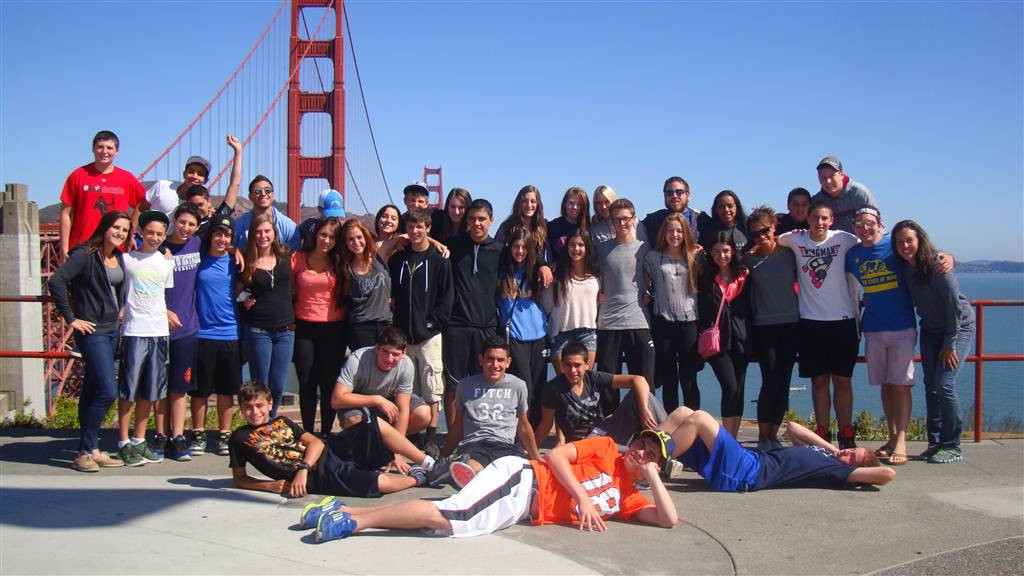 The U.S. Explorer checks in: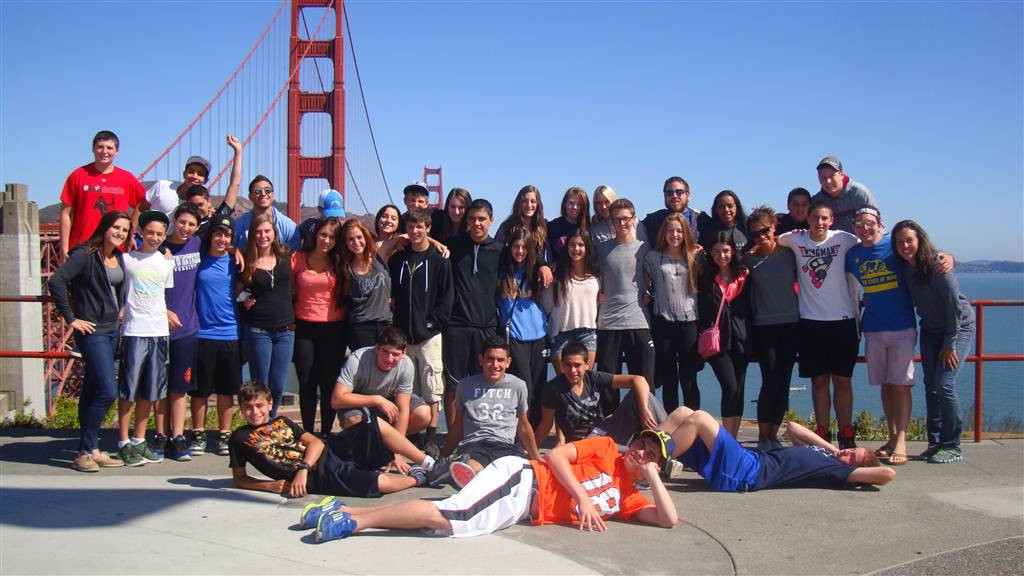 Dear XR19 Parents,
This is our final blog entry, as our journey is sadly coming to an end! We had an unforgettable 3 days in San Fran!
We spent our first evening riding the cable car to Chinatown. Lee, Justin, Matt, Zach G., Kyle, Brandon and Noah stood on the outside part and waved to people in the city. Of course they sang the Full House theme song and hummed the Rice-A-Roni jingle.  We then explored the shops in Chinatown. Some of us went tea tasting, others went to a fortune cookie making factory while others bargained for handmade crafts. After dinner at Oriental Pearl, Jared surprised us with a delicious ice cream treat!
The next day, we took the ferry to Alcatraz Island, (a.k.a "the Rock"). The view of San Francisco from the boat was just beautiful! We could see the Golden Gate Bridge in the distance and the famous skyline.  We did an audio tour that Tyler said  was really interesting. Evan A. said he was looking forward to seeing the cells as well as seeing first hand how the famous escape went down. We also debated, after watching the MythBusters clip if the famous escapes are alive.
At Boudin at Fisherman's Wharf, many of us tried the famous soup in a bread bowl including Grant, Sam E., Kyle, Aaron and Justin. They said it was absolutely delicious! Tyler, Lee, Zach G., Zach R., Matt, Evan S., Brandon, Noah and Jonah E. met former football player of the Oakland Raiders, Jeff Barnes while strolling around Pier 39 before checking out the sea lions! They took a picture with him, as well as his Superbowl ring.
We stopped at Mel's Diner for a bite to eat before we tore up the dance club! Jason and Jonah F. busted out their break dance moves! XR19 made a salsa train around the dance floor. We also danced to the Cha Cha Slide, Jump on It and YMCA.
The next morning, it hit us that it was our final day together. During breakfast, Samantha, Jamie, Delilah and Izzy danced to a slow song while hugging. We sang and danced to the morning mix together for the last time as well. Everyone jumped up to dance in the bus aisle and we gave it our all! There were tears once the last song ended, as we realized that the next time we would each dance to this song, it would be without one another.
At the beautiful Golden Gate Bridge, the entire group did "the MOVE" and we took some incredible photos! We then walked onto the bridge, glaring at the magnificent view, with the most perfect weather on our side. Abby, Alexa, Chase, Seryna and Rickey stuck their heads over the edge of the bridge, looking down below. On our way to lunch in the fishing village of Sausalito, we challenged the group to some Full House trivia!
As soon as we got off the bus, we headed straight to the waterfront where Jared said a few words about what an amazing summer we shared together. Prior to the trip, he scooped up water from the Atlantic ocean and kept it in the water bottle that he held before us. He poured the water into the Pacific Ocean symbolizing the end of our journey from coast to coast.
Next up was Ghiradelli Square! On the way there, we walked down Lombard street, the most crooked street in the world! At Ghiradeli, we all sampled the free chocolates and some of us indulged in calorie free sundaes (there are no calories if it is the last day of an amazing journey).
Our last night was a night to remember. Start off with a great DJ. Add a slideshow of our summer together along with the awesome video Jared made of us dancing! He combined everyone at activities and sites we went to throughout the entire summer… from day 1! We then read the last wills and testaments to the gang and our sad song goodbye to them. We celebrated Tyler's birthday at exactly midnight with a cake and of course by singing happy birthday.
As we said our final goodbyes, there wasn't a dry eye on the bus. Haley said that we should all travel together again next year! Emily said that she knows she will always be thinking of us. Gary said thank you to the staff for a really fun summer. Julia also said it was her #bestsummerever. Kyle said he had a great trip and that the staff made this trip even better than he ever imagined. Justin said that he learned a lot about himself.  Seryna said she will miss everyone. Nikki teared up and said that her summer was unforgettable and she couldn't picture it being any better.
Safe travels home XR19. There is one more surprise coming soon…
The Westcoast Blogger