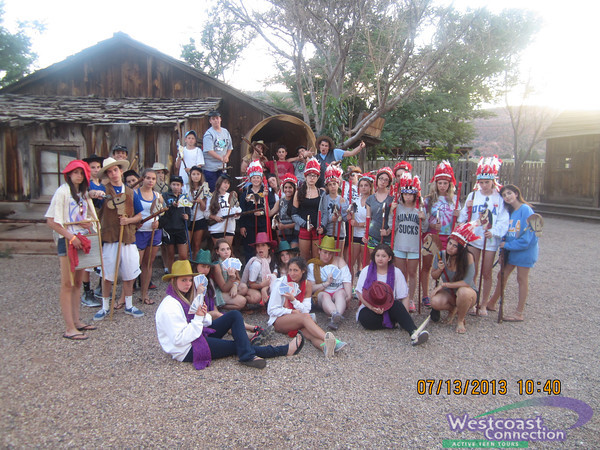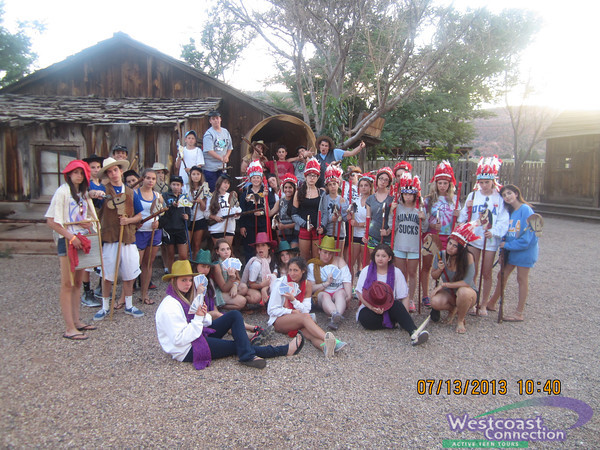 Greetings one last time from Park City, Utah.
And so our trip has come to and end and what a trip it was. Our last few days were great fun. We had a blast at the the Lagoon-a-Beach amusement park and it was wonderful that our friend Sammy tried out a variety of roller coasters, something he normally does not do! Definitely an accomplishment for him. We are so proud of you Sammy! He even classified this moment as his favorite of the trip. He said "going on my first roller-coasters with my friends and having so much fun" was the best. The trip members also had an opportunity to roast their staff last night during our evening program. Tori, Jacqueline and Gillian did a great job poking fun at myself, Robyn, Jared and Tori really nailed her impersonation of Jamie our Trip Director, all the way down to his backwards baseball hat and the little pieces of hair that pop out! After visiting Hollywood not so long ago, I believe these girls have a future there…somewhere 🙂
I leave you now with a series of memories from this trip as described by the trip members. The following memories may not be in chronological order, but let's be honest, when do we ever remember our fondest memories in perfect order?
Jenna S. discussed how her favorite part of the trip was getting the opportunity to visit so many different places in only 4 weeks. One of the beautiful places was Lake Tahoe and Jessica said that this was her most memorable location. She said "it was a peaceful and relaxing place as well as beautiful". She also mentioned how close everyone became during this stay. So happy you made those connections Jessica. Stevie also enjoyed her time at Lake Tahoe and really had fun on the boat cruise. She said "it was really fun 'cause we all just danced and partied in the mist even though some people didn't know each other, we had a great time". Dori enjoyed Lake Tahoe because "it forced me to branch out and make a bunch of new friends" Dori, those memories will last you a lifetime.Jenna C. said "I definitely enjoyed seeing all the places we went to with some new and old friends. I really enjoyed surfing in San Diego with ALL my friends".
We definitely laughed a lot at the improv club and Tori and Brandon considered that activity their most favorite. Brandon said he was "cracking up" while Tori said "it was hilarious". It was also really fun that we got to see Big Time Rush star Stephen Glickman and he even let us take pictures with him! We definitely have a similar theme on this trip about all the places we have had the opportunity to visit. Emily said that at times things were very busy but "it was amazing that we had the opportunity to see Rodeo Drive among other places. It provided us with the knowledge of how lucky we all are to experience these amazing sites". Well said Emily. Emily was not alone in her enjoyment of the famous street. Megan K. said "L.A. was my favorite place because I enjoyed Rodeo Drive". Unfortunately no celeb spottings that day but definitely memories were made. Zach liked our water activities as he couldn't just pick one favorite but chose both tubing and surfing. Water must be his element! Lindsay said that she had a great time tubing in Boulder also. "It was fun going down the waterfalls and rapids". We are so happy you had fun Lindsay! Romy also enjoyed the tubing as she said "I liked trying things out of my comfort zone".Romy mentioned all the exciting challenges she overcame such as surfing, the ropes course and even hiking the canyons.
All the activities seemed to have had a great impact on our trip members but nothing is more rewarding to know that the participants were enjoying all the bonding time. Lizzie expressed this as her favorite part of the trip. Sophie W. shared a similar sentiment to the bonding time experienced with our trip family. She said "rooming and bonding with Shayna, Jess, Jenna S., Stevie and Dori in Wyoming was my favorite part". Imagine how nice and spacious those condos were in Wyoming to accommodate all those lovely ladies! It's nice to know that the girls who came together enjoyed the trip in a similar way. Both Paige and Rachel expressed similar feelings about getting the opportunity to see places they have never seen before. Paige also really enjoyed the surfing in San Diego. Rachel couldn't have said it better. She said "I enjoyed travelling to places I've never been to and making so many new, amazing friends along the way". Nothing beats travelling with great friends! Let's not forget our street performer Jeremy. He said that performing for his fans in Jackson Hole, Wyoming was one of his favorite moments of the trip. Drew shared the same feeling. He said "watching Jeremy be the karate kid was my fave thing on this trip, also buying all my bouncy balls and go-karting". Drew, so many things were your favorite, definitely a good thing!
Jacqueline loved the roller coaster park we visited just yesterday. She sure loves feeling the wind in her hair as she went on a variety of rides and was truly fearless! After many years at camp, Rebecca said that this new experience was amazing. Getting a chance to meet new life-long friends was her favorite. Rebecca's new friend Sam H. felt the same way! So glad you girls found each other and so many new friends along the way. And I guess Colton and Harry feel the same way as they were both so happy to have had this opportunity to make new friends. Seeing new places and making new memories is a great feeling to take away from this trip. My personal favorite was seeing the expressions of pride and accomplishment after the group hiked through gorgeous Bryce Canyon!
As we dance into the night at our farewell banquet, we can't help but get a little misty eyed as we say out goodbyes. You wanna make your kids feel good on the drive home from the airport tomorrow? Play this song for them, "we can't stop" by Miley Cyrus. Wait and see what happens. It's been a pleasure keeping you updated on our adventure and I truly hope you spend some time looking at your child's photos with them and listen to the great stories that came about on our trip.
For one last time, from all of us on the Ultimate California, have a wonderful rest of your summer.
Robyn
Trip Blogger on behalf of Jamie, Jared, Tara, Shayna and I3
Got yourself interested? Join our 21-day ultimate west coast road trip and explore California and the canyon country with the leaders in student travel.