An update from Ultimate California!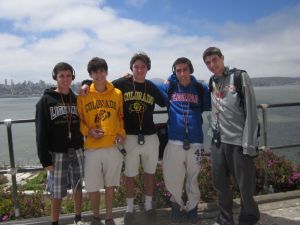 Dear Parents,
The ultimate excitement continues as we traverse farther across the west coast! Our drive to Utah was spiced up with the introduction of "fegments"–in other words, fun segments. Jack, as funny as ever, created his own episode called Jack Jack's Fun Facts, and all of us never cease to be amazed by the unpredictable facts he enlightens us with every day. After his tidbits are the all-important nutrition facts by counselor Jess, then Italian word of the day with Maria Luna (we all can now say water park in Italian), and English word of the day with yours truly! With fegments like these, the time flew by until we arrived at the hotel. We ate dinner at the spectacular Silver Star Cafe with specialties like mussels and the biggest chicken pot pie you can imagine. Our highlight in Utah was by far Lagoon-A-Beach water park, where roller coasters created plenty of screaming and whooping. We could all sense the excitement when we finally boarded our plane and headed for the destination that was on everyone's minds: California! Our quirky temporary bus driver burst with information about the sites in California and, like the song says, made sure to tell us the way to San Jose. Our first night wouldn't have been complete, however, without a night downtown to see the fireworks, which Erika aptly described as "super spicy!" Everyone enjoyed the time with their friends, and Katie made sure to let us know that "the girls I'm with aren't my friends, they're my family." It seemed our time bonding in Wyoming and Utah had definitely made us closer.
Everyone got to see the spookier side of San Francisco with a visit to the infamous Alcatraz prison, and David and Trent especially enjoyed poking around in the prison cells. The morning favored our visit with incredibly warm and clear weather, which made eating delicious clam chowder on Fisherman's Wharf all the more enjoyable. The views of the ocean were particularly beautiful. The guys and girls got all dressed up for our night at the dance club, and tore up the dance floor to their favorite songs. Needless to say, they were very tired once the dancing ended, but that didn't mean they weren't happy to visit the quaint and beautiful Sausalito this morning. Before they even had a chance to walk around, the kids got to play with a cockatoo that enjoyed fluttering onto their shoulders. As Max said, "The bird guy and his bird were a pretty cool couple." Sausalito had a plethora of interesting little shops and characters, and Jeremy recalled: "The singing hippie and his wiener dog were hilarious!" The Oakland A's versus the Seattle Mariners was a perfect way to end the day, and tomorrow we're in for a wild day of white water rafting on our way to Lake Tahoe.
Until next time!
The Westcoast Blogger