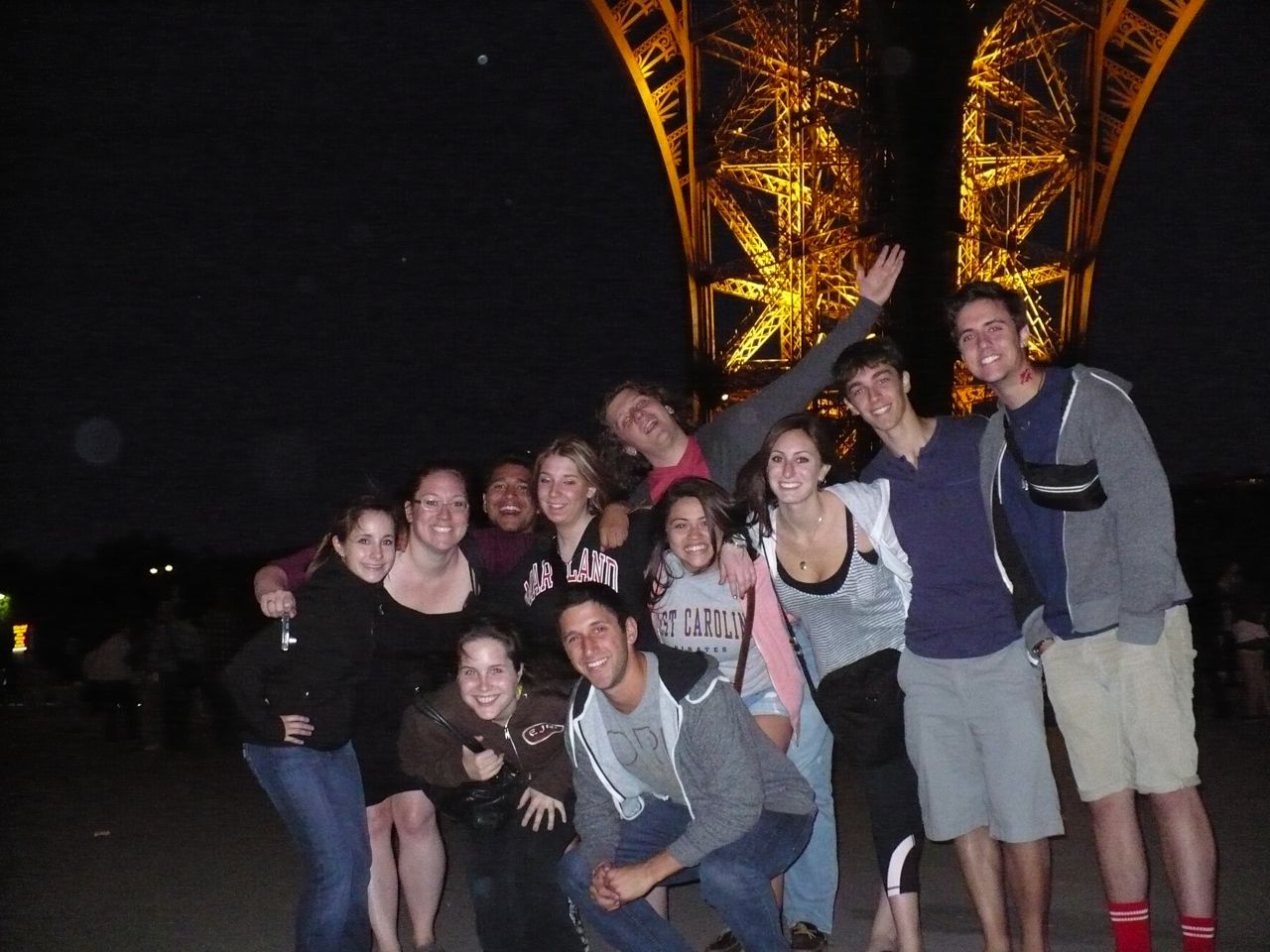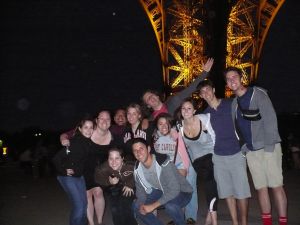 Bonjour family and friends,
Greetings from Paris, France! We have had a great couple of days since we last touched base and hope everyone back home is doing well.
We "chunneled" from London to Paris and for those of you who do not know how it works, the Chunnel is a tunnel that passes through the English Channel and thus we have the name "chunnel". As the bus settled in its own rail car on the chunnel, the group gathered for a great chunnel photo-opp. We hope you enjoyed the picture on our Westcoast Connection photo website!
We were fortunate enough to have our resident artist Cody Lit. on hand as we took on a huge endeavor of creating a not-to-scale map of our journey. Cody's artistic skills contributed greatly to the bus' beauty and intrigue. Dinner was enjoyable and everyone was very excited to head off to the Eiffel Tower. As we approached the Eiffel Tower, Trip Members could not hold back their excitement and photo snapping was out of control. Everyone was thrilled to see the twinkling lights come on at 11:00 – another significant photo op took place and trip members were all vying for the best shot! Being most of their first time at the tower, Trip Members had big eyes and were full of excitement. Raquel in particular enjoyed the experience and both she and Ari walked down from the second level to the very bottom!  Mitchell and Alie also had a great time and took advantage of the experience and walked down all 1700 steps from the top.
Day 6 brought us back in time to a grandiose palace built by King Louis XIV. We learned that it is called Chateau Versailles as it is located in the town of Versailles. We walked through a wonderful palace with unique rooms and a demonstration of extreme wealth. Ethan and Hannah were shocked to find out that the Chateau cost 1 billion American dollars to build. They thought it should definitely cost more. From the Chateau Versailles, the group had some free time to explore the town and enjoy authentic French cuisine. However, Joe and Jimmy were too excited for Italy and decided Italian was the route they would take. Both boys shared a delicious Margarita pizza and enjoyed it tremendously. Once everyone was full we made our way to the Georges Pompidou center and the Trip Members were given some free time to explore the famous square. It was after Georges Pompidou that we reached the famous Notre Dame Cathedral.  As we entered the grand cathedral we noticed Mass was taking place. The stained glass and high arching ceilings were impressive, giving each Trip Member a fuller understanding of the history and grandeur of this famous cathedral.
Dinner that evening in the Latin Quarter was a great experience. The Trip Members had the opportunity to split up into smaller groups and choose from a vast array of restaurants. Options such as Greek, French, Italian were among the most popular. Overall, it was an enjoyable dinner experienced by all. To end our second night in Paris, we took a scenic boat ride along the River Seine. We had the chance to travel through history and catch a glimpse of the evolution of the River Seine. We also got to see the Eiffel Tower twinkle again and this time was from the other side of the tower.
As day 7 of our trip began, we have a hard time believing we have already been here for a week! Our morning started off with a guided visit of the Louvre. As many have learned about art and art history in school, having the chance to see the famous works like the Mona Lisa and the Venus de Milo was very exciting. Sarah mentioned that "finally getting to see all the masterpieces we studied in school was so cool". Trip Members had the opportunity to listen to a professional tour guide and also to wander the museum at their leisure. After the museum, we headed for dinner at Cafe Rive Droite (which translates to the right side, refering to the River Seine) before a VERY exciting night of karaoke. Our first group of singers to take the stage consisted of Josh, Troy, Jack, David J. and Sascha who all performed a great version of Coldplay's "The Scientist". They sure were a tough act to follow but Kaela and staff member Jon took the stage as Jasmine and Aladdin and sang a touching rendition of "A Whole New World". We all felt like we were watching the Disney movie all over again. Our resident theatre performer and trained vocalist Melissa, took on Kelly Clarkson's challenging song "Because of You" and blew everyones' socks off. The bar had been raised and no one was sure if they could top her performance. However, in a situation like this, the best musical artist to turn to is none other than Kaela look-a-like Britney Spears. Cody Lav. and Scott did a "passionate" rendition of "Oops I Did it Again" and were followed by another Britney favorite "Baby One More Time" by Andy, Henry, Mitchell and Sammy. Most are still trying to figure out the inspiration they fostered in order to pull off such an emotional song choice. Up next, Jimmy, sporting a beautiful grey French barret, sang "Wonderwall' by British band Oasis along with his friends Julio and Michael and our very own Jon, yet again! Watching Jeff, Ilyssa and returning performer Troy, along with guest appearences by Jack and Brooke, we found ourselves "Crazy in Love" as they sang their hearts out. It might be a toss up as to who performed this better, Westcoast Connection Trip Members or Beyonce and Jay-Z. Bohemian Rhapsody was "a bold song choice" said Jake as Jimmy, Reid, Julio, Amanda, Cody Lit., Melissa and Val headbanged all the way through the song's bridge. Be not alarmed, no one had whiplash! An all girls band made up of Sara, Brooke, Boone, Jordan, Kaela and Ilyssa took on an all boys band and did a "touching" performance of "Bye, Bye, Bye" by 'NSync.  And the night came to an end with Enrique Iglasis' "Hero" interpreted by Rive Droite's stage veterans, Sara, Reid, Amanda, Michael, Sascha and Ilyssa. Joing them and making a truly inspirational appearance was David O. Although he did sing other songs that night, this one was definitely his most touching and sincere choice.
On the 8th day of our trip we were truly experiencing the French chic style. First we climbed up the beautiful Arc de Triomphe. The spiral staircase was challenging but worth at upon reaching the top for great views of the city and in particular the Eiffel Tower. At the top of the Arc de Triomphe we also had a great view of the ritzy, chic shopping district of the Champs Elysees. We learned that yearly rent is 1000 euros per square foot! Woah! Brad and Ryan are self proclaimed fashion experts.  Lunch at the Champs was very delicious as most of our Trip Members enjoyed a sit down meal at some of the terraces facing the beautiful and bustling street. Ilana enjoyed a delicious sandwich that was suggested by the waiter and despite a language barrier, she managed to get by with flying colors. Both Boone and Andrea enjoyed a tomato and mozzarella sandwich and a salad.
Our last visit of the day was to the famous Musee Rodin filled with Auguste Rodin's famous works of art. We were fortunate enough to see the beautiful gardens and famous "Thinker" and "The Kiss" sculptures. Dinner in a quaint neighborhood called Montmartre was a lot of fun especially for those who took advantage of the classic styled double-decker carousel at the base of the Montmartre Cathedral.
We hope you are enjoying these updates and looking forward to sharing our next stops in Annecy and Zermatt with you soon.
Lots of love,
Trip Leader Robyn and Trip Member Alanna
The Westcoast Blogger