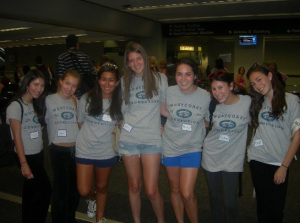 Here's an update from Matt, the Tour Director of California and the Caynons Trip!
The Westcoast Blogger
So it's only day two of California and the Canyons and we've already been having a BLAST!!!! After picking up all campers from the airport, we arrived at the Hilton–right next to Fisherman's Wharf. After settling in and doing some get-to-know-you games, we got our first taste of San Francisco by riding the cable car to Chinatown. After browsing the shops and eating our first group dinner at Oriental Pearl, we knew we were all in for a great three weeks.
After a good night's sleep everyone woke up feeling refreshed and ready for a full Westcoast day! We started off at Alcratraz, which proved to be exciting. It was a highlight for both Emma and Paulina, who enjoyed the audio tour and found the prison "freaky" and "thrilling." We then headed off to Pier 39 for lunch and more sightseeing, where Danielle C., Tayrn, and Nicole grabbed souvenir tees, which they wore for the evening activity. The group has only been together for just over 24 hours and new friendships are forming. We are a culturally diverse group, coming from two continents, representing the Unites States, Canada, and Italy.
After a day of exploring the Bay, we spent our evening bowling — always a favorite!! Bowling was a great highlight for Andrew, and some of the lucky 'winners' were Lindsay, Skylar, Daniel, Alicia, Matteo, Amanda G., Danielle M., and Josh. 
We can't believe its only day three and we've already seen so much!!! Can't wait for Lake Tahoe and the next 18 days!!!