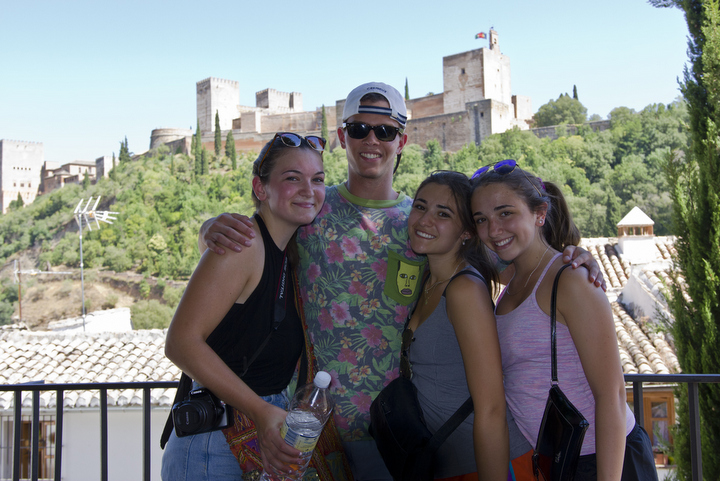 Este fin de semana pasado nos ofreció la oportunidad de conocer a otra linda ciudad española- Granada. Además de ser casa a uno de los sitios más famosos del mundo, La Alhambra, Granada es famoso por las tapas y el flamenco.  Los miembros experimentaron la cultura inmediatamente durante la primera cena alrededor de Plaza Nueva cuando los camareros nos trajeron tapas gratis después de pedir- ¡algunos fueron valientes y probaron los sesos!
This past weekend offered us the chance to get to know yet another beautiful Spanish city- Granada.  In addition to being home to one of the world's most famous sites, The Alhambra, Granada is famous for tapas and flamenco. Trip members were immediately immersed in the culture during our first dinner around Plaza Nueva when waiters brought free tapas upon ordering- some of us were even brave enough to order sheep brains!
Nuestra aventura por Granada continuó con un tour donde anduvimos por la ciudad.  Nuestras guías, Estefania y Noelia, nos compartieron mucha información y nos mostraron los sitios más conocidos.  Después de pasear por la Catedral y las calles influídas por los árabes, caminamos por las calles estrechas al "Mirador de San Nicolás" donde estábamos encima del centro de la ciudad y sacamos fotos con la Alhambra al fondo. Por tener mucha hambre, cenamos en Plaza Bib-Rambla y terminamos la noche con helado en la heladería popular "Los Italianos."
Our adventure through Granada continued as we took a walking tour around the city.  Our guides, Estefania and Noelia, shared a lot of information with us while showing us the most visited sites.  After passing the Cathedral and walking through the Arab-influenced streets, we made our way through the winding roads to the "Mirador de San Nicolás" where we towered above the city center and took pictures with the Alhambra in the background.  After working up an appetite, we dined in Plaza Bib-Rambla and concluded our evening with ice cream from the popular "Los Italianos."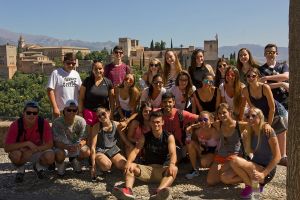 Exploramos la Alhambra por la mañana y fue impresionante ver la arquitecutura del palacio moro que han construído hace cientos de años.  El Generalife era la casa de verano de los reales y estaba llena de fuentes y flores- ¡qué buena vista! Dentro de la Alhambra, que era la casa del invierno, el patio de los leones fue uno de los sitios más popular con los miembros.  Andando por más cuartos del palacio, nos recordamos de las estructuras parecidas que hemos visto en Sevilla- ¡hemos visito y aprendido mucho durante nuestra estancia en España!
We explored the Alhambra in the morning during our guided tour and were impressed by the architecture in the Moorish palace constructed hundreds of years ago. The Generalife served as the royals' summerhouse and was filled with fountains and flowers- what a sight!  Inside the Alhambra, which was the winter house, the "Patio de los leones" was one of the most popular amongst trip members.  As we passed through the remaining rooms of the palace, we were reminded of similar structures that we had seen in Seville- we have seen and learned so much during our stay in Spain!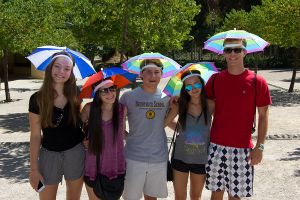 Nuestra estancia concluyó con una noche llena de cultura granadina.  Después de observer la inflencia árabe en la ciudad, nos sentamos para comer una cena llena de cuscus, pollo, y caldos.  Nuestra cena deliciosa nos dio la energía parauna noche divertida de flamenco donde todos nos sentamos en la primera fila en las cuevas gitanas.  El sonido de la guitarra y los castañuelas nos motivaron a ponernos de pie durante la canción final y mostramos nuestros pasos de flamenco por la última vez.  Mañana salimos para nuestro próximo destino, Barcelona, y tenemos ganas de ver lo que ofrece la ciudad.
Our stay concluded with a night full of Granada culture.  After observing the Arabic influence throughout the city, we sat down for a meal with a variety of couscous, chicken, and stew.  Our delicious meal energized us for a fun-filled evening of flamenco where everyone had a front-row seat along the walls of the gypsy caves.  The strumming of the guitar and the sounds of the castanets were enough to bring us to our feet by the final song and show off our flamenco moves for the final time.  Tomorrow we leave for our next destination, Barcelona, and we can hardly wait to see what is in store for us!
The Westcoast Blogger
Are you ready for an ON TOUR adventure? Travel like a local with our student travel to Spain and discover all its amazing attractions.