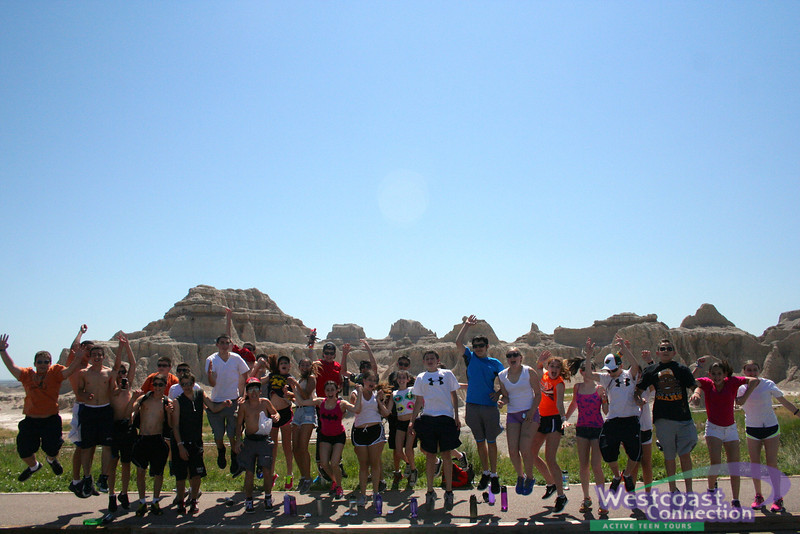 Greetings US Explorer Families!
It has been a few days since the last update and our trip has experienced so much from each of our last stops. After three amazing days in Chicago, we headed north to Minneapolis to continue our camping at the KOA campground. Between all the games and activities played on the bus, the ride flew by! After arriving at the campsite, we all set up tents and then indulged in a delicious fajita dinner. To conclude the evening, we all played the fun and interactive game – Battle of the Sexes. The guys and the girls were split into two teams. Each gender was asked questions about topics regarding the other gender. Lainie and Rebecca were the team captains for the girls team, and Jared and Zach were the team captains for the guys. In the end, everyone seemed pretty knowledgeable about the other gender as each team scored 500 points!
Our second day in Minneapolis was jam-packed with fun-filled activities for all! We began our day by heading to the Water Park of America, which is also known as the tallest indoor water park in the country! David T and Jon had a great time on the 'flow rider,' which was a stationary wave pool to surf on. Many trip members loved the 'family ride' where 5 people got to sit in a tube and fly down a huge water slide.
After a great day at the water park, it was time to experience the wonders of the Mall of America, the largest in the United States! Every couple of years, it is sponsored by a different child-oriented company. This year, we were lucky enough to enjoy the Nickelodeon exhibit.  Julia S and Valerie sported cozy "onesies" as they strolled about; and Ross and Matt A. fit right in with the locals by purchasing Minnesota Wild apparel. We dined with animal sounds surrounding us at Rainforest Café. Upon entering, we all put on our frog hats to get festive for this meal. We all had a great time eating among moving animal statues and aquariums. As our time in Minneapolis came to an end, every trip member had pictures and souvenirs to remember this special visit.
We then moved onto our next state – South Dakota! Upon crossing the border, we stopped for a picnic lunch while trip members tossed around a football and practiced playing volleyball. Before traveling to Rapid City, we stopped off in Mitchell, home of our incredible bus driver Darryl! Mitchell is also the hometown of the famous NBA player Mike Miller as well as the one and only Corn Palace! Upon arriving in Mitchell, we stopped at this famous landmark, which is a massive gift shop and tour revolving around corn and corn accessories. After devouring some tasty popcorn treats, trip members had some time to play some mini golf at the hotel, swim in the pool, or work up a sweat at the gym. Julia G, Alec, Arielle, and Sydney D went for a jog around the hotel! Our time in Mitchell was short, but tons of fun!
We boarded the bus to Rapid City, and we stopped in the magnificent Badlands, our first national park visit. Everyone was so excited for this incredible hike through the craters and fascinating geological formations. Dan L and Ethan showed their adventurous sides by discovering interesting views from various spots throughout the hike. Zach S conquered his fear by quickly walking down the ladder during the hike. As the hike came to an end, we were all excited to stop in Wall, South Dakota to visit the world famous Wall Drug Store, famous for their 5 cent coffee and free ice water. Ally and Rebecca loved the cookies and cream fudge! All the trip members had fun checking out all the different items. After arriving at our campsite and setting up tents, we ate a delicious dinner at a quaint restaurant in town and we all spotted a double rainbow! After dinner, we headed to South Dakota's most famous attraction – Mount Rushmore. We all got to hear about the history of this breathtaking national monument during the lighting ceremony.
On our second day in Rapid City, we traveled to the Black Hills to explore the Jewel Caves. It was fascinating to see these beautiful caves with all the minerals and interesting rocks, including the 25-foot rock sediment that resembled a massive strip of bacon. After the Jewel Caves, we ventured over to the Reptile Gardens. Some trip members had the opportunity to pet the giant tortoises. Others including Alec and Matt Z watched the live crocodile show! Following a delicious campsite dinner, we headed to the Black Hills maze and bankshot basketball. Trip members had to navigate around the maze to collect stamps of the four presidents on Mount Rushmore. After successfully completing the maze, we all played bankshot basketball next door.
Bankshot basketball is a one of a kind combination of basketball and golf. Sydney L and Greg had a great time playing knock-out on the courts.
We have just had a blast playing Don't Forget the Lyrics on our bus ride to Cody, Wyoming. Aiden and Mike belted out the words to Queen's "Bohemian Rhapsody," where Jacob sang his heart out during Maroon 5's "This Love." We have said goodbye to the northern part of our trip as we have begun our journey south.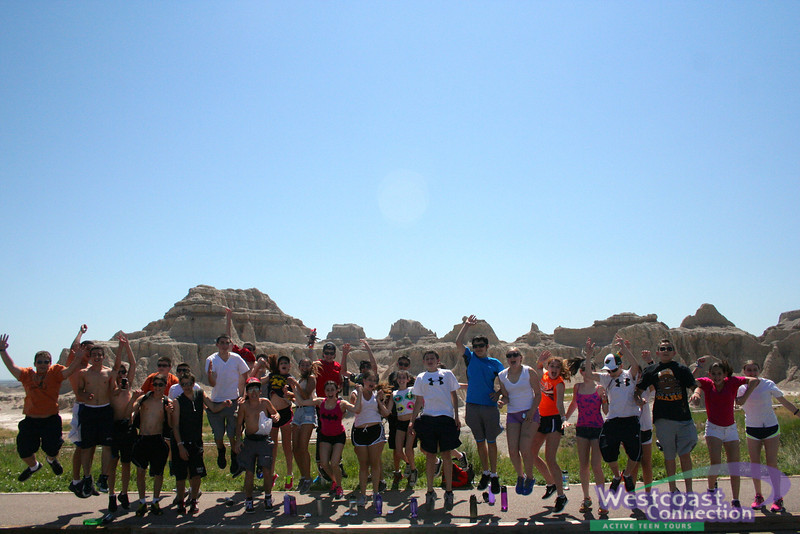 See you next time!
Lauren, Larissa, Phil, Jess, Ryan