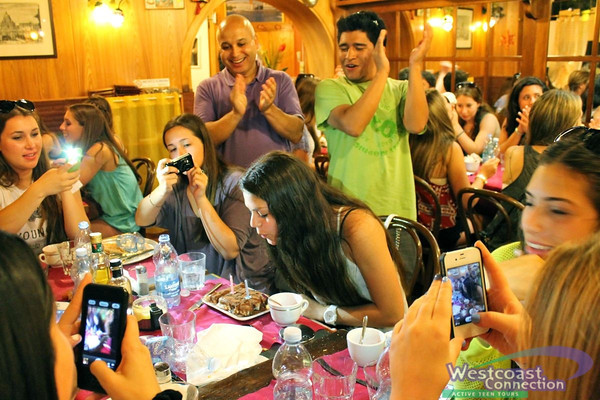 Ciao from Italy!
We started off the day on Thursday with a big birthday song to Alex before we boarded the bus and headed out for Venice. After all that mountain air everyone was pretty tuckered out, and many bus naps were in order, so before we knew it we were in Italy and ready to eat our way through this beautiful country. We connected with our own personal boat and captain, Giulio, who will escort us to and from Venice during our stay. It was so nice to be on the water with the wind in our hair, and looking forward to the amazing meal ahead of us.
We started off the night with dinner at Osteria Alle Botteghe. The pizza and pasta were flowing at this little family restaurant, and there was so much food we had to ask them to stop bringing it out!  That's how they do it in Italy. We topped it off with some awesome gelato for dessert, and big of piece of tiramisu for the birthday girl. After dinner we also got started with a trip wide game of Gotcha. Let the best man/woman win!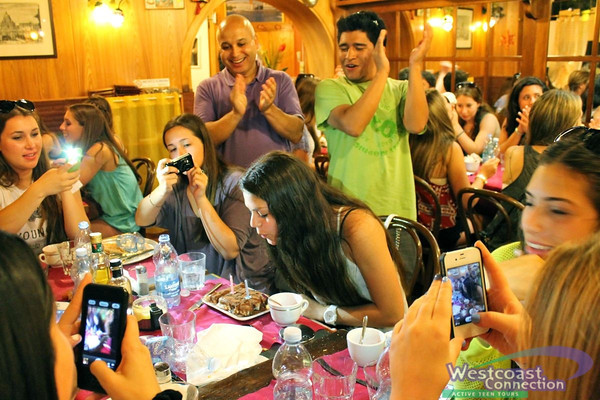 With full stomachs we went for our first stroll in the Piazza San Marco to get a look of the square by night. It was all lit up and beautiful, and there were two small orchestras playing music, with a local ballet dancer improvising choreography. It inspired us to get dancing ourselves, so Dani led the way with a little waltz with Trip Director Matt. Before you knew it we were all twirling around the square. But we had to make sure make it back to the mainland, and we had another day waiting for us in Venice tomorrow.
The next day we took the Vaparetto back to Venice after singing a little number for two more special birthday people, Lorin and Harrison. At this rate we're going to run out of balloons! Plus we had a special visitor with us on the trip, a real veteran of Westcoast Connection, Company Director Ira. He added his own extensive knowledge of the area during our morning visit to the Jewish Quarter, and made sure we all had a taste of authentic Venetian bread, a local bread pastry with honey and raisins.
Later we explored the area around the Rialto bridge, where we had time to stop for lunch and visit the many shops in the area. Our next stop was what a lot of us were waiting for, the Murano Glass blowing company. Here we got to see a real glass master at work, and watched as he created two beautiful pieces almost effortlessly, and learned about the training and work that is required to be a real Murano artist. Afterwards we had a chance to look around and purchase glass gifts – there are some beautiful (and very carefully packed) pieces coming home with us.
Venice is bustling during the day, and it is such a great people watching city, so we made another visit to Piazza San Marco for a daytime view. Eduardo also checked out the Palazzo Ducale, the old palace of the the Duke of Venice, where he got to tour the prisons below and the see the famous Bridge of Sighs.
Before dinner we had one more classic Venice tradition to experience, the gondola ride. As others met up with our personal gondoliers, Trip Leader Melanie rapped off with Dani to Bon Qui Qui, and soon everyone was off for a new and historic view of the city on the water. Later we headed out for yet another amazing meal, this time in Campo Santa Margherita, where Emily B, Carly, Sydnie, and Samantha S entertained the crowd after their meal with a bit of their own dancing.
Such a great day deserved a great ending, and we got to share our last vaparetto ride with another Westcoast Connection tour heading back to their hotel. Trip Director Matt and Leaders Nicole, Ryan H, Ryan L and Melanie even wowed the crowd with an encore performance of Man in the Mirror, and Kennedi helped out as a back up dancer too! Such an awesome day, and a great way to end our time in Venice. Next stop, Rimini and the Adriatic Riviera.
The Westcoast Blogger