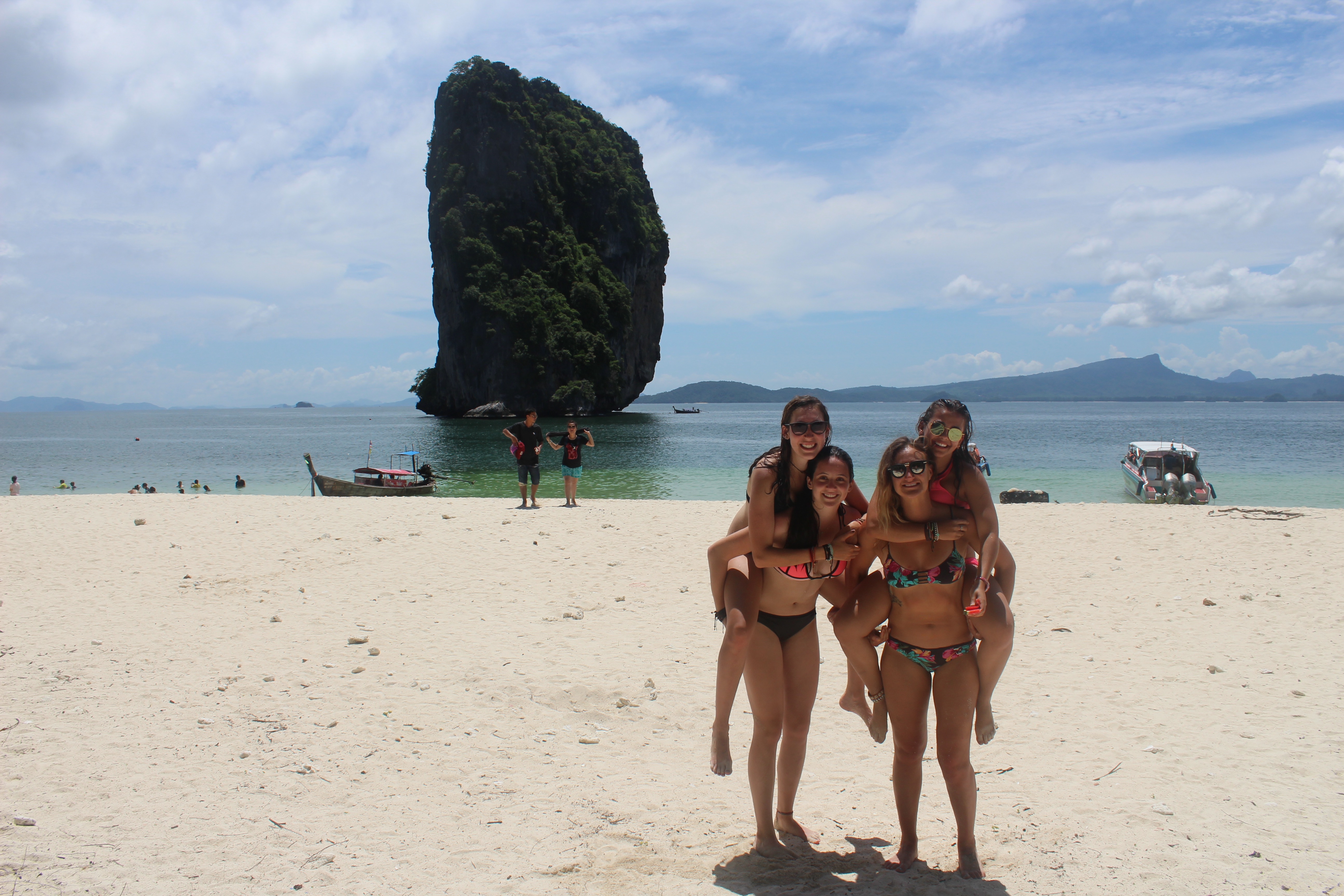 Greetings from Bangkok! After traveling around Thailand for the past three weeks, our trip concludes in Bangkok where we started as strangers, and now feel like family. Our adventure to Krabi was truly spectacular! We immersed ourselves in views that we had dreamed of before going on this journey, and were able to put our toes in the sand at some of the most amazing beaches.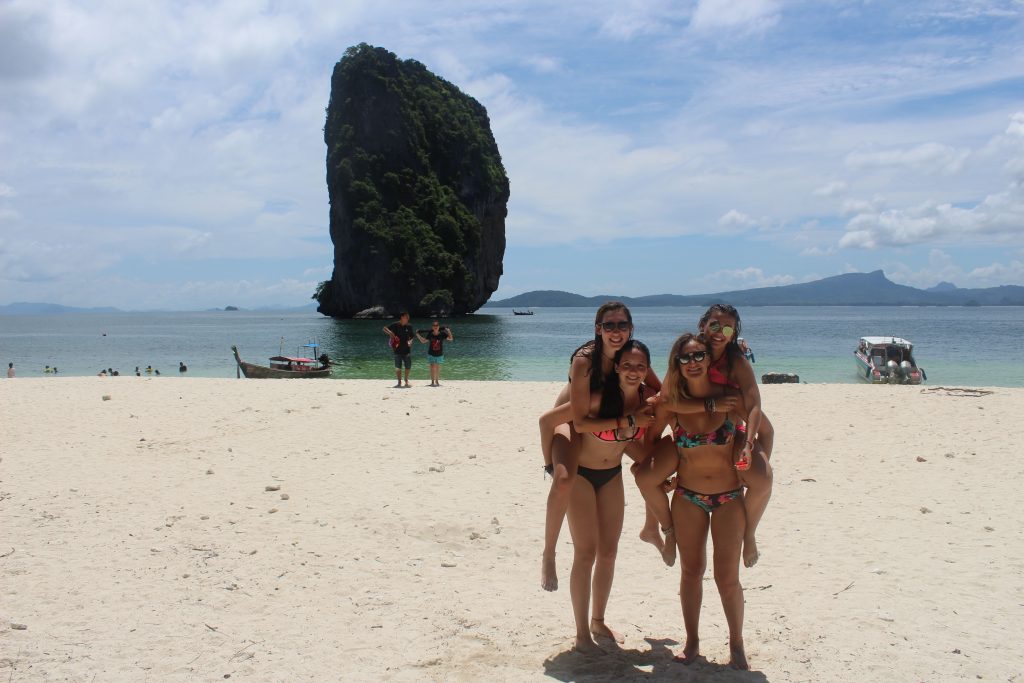 We swam, kayaked, snorkeled, went scuba diving, shopped, and enjoyed every moment of our time in Krabi. A highlight for many was our snorkle/diving adventure in Koh Phi Phi. From sea turtles, to schools of fish, we saw indescribable views from the surface all the way to ten meters below sea level. We got up close and personal with a sea turtle, carefully watching as it swam around us. On top of the beautiful boat ride taking us to and from our destination, we learned that we would be diving on PADI Women's Dive Day! All the ladies on the trip loved the representation we were able to have on this special day. We swam and splashed in the crystal blue water, working up an appetite for our lunch with a view.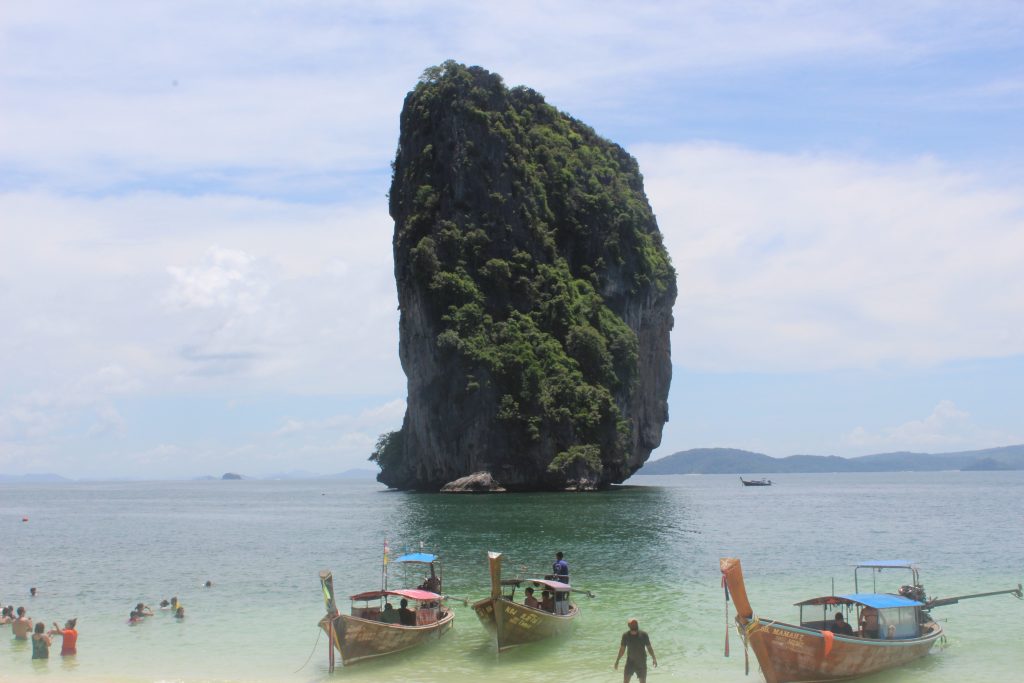 Returning to Bangkok has been a very sentimental and special experience. It has brought reflection upon the entire group, realizing the quality of friendships we have made over the past three weeks. The staff of Smiling Albino helped make this trip one we will all remember. Pi-Nadia and Pi-Poy spent the last couple of days teaching us all how to make traditional Thai bracelets. From lessons, to laughs, to assistance with translations, each of us had a very difficult "see you soon" to all of the staff that welcomed us so warmly to their country.
Here are some of our trip members' favourite moments of this incredible journey:
"I liked Mae Salak because even though it was challenging living conditions, it allowed for us to create very special memories and get to know people without the distraction of wifi." – Ilana
"One of my favorite memories is probably the Chiang Mai School. Seeing how grateful they were when we interacted with them and play with them was incredible." – Nicole
"Chiang Rai was amazing because despite the language barrier and the disabilities, I felt like I made a good connection with the kids by dancing with them and playing soccer with them." – Lindsay
"The dance party at the Chiang Rai School was my favorite part because I like to dance and loved the kids!" – Sara
"The Pataca elephant farm was very special. I liked interacting with the elephants, it was something I hadn't done before and was very unique to Thailand. it was my favorite community service and perfect for this experience." – Max
"Scuba diving was great because it's something that I love to do and it confirmed that I want to get certified in the near future!" – Ian
"When we went to the villagers' homes and ate food with them. I thought it was cool to see how they lived and their reality." – Gabbie
The "Land of Smiles" truly left us all with a feeling of accomplishment that we were able to give back to a country that is beautiful in many ways. Thank you to all families for allowing your trip member to attend this once-in-a-lifetime opportunity. We are so fortunate to have gotten to know each and every one of them, and look forward to helping them in their future endeavors.
The Westcoast Blogger
Do you want to be part of this community service program? Check out our Thailand trips for students and get ready for the experience of a lifetime with Westcoast Connection.