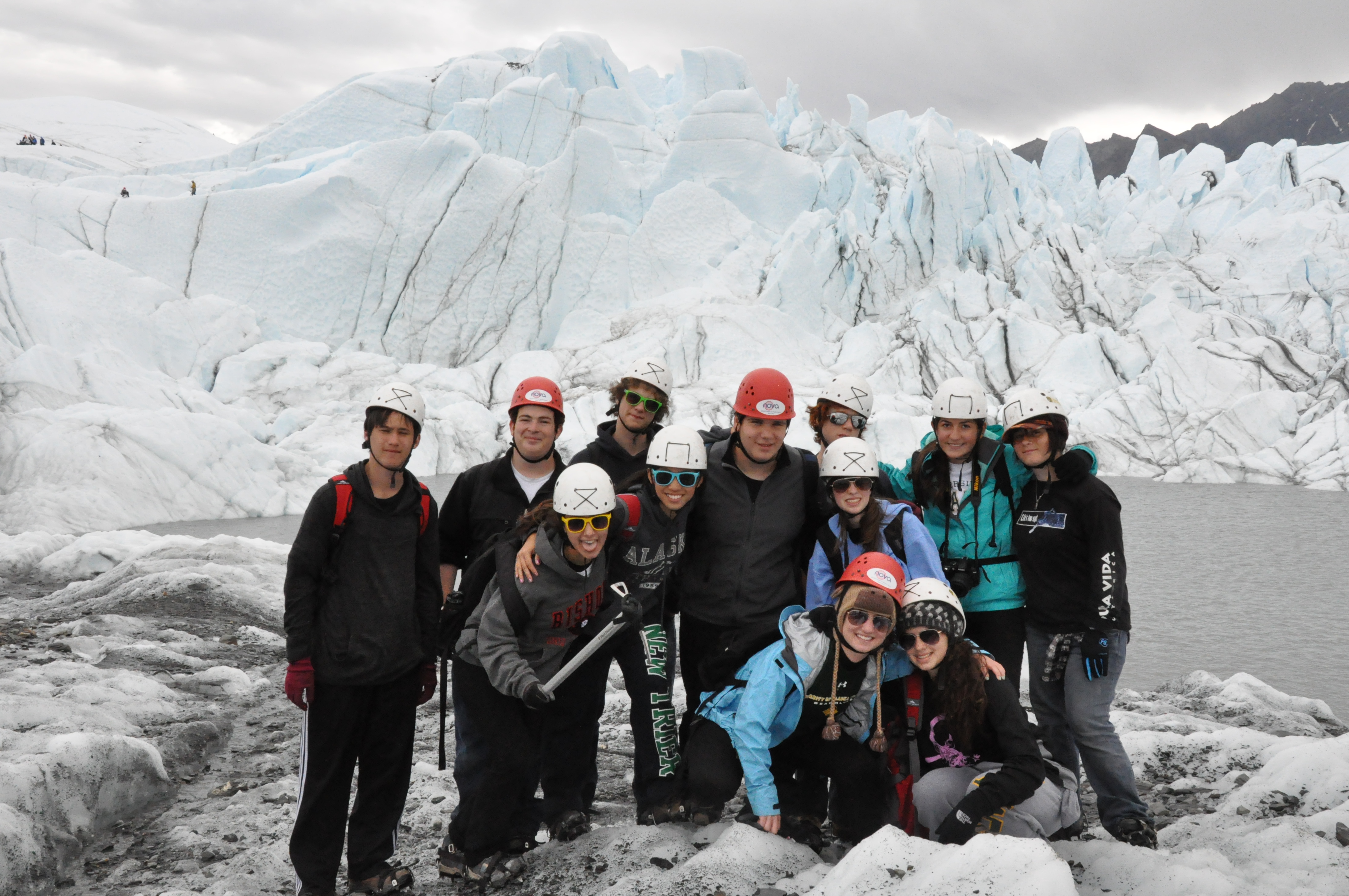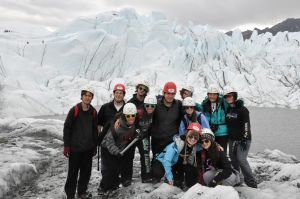 Hello!
We are back in Anchorage!  It feels like we've returned to our home away from home.  When we last wrote, we were getting set to head to the Center for Alaskan Coastal Research Field Station in Peterson Bay.  We travelled there from the Homer Spit, which took about 20 minutes by boat.  We had a beautiful, sunny day for our trip across.
When we first arrived at the Field Station, we got settled in our Yurts (traditional Alaskan lodging) and enjoyed dinner and a campfire.  Everyone got to try some fresh Alaskan Salmon that our guide, Patrick, cooked over the fire.  The next morning, we got our first taste of the tide pooling in China Poot Bay.  We saw so many amazing sea creatures!  Octopi, Sea Stars and Sea Urchin…just to name a few.  Two bald eagles flew right by us and one of them had a fish in its talons – very cool!  The afternoon was dedicated to community service.  We broke into smaller groups to tackle a few important jobs.  Rebecca and Jessi fixed the plank for the dock.  Others cleared trails, hauled lumber and tore out an old set of stairs all very much needed by the Center.
The following day we went tide pooling at Otter Rock, where we saw more cool sea life and got to explore some caves that were exposed during the low tide.  After lunch, we set out to finish what we had started the previous day.  Jamie, Andy, Jessi, Dan, Philipp and Eric built some boardwalks.  Renee, Rachel, Rebecca, Abby, Ally and Zach spent the afternoon clearing the hiking trails around the Field Station.  In the evening, most of the group went fishing off the dock.  They caught lots of different types of fish.  Rachel even caught a flounder!
Although our work at the Center for Alaskan Coastal Studies Field Station was hard work, we were happy to contribute and to complete what we had set out to do.  Tide pooling was well worth it and is definitely a highlight of the trip!
Since being back in Anchorage, we spent more time at the Food Bank of Alaska, sorting through a huge food donation they had just received and needed help with.  We also spent time at the Boys and Girls' Club of Anchorage, where we hung out with kids, played some games and helped prepare and serve dinner.  The kids were great! Renee thought it was cool to see a lot of the kids offering to help in the kitchen.
Everyone is hard at work planning for our Fundraiser BBQ on Sunday and we are all looking forward to our glacier hike tomorrow!!
We're on the home stretch and though we're all looking forward to seeing family and friends at home, truthfully we're all sad that this journey is coming to an end.
Sincerely,
Pam & Matt
Alaska Community Service
The Westcoast Blogger