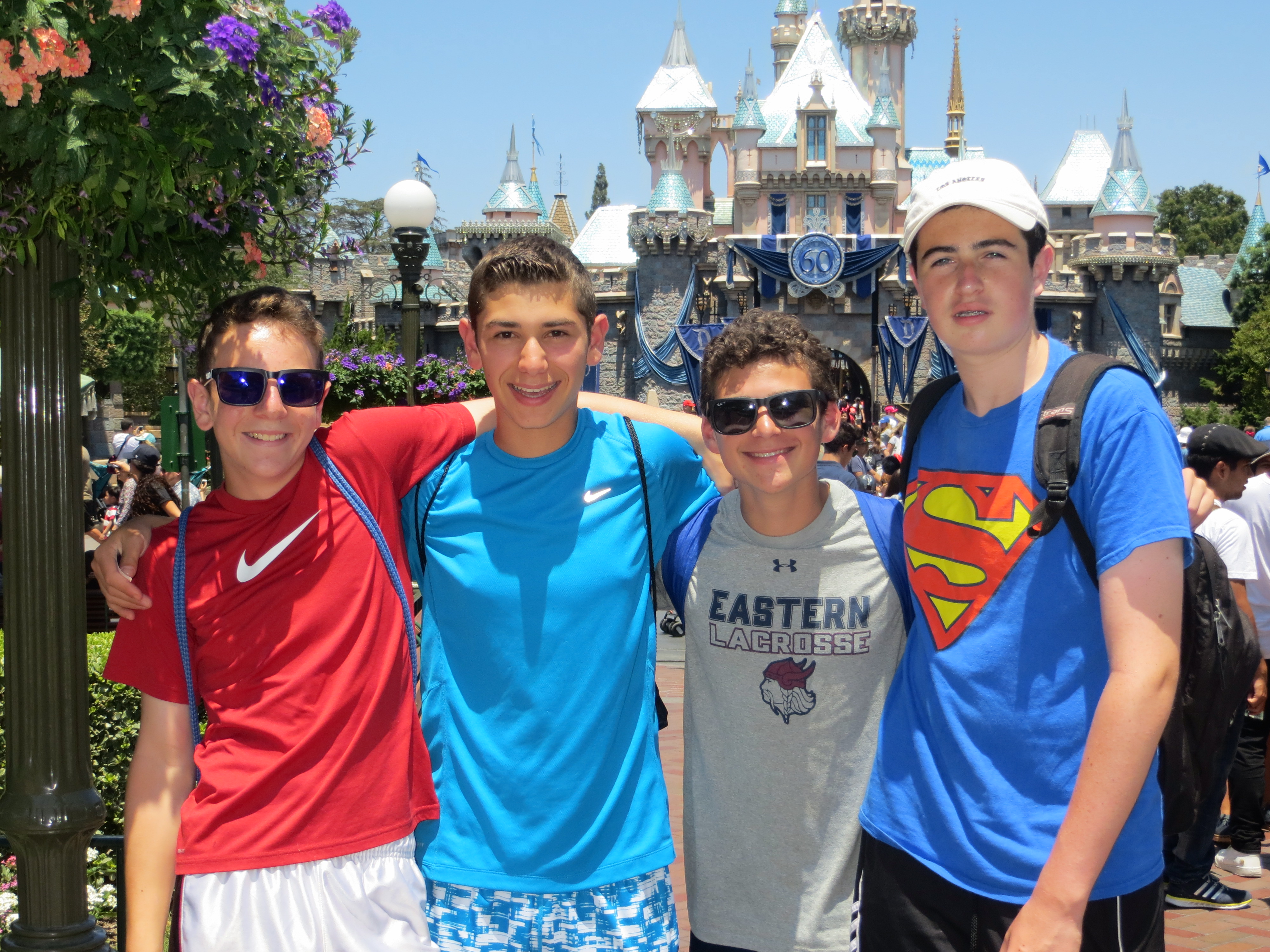 After the hustle bustle of both London and Paris, we arrived in the quaint town of Annecy after making a stop in Burgundy to taste some local wines. Everyone was pleased to stretch out their legs and share a cultural experience.
We finally arrived in Annecy and learned that it is the home of beautiful mountains, clear blue waters, and delicious traditional French food. Although Morgan spent a good chunk of her 17th birthday on a bus, it was filled with lots of laughs, decor, and treats. The celebration only continued when we split off for dinner and joined the rowdy city in Frances' big win of 5-2 against Iceland.
We were absolutely floored by the natural beauty around us. Sure we'd seen big city highlights like the Big Ben and Eiffel Tower but Annecy held a completely different surprise for us. As we walked through the city we were amazed at the canals and bridges we expected to see only in Venice. Not only was the city beautiful, it felt as though we had it all to ourselves. There were few tourists around and it seemed as though we truly discovered a hidden gem in the heart of France.
Our first activity in Annecy was a bike ride around the bluest lake we had ever seen. Every photo we took could have been a postcard. After not had ridden a bike in some time, Sascha hopped on without hesitation. She remained brave throughout the entire ride and persevered until the finish line. We gathered back together as a group before breaking off for lunch.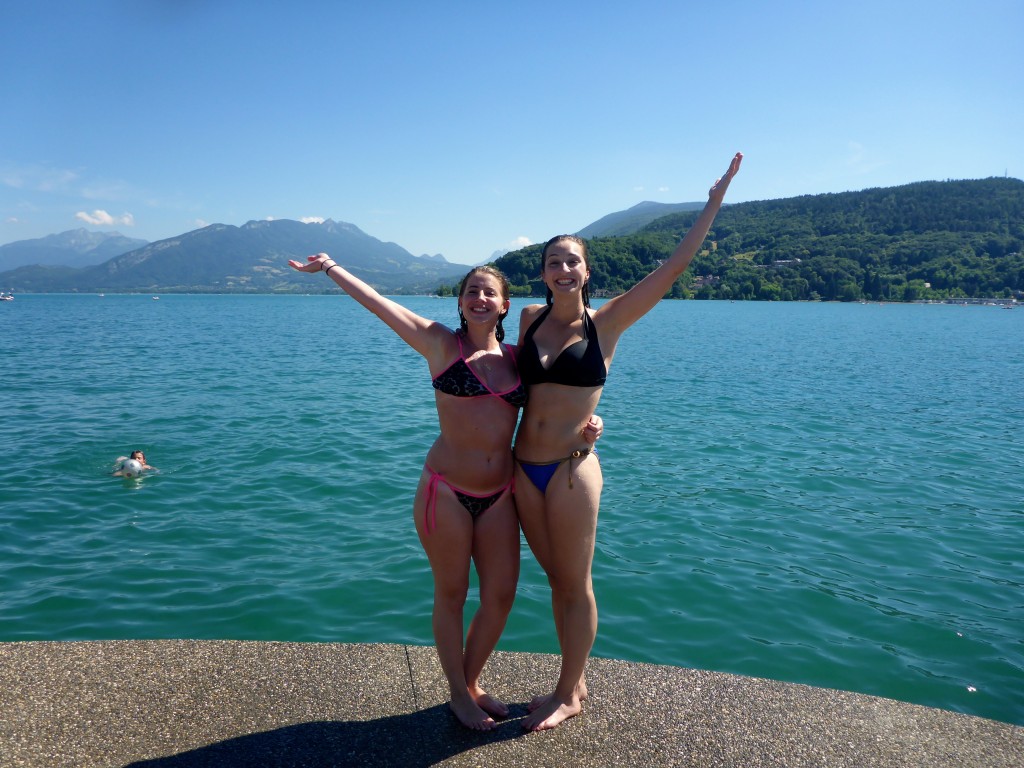 Our afternoon was spent in and around Lac D'Annecy where we jumped off the diving board and slid down the water slide over and over again. It was the hottest day of our trip thus far. After dinner, we cooled off with some refreshing and new gelato flavours like peach and lavender and honey.
After an early wake up, we set out on our way to conquer some white water rapids on the Isse river. We all got outfitted in sleek wetsuits head to toe, which was a good thing because the water was absolutely frigid! But with our sweet gear we didn't feel a thing. Before we entered the rapids we had the unique opportunity to body surf down the river. Our guides showed us the proper position and we all cruised through the white water on our backs! Speaking of the guides, they were absolutely hilarious. They were all French daredevils and they kept playing jokes and pranks on us by jumping out of the boats and grabbing us and "kidnapping" trip members from other rafts. With that being said, they were super competent and made sure we had an amazing time. We felt like real thrill seekers standing up in the boats and re-enacting the scene with Jack and Rose from the Titanic while floating down the river. Shout out to the Red Dragon boat who dominated in every splash fight and successfully mastered the "security" position after (safely) smashing into so many rocks. We floated through amazing grottos and gorges and even got to see a bald eagles nest! Rafting was definitely a highlight for everyone and what an incredible opportunity to get to do it in France!
The train doors slid open and the beautiful snow-capped scenery and classic Tolberone logo mountain greeted us. The no car village of Zermatt provided a great parallel to the mountainous, chill village of Annecy in France. That night we broke up into small groups to explore the town, peek into Swiss culture and munch on a dinner of choice. Afterwards, the tour headed to a billiards bar to play darts, pool, cards and socialize. The place was a bar out of a classic Rom Com.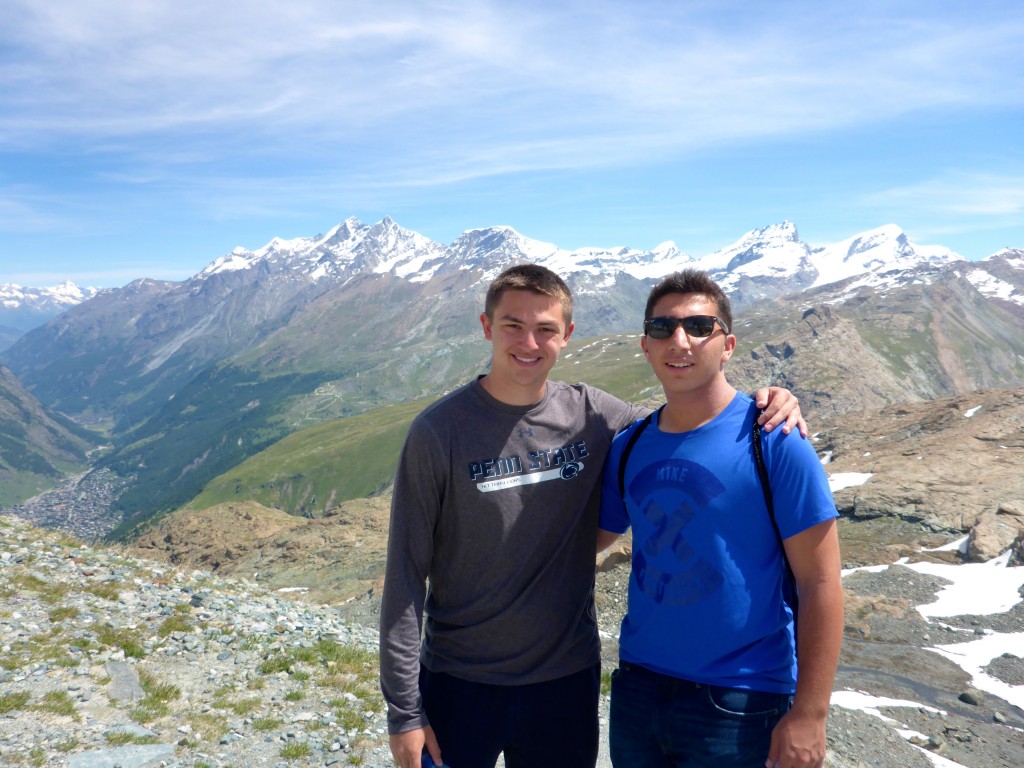 Alarms blared at 6 am for the 25 skiers who got fitted for skis and gear and headed up the gondola and lift of the white covered mountains. With almost everyone wiping out once, besides Zach J, the skiing conditions were surprisingly good for the summertime with nice powder and mainly "blue square" level runs. The non-skiers were also able to experience the mountain by riding up the gondola. They saw the breath-taking views of the Matterhorn, the Swiss Alps and even Italy with many Insta-worthy locations and pictures. Some even purchased some snack and lunch on the top of the mountain. Soon, it was time to head down and both groups met in the village to explore more of Zermatt and eat food including famous Swiss Rösti. A few hours later, everyone walked together to go a group dinner at SnowBoat.
Finally, it was time to hit up our first club and experience the nightlife in the quaint ski village of Zermatt, Switzerland. We descended the stairs of the stucco building into a foggy cavern-Raquel club. The beats were bumping, the fog machine was in full swing and a blue lighting blanketed the area. The kids practiced their dance moves in the small area and the DJ even mixed his own original cut of the classic "Happy Birthday" for trip leader Justin's 29th birthday! The kids joked it was his 21st, though. After break dancing and fist pumping until midnight, everyone walked back to the hotel (some girls barefoot after taking off heels) and fell right asleep for a travel day to the city built on canals, Venice, Italy.
Ciao!
The Westcoast Blogger
Have we piqued your interest? Explore our 20-day and 28-day European teen tours and start planning your own adventure with Westcoast Connection. It will be the travel experience of a lifetime.
Save