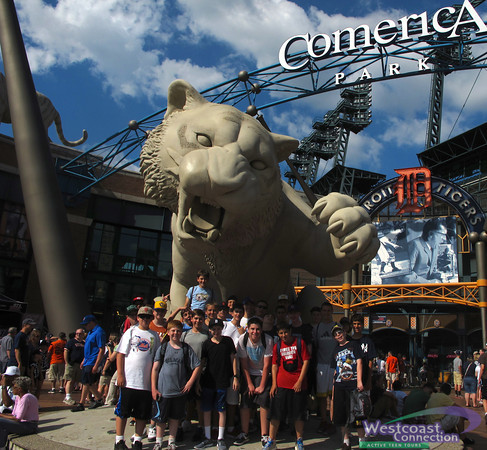 The games in Detroit, Pittsburgh and Cleveland were all super exciting.  At Comerica and PNC Parks we had the extra bonus of amazing fireworks after the games which is apparently something done after their respective Friday night & Saturday night home games in July. The Pittsburgh show was especially spectacular with the fireworks launched form a barge in the river beyond the right field wall and with the city skyline behind. One really cool aspect was some added fireworks were launched from the tallest building downtown as well.
In Detroit we played mini-golf, hit some batting cages, and go-karted. Ryan H and Jack posted lowest golf score cards of 5 over par 41. That was extremely impressive for a difficult course. Go-karting was probably the high-light where we had a couple opportunities for the entire group to get into the race. Adam was lucky to find the fastest car and take the checkered flag.
Now after 5 games, the All-Star break has the boys excited about some of the other games and experiences we get to play and experience with each other.
In Cleveland, we played WhirlyBall – a game that combines bumper cars, basketball and lacrosse. No one had more fun than Greg, who experienced the bumper cars for the first time. Great sportsmanship was shown by everyone.
One highlight was our evening activity – "Pot Luck Home Run Derby Party". Everyone contributed snacks to the party and thanks to Jordan, Jack S and Jared N as well as Jesse and Matt M for offering their rooms to host our party.
The guys loved the Professional Football Hall of Fame in nearby Canton, Ohio, especially at the end when we all participated in a fun filled football game on the Astro-turf outside the Hall. Stephen and Ian displayed strong arms, Jason's footwork contributed to a handful of touchdowns and Isaac made a great diving catch – and got to feel why the pros would rather dive on grass then on turf. We just announced the line-ups for our softball game. The weather looks great and the boys are ready to play.  "We got game" in so many different ways"; the guys are having a blast.
Hope you're enjoying your summer, we sure are!!!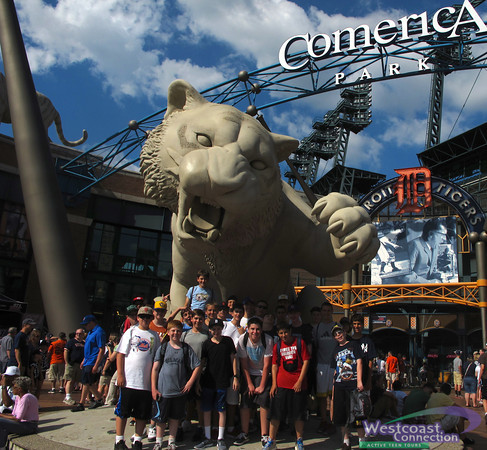 The baseball blogger.
Are you a fan of the sport? Enjoy this amazing baseball tour experience through America's eastern, midwestern or both with Westcoast Connection.