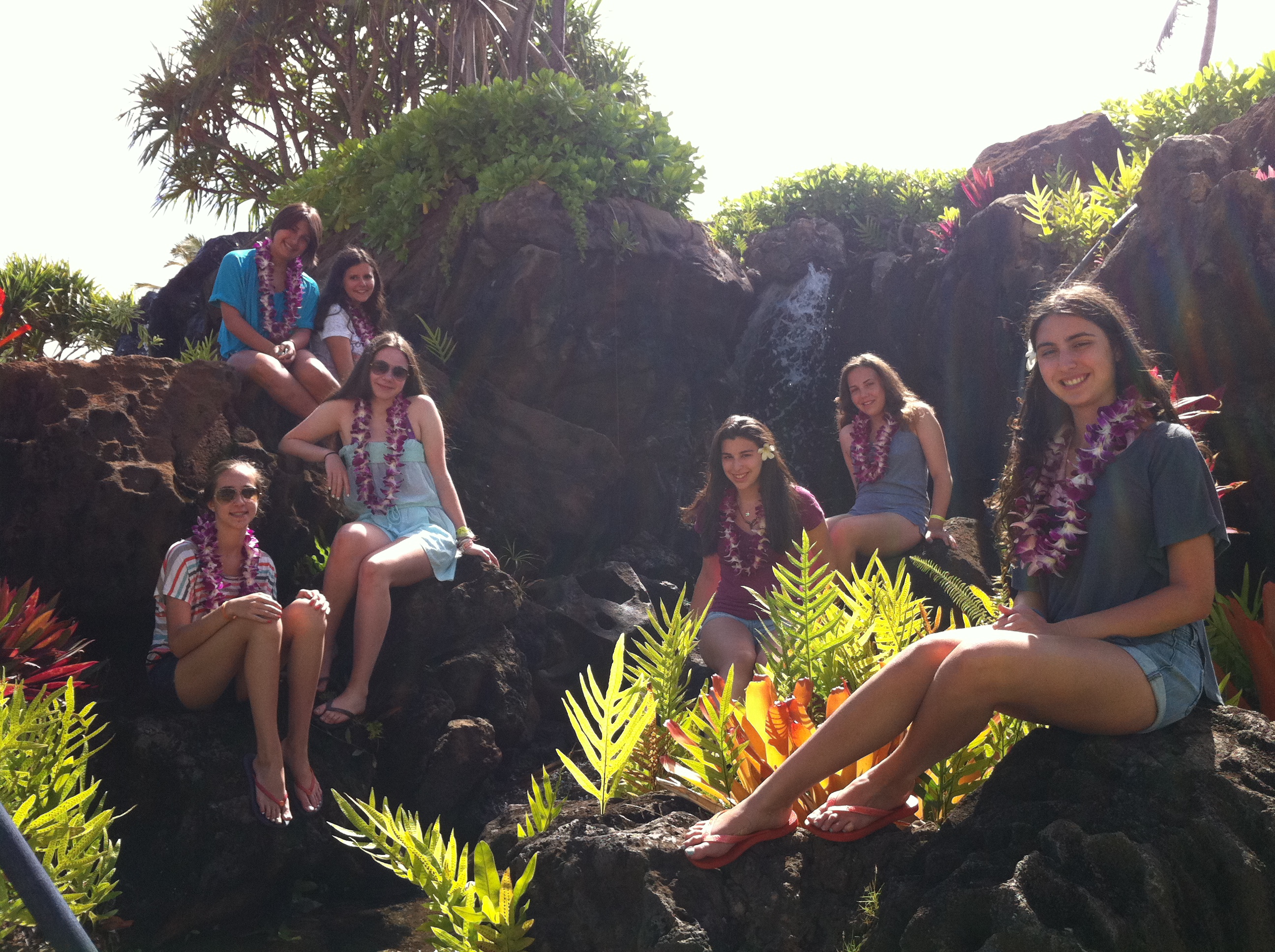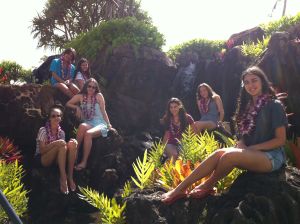 We arrived at the Hilton Waikoloa Village a couple of days ago excited to see our biggest and most glamorous resort yet. Trams and boats brought us to our rooms, the water slide, large lagoon; the ocean view and rocky beaches amazed us all and Max was
amazed by the waterfalls.
While Erin, Annie, Brooke and Jayden sat pool side, Skylar, Sammi, Jess and Arielle took out paddle boards. Carly and Hailey opted for a paddle boat. While on their equipment, they had the opportunity to see the many turtles that lived in the lagoon. Jess and Arielle even got to pet some turtles! Meanwhile, the boys, Max, Adam, Matthew and Anthony went to the golf course and hit some balls on the driving range. Matthew had the longest drive and Anthony had the most untraditional – yet effective – swing. Weather could not have been more perfect, light breeze and a blue sky!
Visiting the town of Kailua for dinner was a blast. Matthew and Anthony got to try some local fish while Danielle, Brooke and Jayden went for some Chinese food.
Our biggest adventure yet was our complete tour of the island. We got to visit Volcano National Park. It was quite massive. Anthony described it as "a big hole with smoke coming out of it". We got to go lava tubing, Jess and Anthony had a blast! Max and Adam really loved the black sand beaches we got to see, they couldn't get over how black the sand really was! Matthew loved Rainbow Falls, it was his favorite part of the tour. We stopped for dinner at a local pizza and pasta restaurant, Brooke, Hailey, Talia and Jayden loved it! The thin crust pizza, salads and pasta were all so fresh and delicious!
We are now on Kauai and it is absolutely amazing and exactly what we all picture Hawaii to be. The large green mountains, turquoise ocean and light breeze have amazed us all. Kauai means the "garden island" and it is absolutely accurate!
Visiting the town of Hanalei Bay for dinner last night was a blast. Max and Adam loved the surfer shops and Max found a t-shirt with his life modo. As a group, we all went to Kalypso restaurant and enjoyed their delicious food. Talia loved her fish burger, even though it kept falling apart! While there, the ESPYs (ESPN sports awards) were on TV and every time Justin Beiber came on screen, Hailey, Skylar and Sammi got really excited! Danielle and Brooke got really excited for their favorite Saturday Night Live star, Seth Myers.
The next day, after finishing their breakfast by the water, Erin, Talia, Danielle, Annie, Jess, Jayden and Brooke participated in a lei making class and a hula demonstration. Guided by an expert, they made real orchid lays to enhance their Hawaiian
experience (see picture attached).
Taking advantage of the hotel's pool, some of the girls challenged the boys to a water volleyball game. Max, Adam and Matthew teamed up with Jason to beat Lesley, Erin, Jess and Danielle.* Jayden was a great referee, scoring the game quite well.
As you know, we are off to our last island, Maui! We are sad to know there are only a few days left – but we plan to make them great!
Aloha!
*whether the boys actually beat the girls is currently under review. the girls have requested a recount 🙂
 The Westcoast Blogger
Do you want to be part of this experience? Visit Hawaiian islands and Canadian west coast in our 21-day Hawaii Spirit tour.