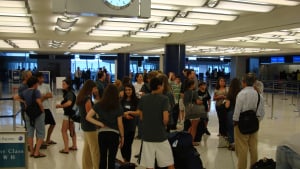 From this:
and this:
to this:
 and this:
California and the Canyons Trip 10 is touring the City by the Bay checking out Pier 34 and Fisherman's Wharf.
 The Costa Rican Combo is gearing up for rafting on the Reventazon River.
Backpack Europe Trip 50 is in Paris eagerly awaiting a guided tour of the Louvre, a visit to the Pompidou Center, and an evening boat ride down the river Seine.
The French Excursion Trip 60 is looking forward to starting classes in the morning, taking a guided bike tour through Paris in the afternoon, and climbing the Eiffel Tower in the evening!
Let the fun begin.
The Westcoast Blogger