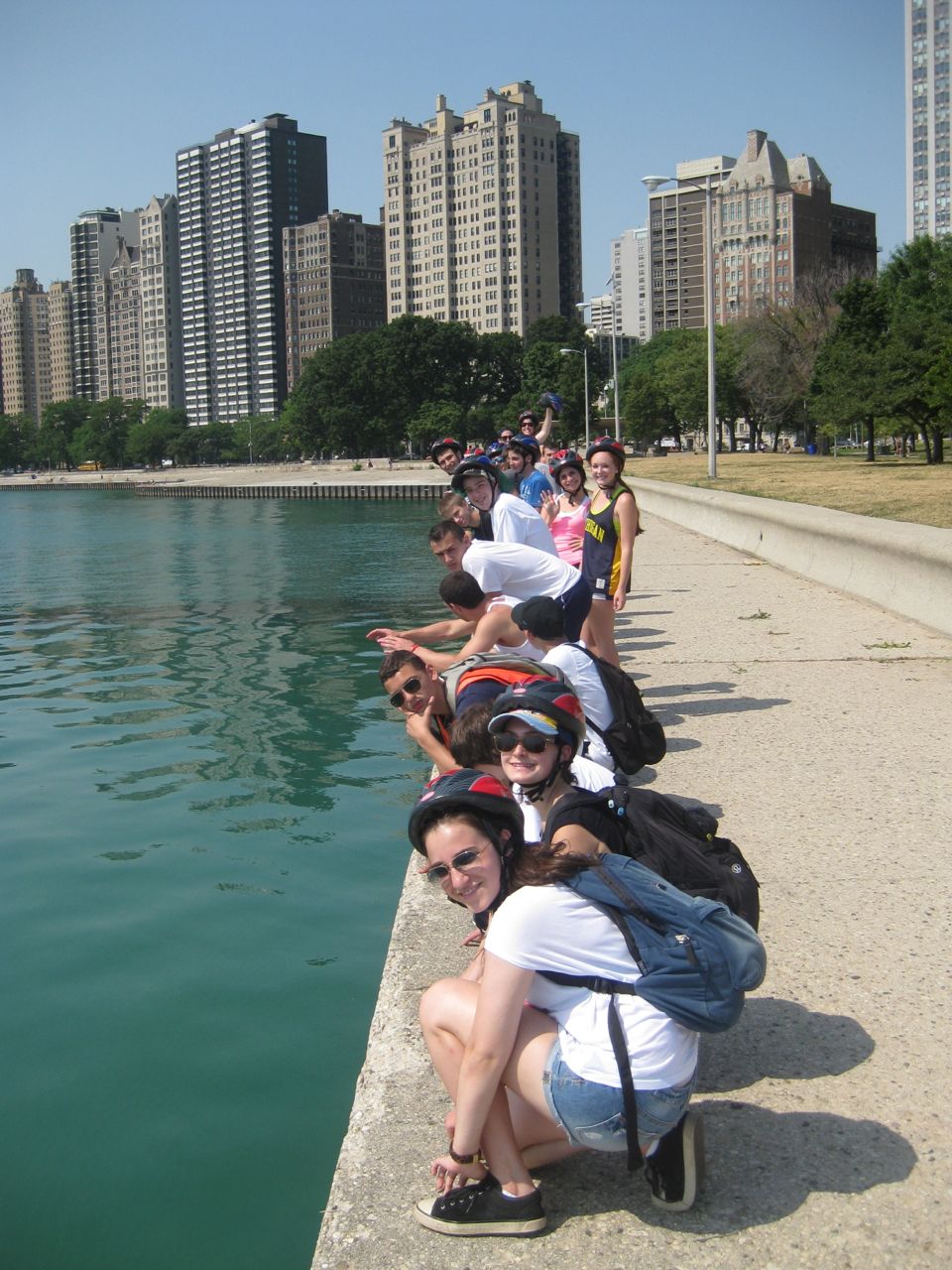 The U.S. Explorer checks in from Chicago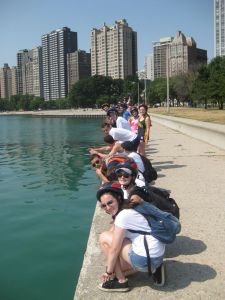 Welcome back U.S. Explorer Parents!
Chicago, Chi-town, The Windy City, a place home to legendary sports teams, actors and a famous architectural skyline. Who wouldn't be excited to have the opportunity to spend three nights here, especially in a world-class hotel such as the Omni. We rolled into Chicago with big smiles, and after dining at a classic Italian restaurant, it was time to see the Blue Man Group! When we arrived at the theatre we knew it was going to be exciting just based on the wacky use of tubes and music in the lobby. The trip members were sitting in the front three rows, also known as the splash zone. Most of us turned down their offer of ponchos, because we all decided to dress in white and embrace the paint-filled mess! At the start of the show, Matt J was asked to sing the National Anthem. Throughout the abstract performance our man Matan was given a white canvas that one of the blue men spat paint all over. A masterpiece! Halfway through their performance, we all found out why it was called the splash zone when Shoshana and Melanie both got covered in banana. As the show came to a close, a huge dance party erupted and one of the Blue Men danced up a storm with Joey. We all stayed back and took pictures and even did "the move" with a Blue Man. Ray and Lindsay did a dance dare behind a group and we got it on film! For those who don't know what a dance dare is, I suggest you check it out on youtube (search Ellen's Dance Dares).
We woke up the next day to a beautifully sunny day.  It was great that on our first full day in Chicago we were able to see the city by the most environmentally/exercise friendly way by going on a bike tour. The bike leaders split our group into two, and we peddled past the pier, Lake Michigan, and wove in and out of parks. We stopped every so often to listen to brief historical facts about our surroundings and to rub Lincoln's shoe for good luck! It was amazing seeing Jack's determination and confidence only grow higher as the tour progressed. Many of the trip members were happy to be getting some exercise in and to see the sights in such a unique way. After biking, our stomachs were grumbling, and our stop at Navy Pier provided the trip members with a lot of selection of food and a replica of the once biggest Ferris wheel in the world to gaze at as they ate. Next on our busy schedule was a trip to the Willis Tower, formerly named the Sears Tower. This tower is not only famous for the work that went on inside, but also because it is one of the tallest buildings in the world, and the tallest in the Western Hemisphere towering 110 stories! Its elevator is also one of the fastest in the world. Once at the top, we got a rush of adrenaline as we stepped into the glass box that looked over the entire city. Everyone was a little nervous being so high up, and with positive encouragement Perry, Melissa, and Andrew challenged themselves and stepped onto the glass floor long enough for a few photos! For those baseball fans out there, we wrapped up day 2 attending a Chicago White Sox vs. Toronto Blue Jays game. We supported our Canadian trip members, and went all out cheering on the Jays. Everyone decked themselves out in blue paint, and thanks to the creativity of Hannah and Melanie we had cut out signs that spelled "go Canada go, eh!", and "go Blue Jays!" Sam sported the slushy blue-tongue look and was cheering the entire time! Unfortunately for our Canadian fans, the Blue Jays lost 4-2. After the game, we decided to have a little dance party, and our wonderful bus driver Darrel joined in and showed off his moves!
Day 3 was our time to explore Chicago even more, and enjoy true city life! We started by getting our knowledge on at the Museum of Science and Industry, where the trip members had a couple of hours to explore all of the exhibits and spend some time in their unique gift shop. The highlights of the museum were the submarine, flight simulator, and aging booth exhibits. Matan and Perry had the opportunity to learn how to milk a cow and explore Space. Everyone thought the museum was extremely interesting. After the museum it was time for a little free time spent on Michigan Avenue, more commonly known as Magnificent Mile. As the sun went down, we headed to the Second City comedy club for some fun-filled laughter! This comedy club has seen many famous comedians pass through their doors, such as Tina Fey, Amy Poehler and Bill Murray, and the cast we saw was incredibly funny! During one of their improvisations, the cast asked for certain scenarios for an improv skit. Alex and Joey shouted out the great idea of teens on a bus tour, which was great to see acted out by professional comedians.
Unfortunately we have said our goodbyes to Chicago and the Omni's extraordinarily comfortable beds, but as we continue our voyage, we will hold these memories close to our hearts. We can't wait to continue our cross-country journey, bring on Minneapolis and the Midwest!
FEELIN' FINE ON TRIP 9!
 The Westcoat Blogger