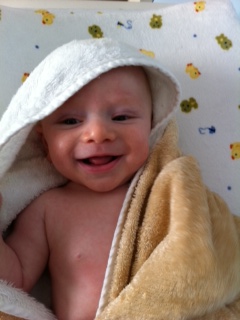 We wanted to take the time to share some fantastic news with you about some of our Company Directors and Trip Directors!  
As summer came upon us rather quickly, we didn't get the chance to share the amazing news that happened right before our annual staff training weekend in June.  On May 23rd,  Max Nessim Hay was born to Carolyn and Symon Hay.  Many of you will know Symon as one of the Directors of  Westcoast Connection / 360° Student Travel for the past 11 years.  He also directed programs for over a decade, taking hundreds of our trip members all around the world including our first Australia programs.  His wife Carolyn also directed programs for us for 5 years so many of you might have had the chance to know them both.  Max is now 5 months old and is certainly taking after his Dad… he smiles all the time and he cannot sit still!! 
On October 3rd, Kellen Ryan LeCouffe was born to Pamela Nugent and her husband Kevin.  Pamela is the dedicated Trip Planner for all of 360° Student Travel's overseas Community Service programs including South Africa, Ecuador/Galapagos, Peru, our new exciting new Thailand program and China.  Pamela also makes up part of our staff hiring team, is a summer Company Director and is in charge of one of our two summer communication centers so many of you have likely spoken to her over the past 11 years.  Kellen joins a wonderful family that includes big sister Isabelle and big brother Trent.
Finally, on September 23rd, Camden David SwamiNathan was born to summer Company Director Rich SwamiNathan (aka Swami) and to summer Trip Director Lindsay Reid.  Many of you have been on trips with these two and will be happy to know that Camden (or Ace as he was more familiarly known in utero)  and mom are doing well!
Congratulations to the Hay, Nugent and SwamiNathan family!
Alumni, have a story you want to share? E-mail us at alumni@westcoastconnection.com.
The Westcoast Blogger