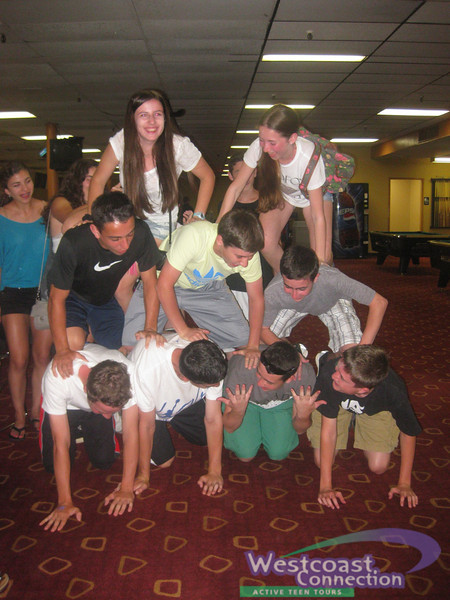 After everyone making their way to Salt Lake City, the Voyageur has embarked on what will be an amazing summer!! From the moment we stepped off the plane, the excitement of our trip commenced. The day started off with Mike giving a trip director chat, and our other staff, Nicole, Valerie, Arielle, Michelle, Jesse and Zohar giving introductions. We could tell it is going to be an unbelievable summer!
Talia, Allie, and Hayley S. helped the campsite manager Steve cook a BBQ dinner for everyone. Next, we headed to the Lagoon-A-Beach Amusement Park and Scott, Joseph, and Adam really enjoyed riding the roller coasters at the park. With a fun first day behind us we headed off to bed at our campsite.
It's Day 2! Happy Birthday Jack B!!! In the morning, we hopped on the bus and headed to Park City to ride the Alpine Coaster and the group sung Happy Birthday to Jack B and surprised him with a birthday card signed by all. Jackie, Emily, Becky, and Olivia loved the thrill of the Alpine Coaster. Everybody went down the super fast coaster with no fear.
After a tasty lunch of chicken skewers cooked by Matt B., Justin H., and Dylan B., we headed over to the Lagoon-A-Beach Waterpark for some fun in the sun! While Zohar and the boys were riding the slides, the girls took the opportunity to get their tan on in the lazy river. Following dinner and more birthday singing we went bowling!!!! Brian bowled the high score of 153 and Max was able to show everybody his unique method of bowling that knocked down a lot of pins (be sure to ask him about it).
The next morning it was on the road to Jackson Hole, Wyoming. Everyone was so excited to get to the rec center to play in the 3-on-3 basketball tournament. But first, it was time to stop in Jackson Hole to walk around town. Lindsay and Hannah started the trend of going for ice cream at Moo's Ice Cream in town. Finally, it was time to go to the rec center to play basketball and swim. After rounds of games with 9 teams in the tournament Mike, Dylan R., and Alec B. won the tournament while Jordan and Maddie, along with many others, enjoyed the pool and slides!
There is already a great feeling among all of our trip members and staff. There is so much more to come and we are all very excited for it all. We look forward to sharing the highlights with you.
For now, we are onto our next adventure!
Over and out,
The Voyageur Staff Team