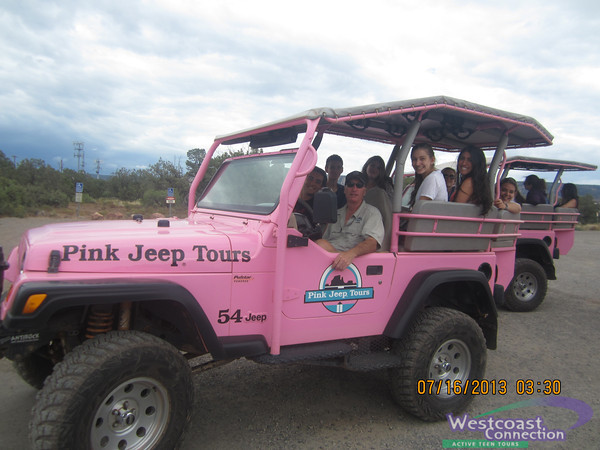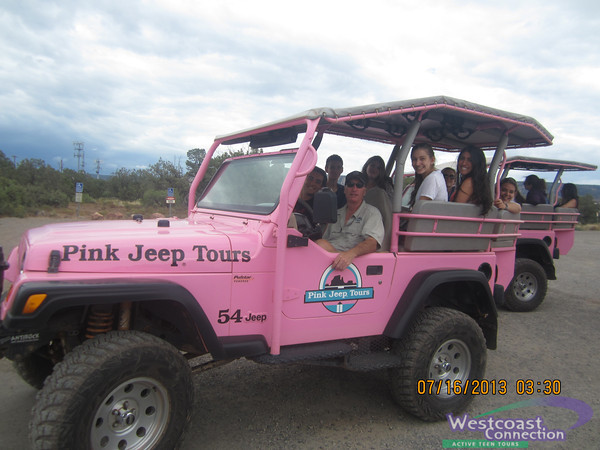 Greetings from sunny Arizona. Hope all of you are enjoying yourselves back home or wherever this summer has taken you. Here is what has been happening on the Ultimate California adventure the last few days. Our first dinner in Scottsdale was, to put it simply, AWESOME. We had dinner at Dave and Busters, but that wasn't the best part. After dinner we hit up the arcade and everyone had a chance to win tickets and claim prizes. Some of our friends faired pretty well but it was definitely Jeremy who cashed in with the most tickets and walked away with some of the top awards and D&B, a giant stuffed pug and a cool retro cell phone adapter! Earlier in the day we visited Sedona and jumped in the famous pink Jeeps and rode off the beaten trail into Arizona's red sanded area. Did you know that only 1% of the sand found in Sedona is in fact red? We learned that on our tour. 1% was explained to be that if you filled an average size room with sand and remove just one grain of sand, that's your one percent. Ask your kids to see the pictures, it boggles the mind how much red there actually is!  We also learned about the natives who settled the land before the 1300s.Rebecca had a lot of fun on the pink Jeep tour. She said "it was really cool. I liked that we went over the rocks and it was definitely a different experience". So true Rebecca.
A fun game of name that tune and heads-up on the bus ride had most everyone involved. However, it was the game we called "the quest" that had Jacqueline and Tori passing up objects from the back of the bus like crazy people! Drew showed off his muscles that definitely scares other team away.  Drew, put those pipes away, they are just too overwhelming. Sammy got very involved on his team and tried not to let Trip Director Jamie down. He was passing those random objects up as quickly as he could! We had a great experience at the Grand Canyon the day before. The enormous canyon with the mysterious foggy mist laying over it was so picturesque!
Bryce and Zion national parks were also a great experience. Paige and Rachel were walking with Romy and taking in the sights and snapping awesome pictures. They also enjoyed some tunes on their stroll and even had some other park visitors bopping to the beats. Too bad there wasn't much of an echo to carry the music further! Dinner at the Chuckwagon Cookout had all of us dressed up in historical outfits and re-enact a duelling scene at what they endearingly call "Kanab Little Hollywood". Lindsay and Trip Director Jamie played an old married couple milling grains and washing clothes.
Harry was dressed as the male lead in the story and was controlling the stationary wagon. Well done Harry, Hollywood would be lucky to have you! Some of the trip members took advantage of the pool and went for a dip. Zach and Brandon were tossing the ball around with Drew in the pool in Kanab while Gillian, Tori, Rebecca and Jacqueline played a game in the water where they closed their eyes and must rely on their sense of hearing to capture the opponent! It was fun to see them splash around and hang out. Stay tuned for another update soon as we are about to visit the United States oldest national park, Yellowstone. We will keep our eyes out for elk, bison and of course Yogi.
-Until next time, be well.
Robyn and the Ultimate Cali Team
Got yourself interested? Join our 21-day ultimate west coast road trip and explore California and the canyon country with the leaders in student travel.