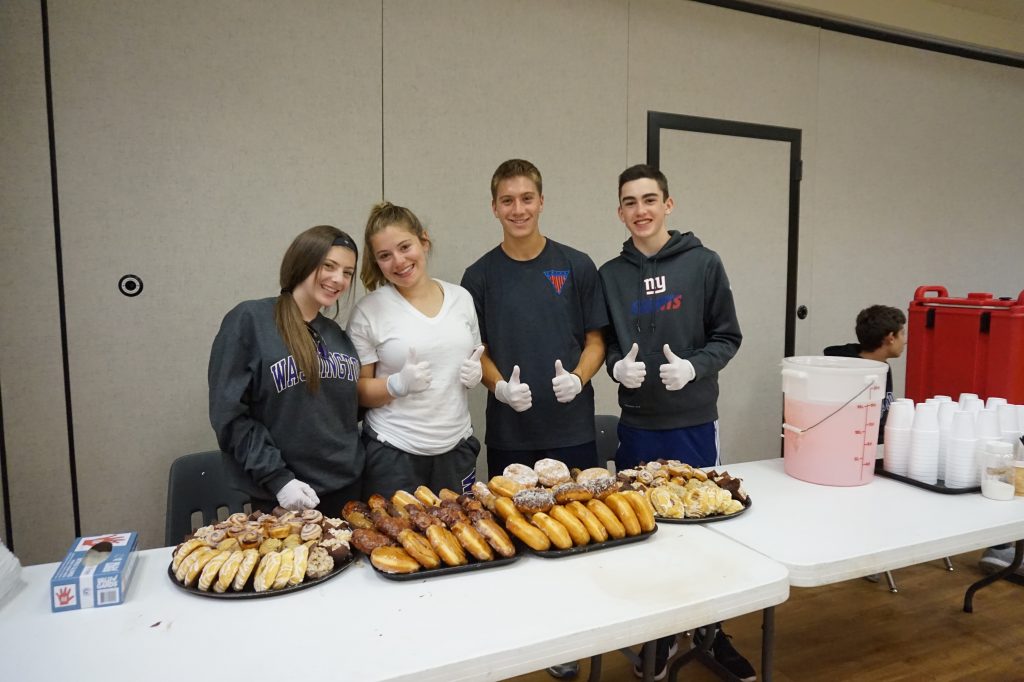 Before we dive into the Hawaiian grounds that we have covered, let's rewind to fill you in on the community service that we did at the Renton Salvation Army in Seattle. The Salvation Army offers hunger relief through soup kitchens, sit-down meal programs, food pantries, mobile meals and community gardens. We were surprised by how much needed to be done to get the facility in shape for the people who would walk in the door later that day. We broke off into teams to prepare food, blow leaves, clean floors, do laundry, wash windows, clean bathrooms and much, much more. Finally, we served the community members dinner. Our guests had diverse backgrounds. Some experienced homelessness; some had addiction problems; some were racial minorities facing poverty; some were old and some were young. We were grateful to have played a part in welcoming them to the Salvation Army, a place that serves as a dining hall, a second home, and a community. In the evening, we celebrated Ben's birthday with 2 cakes and surprised him by holding up signs that together wished him a HBD! On Day 2 at the Salvation Army, we worked behind the scenes. Dancing to music in the food pantry, we sorted donations, packaged food crates and organized the warehouse. We learned that all of the food at the warehouse was supplied through donation.  The Renton Salvation Army services over 130 people each day through their food bank. Storage space was vast and disorderly, but our group loved the challenge! By the end of the day, the space was spick and span, tidy and ready for a productive food delivery service. What 21 helpers could do, we realized, was magnificent.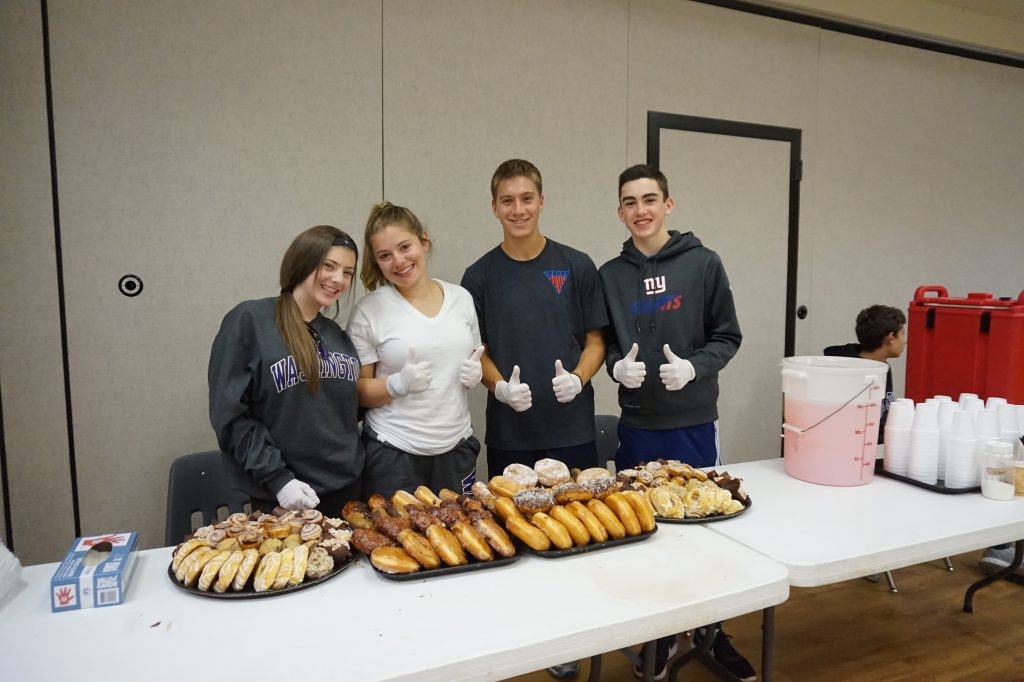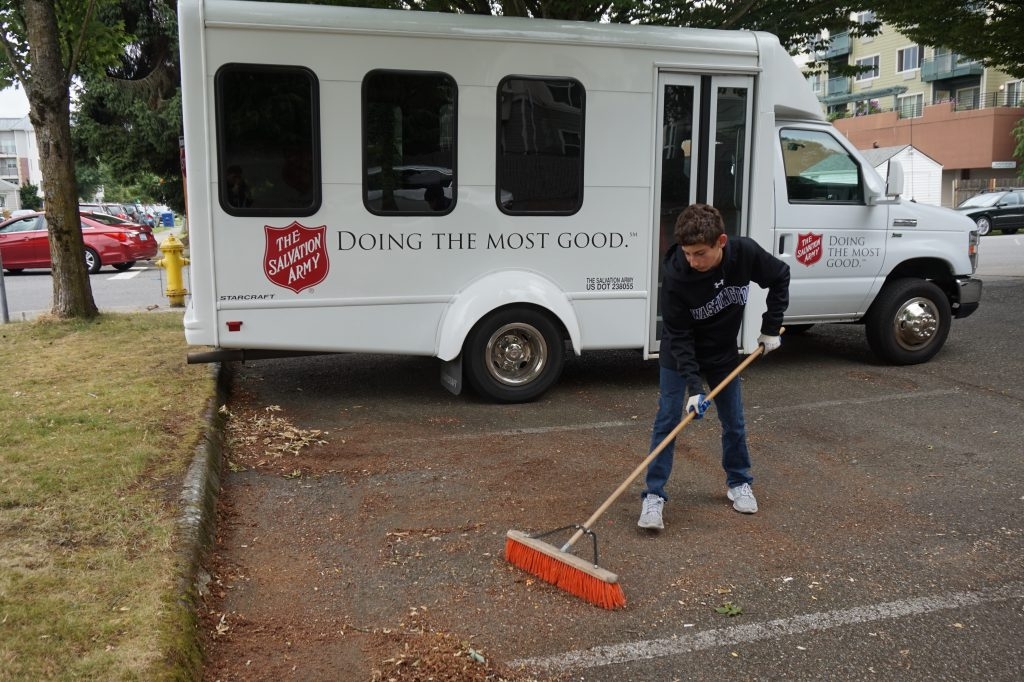 Time to shift time zones! Welcome to the Hawaii diaries!
We arrived in Honolulu ready to take on the heat and all that this BEAUTIFUL city has to offer. For our first night, we had our evening circle on the beach. The moon was super bright, the sky was full of stars, and the weather was perfect (no more sweaters and jackets, now that we're in Hawaii)! The next day we went to Pearl Harbour! We learned about the history, grieved the victims and a few of us even stayed longer to enter the USS Bowfin Submarine, which features exhibits and artifacts about submarines and the history of the United States Submarine Service, including detailed models, weapon systems, photographs, paintings, battle flags, recruiting posters, and a memorial honoring the 52 American submarines and the more than 3,500 submariners lost during World War II. The afternoon was spent at Waikiki Beach. We were hit with sun-showers, but a little rain didn't stop us from splashing in the waves.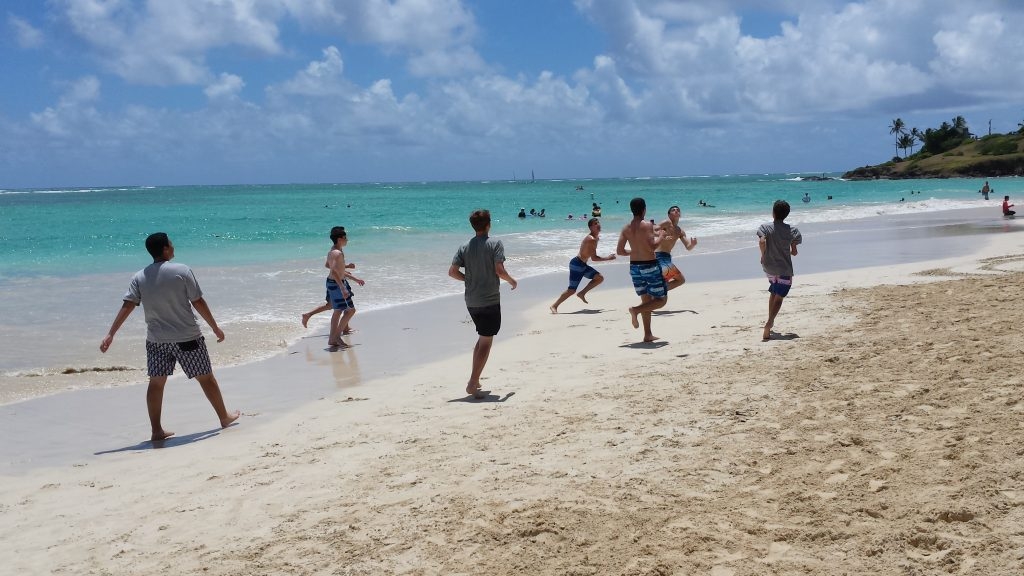 The beach party continued the next day, when we threw a football around, snapped some pics in the sand, and floated around in the ocean. After our relaxing morning under the sun, we found a local Honolulu sandwich place for lunch. Satisfied and re-energized, we were ready to take on our afternoon hike! We hiked up Diamond Head, a volcanic tuff cone! The breathtaking view from the top was well worth the climb. We could see all of Honolulu – from city skyscrapers, to the blue shore, to the green mountains, to our very own accomplished (and very sweaty!) faces.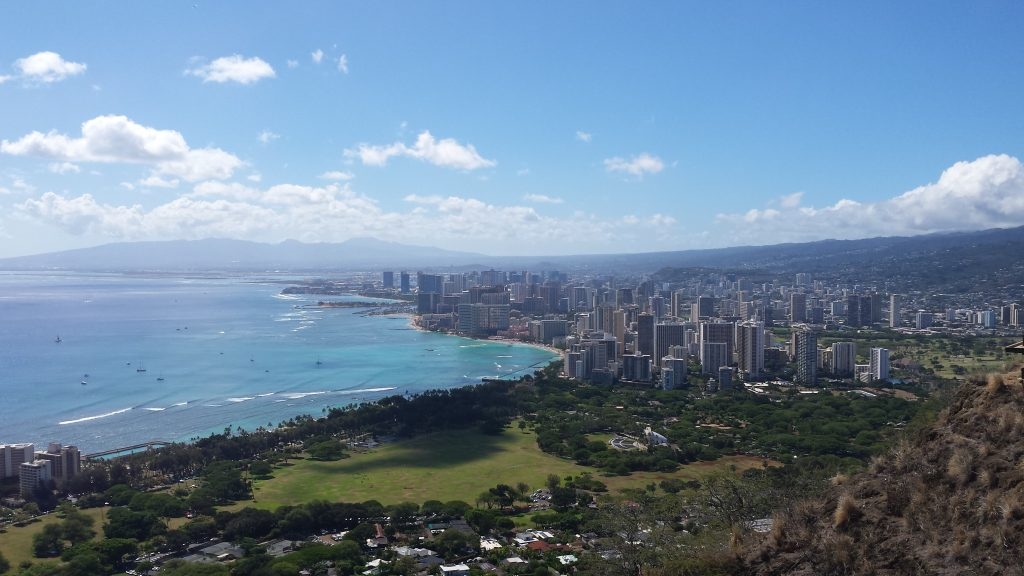 At the Boys & Girls Club, we were greeted by a home with full hearts and a lot of love. The children immediately felt comfortable with us, eager to learn our names, where we are from, our favorite things, our families and our hobbies. We rotated from activity to activity: cooking, arts and crafts, outdoor playtime and more. We explored Waikiki at night, picking up souvenirs along the way – everything from coconut syrup, to tie dye shorts – and tasting Hawaii's shave ice dessert along the way!
After a quick trip in the air (*the shortest plane ride ever), we found ourselves in Kauai! It was really cool to work with Habitat For Humanity, a nonprofit, ecumenical housing organization that builds affordable housing in partnership with people in need. Our service supervisor happened to be moving into one of the Habitat homes on our second day there! She invited us into her brand new house, where we observed what a finished Habitat home looks like. We witnessed firsthand what life is like for people who cannot afford other types of housing, daycare, or a car. We supported the work of this organization by taking care of office work, organizing their supplies, raking the yards, and cleaning up the properties. As our supervisor wisely put it, "time is the greatest thing you can give to anybody, because you can never get it back." We felt lucky to have had the opportunity to save them time by giving them some of ours. ☺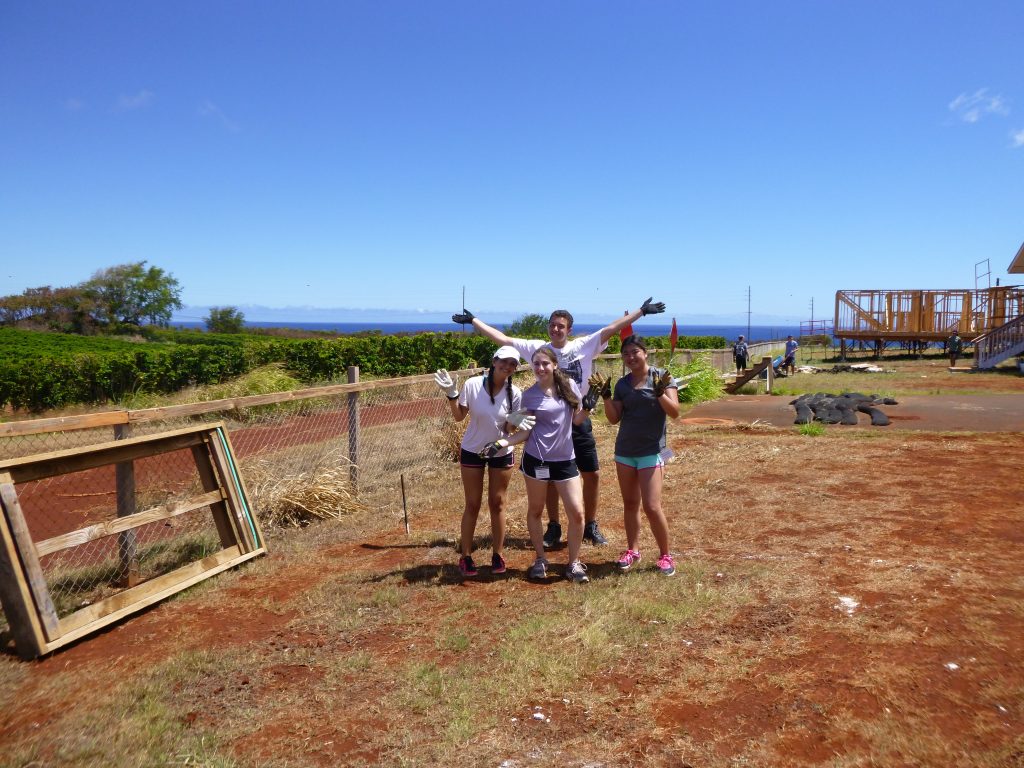 From there, we hit up Salt Pond Park, which was beyond beautiful. It seemed like we were the only non-locals around, and we had most of the beach to ourselves to swim, play football and catch some rays. Hanapepe market was the perfect ending to two days of service. Hanapepe Art Night only takes place once a week, so our timing was perfect! The street was lit with lights and full of spirit. We ate from food trucks; we wandered through the very unique, Western-most independent bookstore of the United States; we tried Hawaii's best pineapple jam; and we browsed all of the beautiful local crafts that caught our eyes.
Flying to Maui was another very short flight, and we went straight to the beach! The downtime was necessary to refuel for the day that followed: paddle boarding!! Working our biceps and keeping our balance, we rode through a calming and serene river that opened up to the big ocean! Some of us used the opportunity to practice our surfing skills, standing up on the paddle board and even riding a wave or two!
Hula lessons was another special experience. We learned the dance to a traditional Hawaiian chant. Everyone got really into it! Besides teaching us how to hula, our teacher also explained to us the meaning of "ALOHA," which made the word that much more special, meaningful, and important for the community service theme that spans the trip:
A stands for AKAHAI, meaning kindness.
L stands for LOKAHI, meaning bring unity.
O stands for OLU`OLU, meaning politeness.
H stands for HA`AHA`A, meaning humbled.
A stands for AHONUI, meaning enduring.
A – L – O – H – A: We took the acronym as guiding values
That night, our very first night in our final destination, a bunch of us sat by the ocean under a sky full of stars. In such a beautiful place, we counted our lucky stars, quite literally.
The next day we put the balance that we gained during paddle boarding to the test: surfing!! On our way to surf lessons, we drove through sun showers, blasted fun tunes in the car, and even drove through a rainbow. We rode waves like total pros and we have the pictures to prove it!
We then experienced our first luau, a Hawaiian feast! We saw traditional Hawaiian hula performances, stuffed ourselves with delicious Hawaiian dishes, watched the sunset, and some of the boys even got on stage to show off their own hula moves before hundreds of other guests!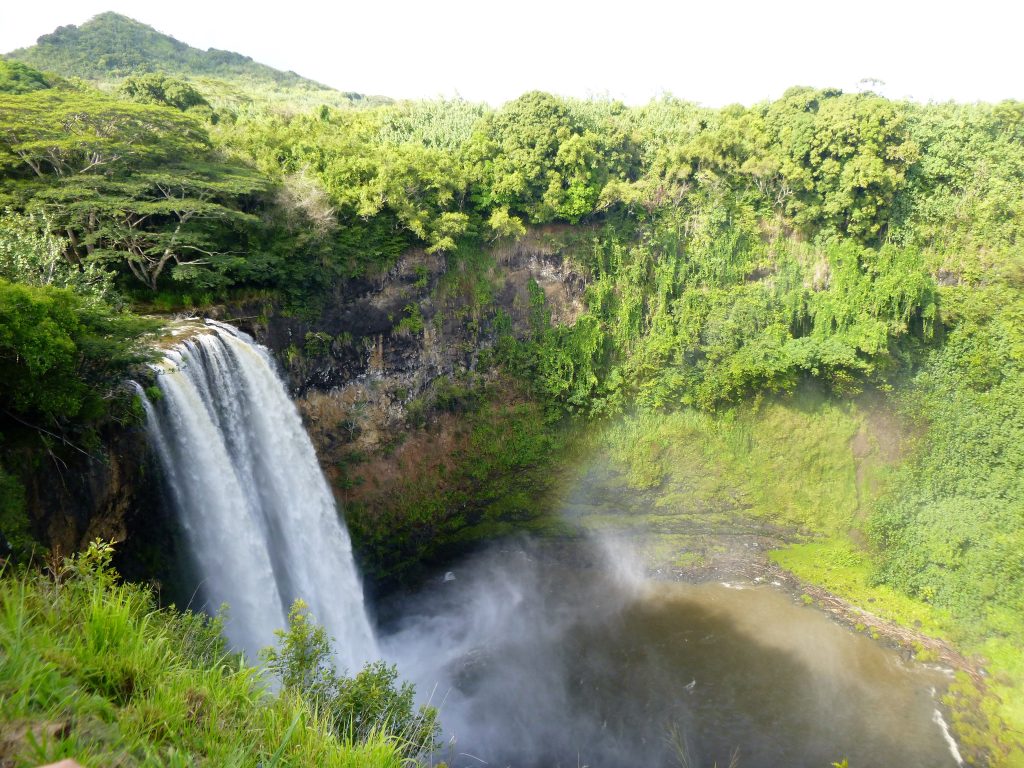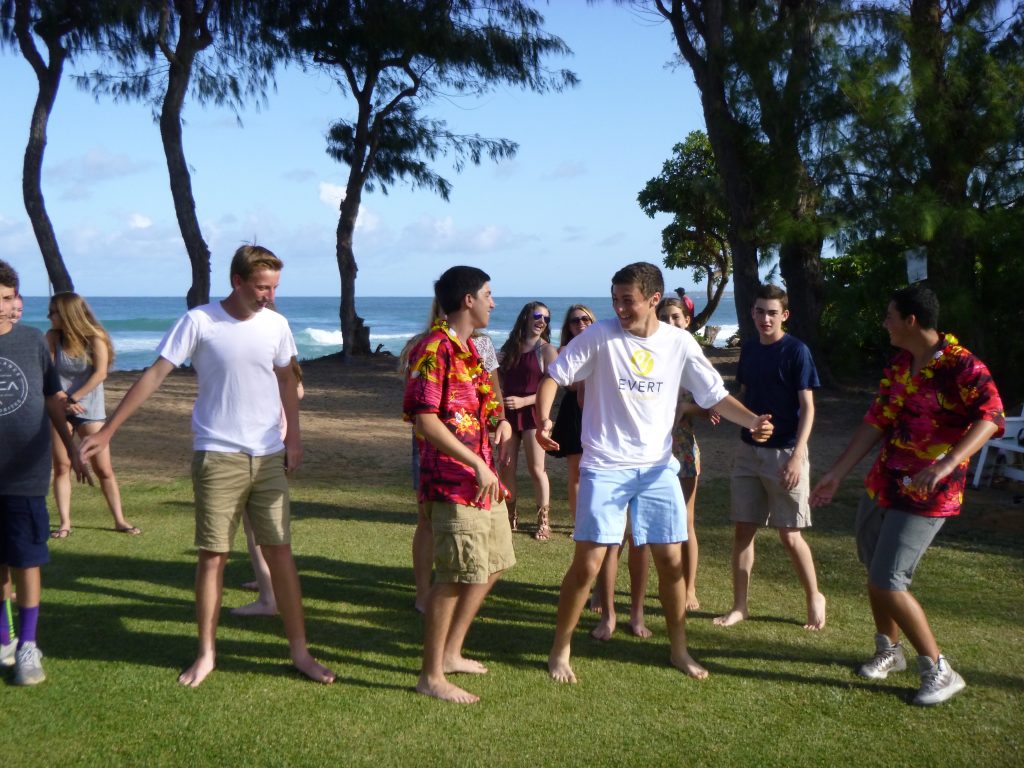 The next couple of days that followed were spent immersed in nature and doing community service with Eco Maui. As many of us put it, the project truly didn't feel like community service at all. Detached from our cell phones and Surrounded by nothing but greenery, we were closer than ever with the planet that has given us so much, and seized the opportunity to give back. We picked up trash to stop prevent ocean pollution and we learned all about Hawaii's natural resources and tribal communities. We climbed, we hiked and even dipped in waterfalls and had a bonfire to wrap up our community service endeavors for the whole trip. The moon was so bright that it lit up the sky, and all of us talked about our community service highlights, lowlights, our contributions, and most importantly, our own personal takeaways.
Concluding the Trip is the epitome of bittersweet. There is so much that we will miss, and simultaneously, so much that we have to celebrate. On our last day together, we had an awards ceremony, played games at the hotel, and wrote each other personal notes that we would later open up on our way home. It has been a jam-packed 26 days of adventure, challenge, bonding, singalongs and an indescribable amount of fun. Grateful for the memories that we made in Alaska, Seattle, and Hawaii, we realize how quickly the past month has flown by, and how lucky we are to have spent it together. And with that, we return home with our bags, souvenirs, a zillion photos, and extraordinary friendships.
The Westcoast Blogger
Got yourself interested? Be part of this community service for high school students and travel to Hawaii & Alaska for a one-of-a-kind experience.