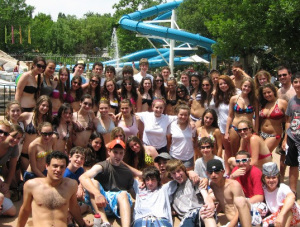 A shout out from the Californian Extravaganza.
The Westcoast Blogger
Hello Again Californian Extravaganza Parents!
The last time I emailed you we were on our way to Salt Lake City, Utah and how the time has flown by! Upon our arrival at Lagoon Campground, we had an amazing pasta dinner that our tour members had been craving. The next day, despite unorthodox weather for SLC, we thoroughly enjoyed ourselves at the Lagoon water and amusement park.
Our next stop was Winnemucca where we enjoyed some well deserved R&R after 4 days of camping. On our way we stopped for lunch and afterward Elissa R. and Jackie offered to help me do a quick food run for our next lunch. What a help they were! Together we took the supermarket by storm and were true powerhouse shoppers! This also gave them the opportunity to pick out a few things that they and other tour members wanted to have at our next lunch.
Our next stop along our route was Lake Tahoe where the weather was beautiful and we spent a lovely day at the beach relaxing, swimming, waterskiing, wakeboarding, and tubing. I went out on a boat with Lauren, Jared P., and Henry. Lauren was the first one out on the water and wakeboarded like a pro! Henry and Jared also had a blast out on the lake waterskiing and wakeboarding.
Monday, we arrived in the city on the bay, San Francisco! Words cannot describe how thrilled everyone was to  be back in the hustle and bustle of a big city. We arrived at the Westin, and everyone was so excited about the accommodations.
Tuesday morning Dillon came up to us and said, "I had the most wonderful sleep! It felt like I was on a bed of clouds!" – true story. That evening we had some time to split off into groups and the staff took the campers around Chinatown to do a little shopping/browsing before dinner. Michelle, Julie N., Elana, Kiran, Jenna W., and I really got a feel for the city and went into quite a few great shops and tea stores to absorb the great culture that San Francisco has to offer!
Tuesday morning we got up and headed for Alcatraz!!  As you know, Alcatraz is an island in the middle of the bay, and Jake found a way to stay particularly toasty amidst the wind wearing his skullcap, or as our Montréalers like to call it, his "tuque." He was very animated and seemed to really enjoy Alcatraz. We even got an amazing tour of the underground jail cells where the families of the workers used to live, as well as where some of the isolation chambers were.  We then enjoyed lunch at Pier 39 and a great baseball game last night.    
 Take care and we'll be writing again soon!
Trip 4 Staff
Do you want to experience academic life and have fun in California? Join our 21-day or 28-day UCLA summer program for high school students and then finish it with 4 days in San Diego and 2 days in Las Vegas.