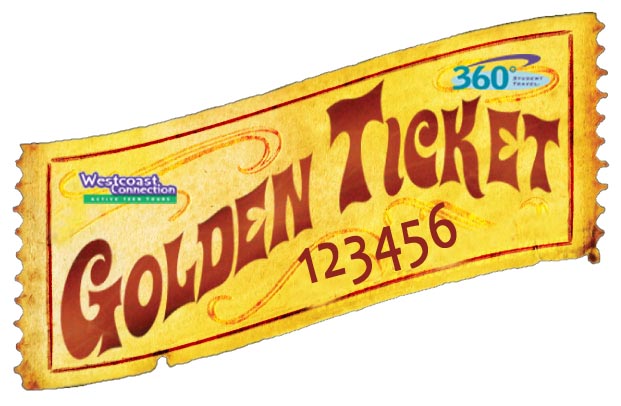 Here at Westcoast Connection / 360° Student Travel, we've gotten into the holiday spirit. For 9 weekdays, starting today we will be hiding one golden ticket daily on our website. It's your job to find them!
The first person to find the daily golden ticket and call our office at 800.767.0227 with the six-digit code will receive a prize and be entered into a drawing with the other Golden Ticket winners on December 15th to receive a $1,000 certificate towards any Westcoast Connection / 360° Student Travel 2010 program.
There is only one winner per voucher and you can only win once.
Good luck and happy holidays.
The hunt begins now!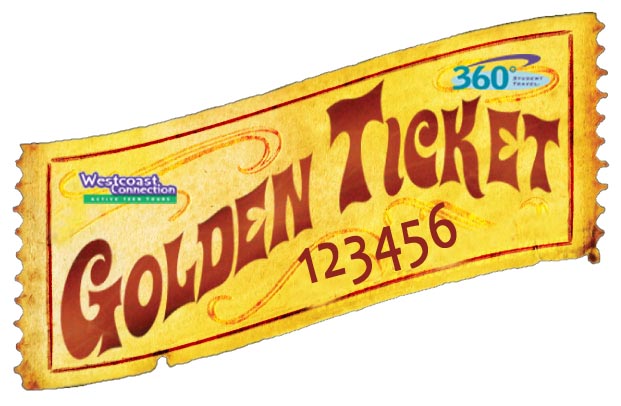 Don't forget, early registration savings up to $600 end December 15th! The Golden Ticket voucher can be combined with these savings.
The Westcoast Blogger
P.S. – I was asked to repost the dancing elves video. For your enjoyment, it is attached below!
[gigya width="425″ height="319″ src="http://aka.zero.jibjab.com/client/zero/ClientZero_EmbedViewer.swf?external_make_id=d0dScHBE6WMfHa5o&service=elfyourself.jibjab.com&partnerID=ElfYourself" quality="high" flashvars="external_make_id=d0dScHBE6WMfHa5o&service=elfyourself.jibjab.com&partnerID=ElfYourself" wmode="transparent" ]