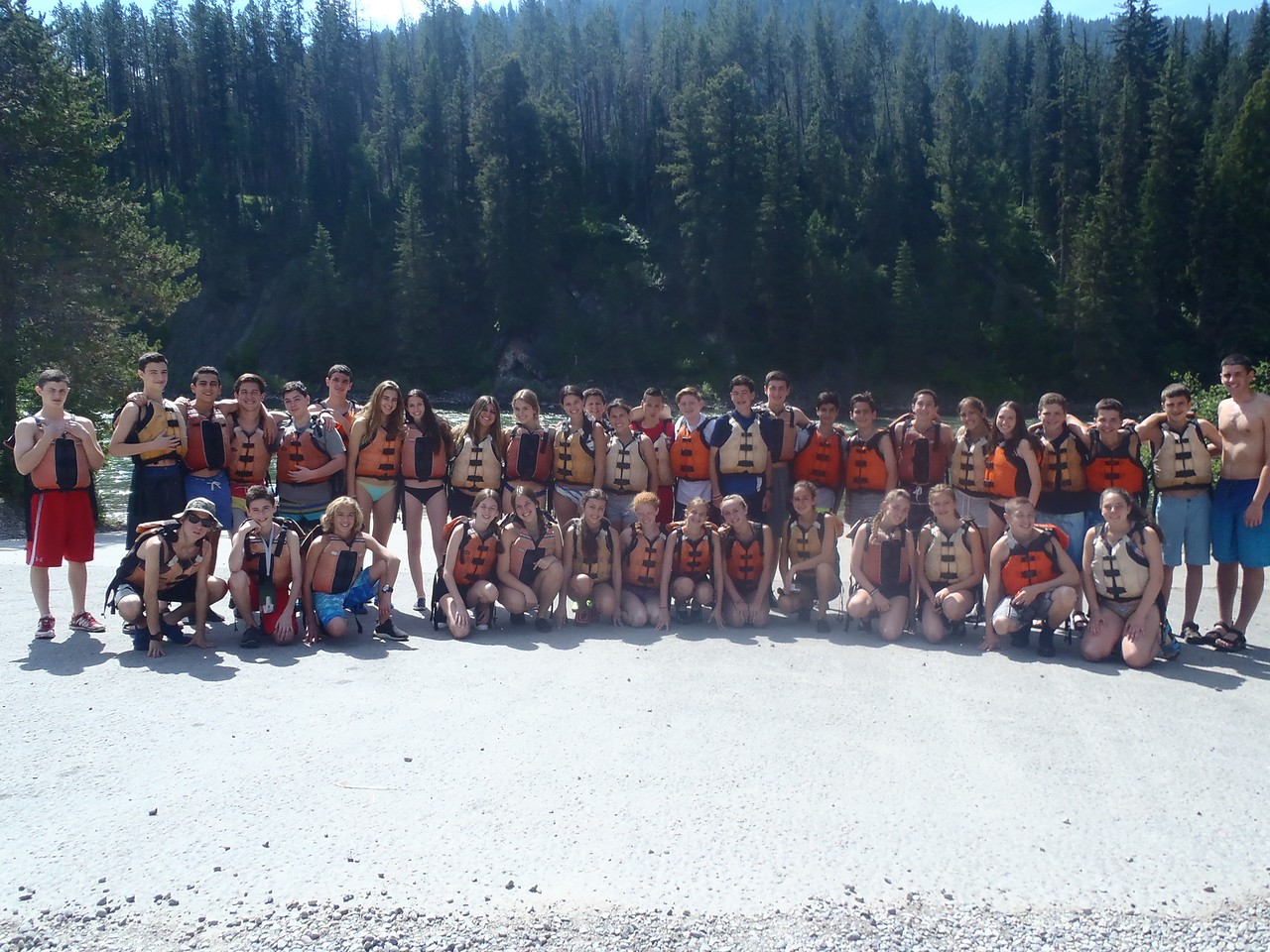 Good morning / afternoon / evening to the friends and families of the Great Voyageur Trip!
The first weeks traveling the western states of America as well as western Canada have been absolutely amazing! The trip got off to a great start with camping in Salt Lake City. After some initial ice breaker games at the airport we loaded our very blue (but very luxurious) coach bus and headed to the campsite for lunch. Our camp site was conveniently located right next to Lagoon amusement which featured elk, camels, and even bison grazing in the petting zoo! After a quick game of Quest, we got our first taste of the delicious Westcoast Connection campsite dinners. We then headed to the much anticipated Lagoon Amusement park where we rode roller coasters all night with little to no line ups! Matt was especially excited for the new "Cannonball" coaster which features a past-vertical drop. Ness managed to win a stuffed cow at the carnival game which has become the bus mascot for the trip.
The next morning it was on to Park City, home of the 2002 winter Olympics, and the super fun alpine coaster! Some of the trip members even rode tandem for an extra thrill as we took in the beautiful mountains of Utah. In the afternoon we headed to the water park to cool off on some wicked fun body and tube slides, as well as catch some sun rays in the lazy river. Dinner out at an authentic Italian Grill was not only delicious, but had everyone discovering each other's accents from different parts of the east coast. The night ended with bowling at some nearby lanes where Trip Director Andy impressed us with his fine-tuned technique, and Will bowled multiple strikes in style!
After a delicious pancake breakfast (courtesy of Aaron's cooking skills), we headed to Jackson Hole, Wyoming on a drive which featured stunning views of mountains and passages. When we arrived in Jackson, the rec center we went to was a blast! Trip members bonded over basketball, water slides and card games. For our first full day in Jackson Hole, white water rafting was definitely the highlight. As we piled down the Snake River in full rafts, our river guides expertly manoeuvred us through the rapids! Even the "Big Kahuna" rapid didn't stand a chance against our expert paddling and precise teamwork. The Snake River certainly lived up to its name as we saw a small river snake pass by our boats, totally harmless but totally cool!
Our stay in Jackson ended with a Westcoast Connection original program in a nearby park. The staff ran a creative auction where trip members bid fake money on riddles that represented mysterious prizes for the rest of the trip! The next morning we traveled to Yellowstone National Park where we were lucky enough to see the "Old Faithful" geyser erupt in all its glory! It was incredible to see the forces of Mother Nature working to create such a spectacle for all to see. We then travelled to the Painted Pots where we were treated to the stunning colors created from thermo water heated by the magma of the Yellowstone super volcano! It was hard to imagine that we were in the caldera of an actual volcano that exploded over 600,000 years ago.
After one night in Great Falls Montana we are now finishing up our stay in Calgary and will update you sometime soon. We know more adventure and excitement await!!
Until next time,
The Westcoast Blogger