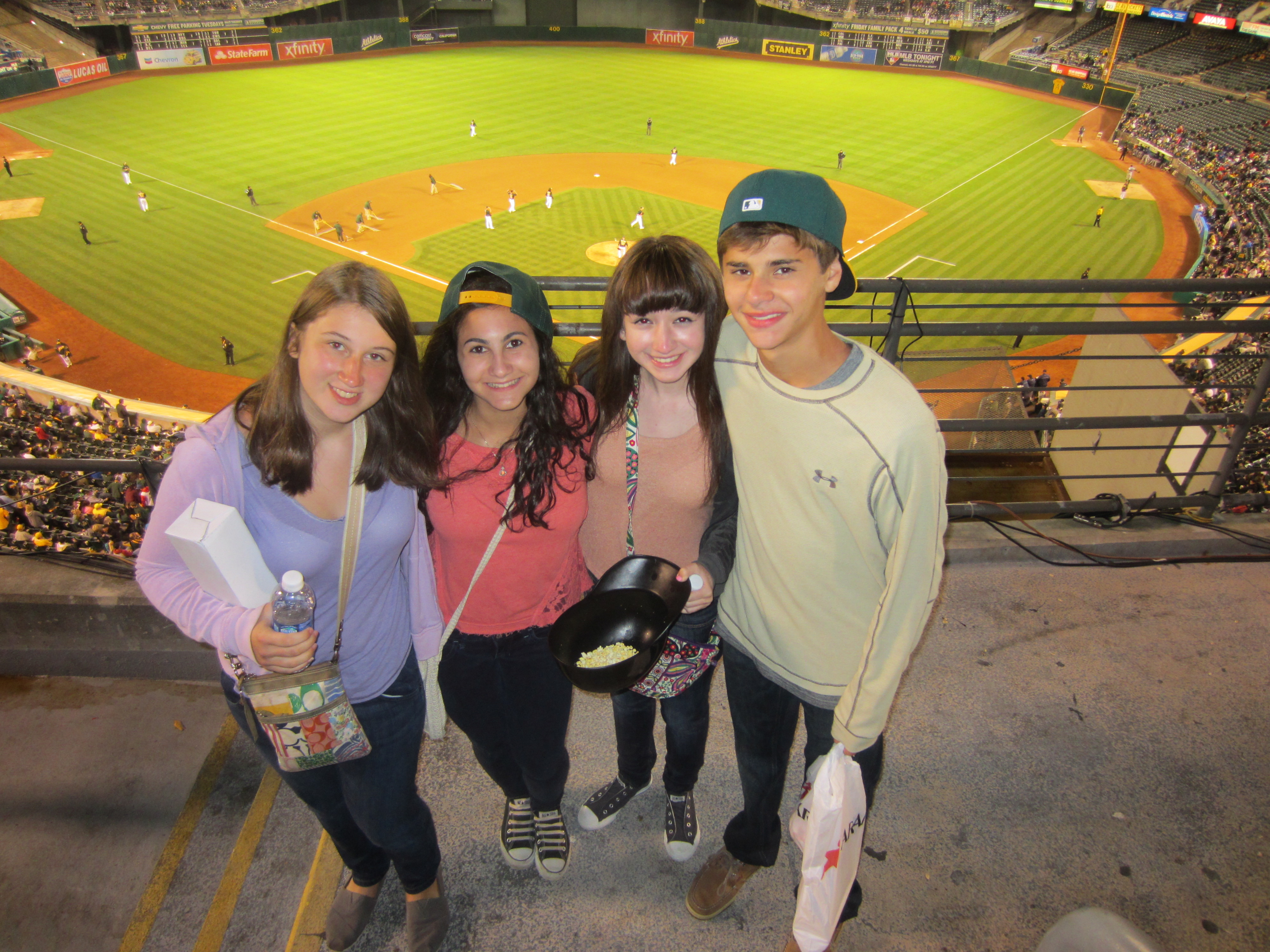 California Extravaganza checks in with an update: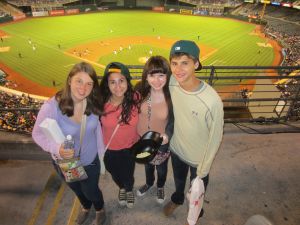 Day 9
Lake Tahoe is GORGEOUS and we all enjoyed a great day on the beach waterskiing, tubing, wake boarding and just hanging out. Hannah, Cole, and Gail claim they've never water skied but we don't believe them because they all got up on the first try and made it look so easy.  At lunch time Ava handled the grill, flipping burgers and hot dogs for the group to enjoy. Following a relaxing day at the beach was a ride around Lake Tahoe on an awesome sail boat where Jesse D., Corey, and Ariana were astounded by the vast water and panoramic mountains.
Back at the campsite, Marc's staff group was hard at work preparing taco night for the group. Jesse L. was so skilled at chopping tomatoes that he was even tasked with teaching the rest of the group how to do it right. That evening's activity included a few rounds of flashlight sing and Liv led her group in coming up with as many songs as possible with the words "sun," "California," and "love" in them. S'mores around the campfire was the finishing touch to our day in Lake Tahoe, especially for Sam L. who loves toasted marshmallows, and now we all go bed with smiles on our faces as we get excited for San Francisco tomorrow 🙂
Day 10 – HAPPY BIRTHDAY SYDNEY!
We've arrived in San Francisco and started off the 3 day stay with a trip to Oakland for an Athletics game. Many of the boys were eager to see the match against the Seattle Mariners and we were all thrilled when the game ended in an extra-innings victory for the A's. The trip was made extra special with a welcome shout out for Westcoast Connection and an extra-extra special shout out to Sydney for her 15th birthday on the big screen. Cutler and Alec helped get the crowd rowdy and made a celebrity debut on the megatron, dancing and cheering for the home team and showing the stadium just how much fun our trip is. Trip Director Shelby and Company Director Mitch surprised Sydney with a slice of chocolate cake and we had our whole section sing Happy Birthday. The bus ride home was a lot of fun – even though it was after dark, Izzy, Cayla, Mike, Jesse D., and Rachel sang at the top of their lungs to the morning mix.
Day 11
Did you know the Golden Gate Bridge is not actually red, but is its own unique color orange? Well we learned that today as we made our way over to the bridge for a photo op. We also got some great footage of Sarah, Madi, Morgan, Jessica, and Matt A. doing "the move" in front of the scenic bridge. Across the bridge in Sausalito, the group took on a "trade up" challenge: each group was given a pen and encouraged to try to trade for something better. In the end, the trip ended up with a glass sailboat and some bracelets. Luke, Kyle, and Jake's group claimed they had a whole box of goodies that they ultimately gave away but Leah's group certainly did not come back empty-handed: they finished with a very pretty glass perfume bottle! As for the "crookedest" street in the world, Lombard Street provided us with gorgeous views and a thigh-high workout as we hiked all the way up and down the zigzag street.  Jake, Jason, Andrew, and Sabrina got some great photos of the famous Californian landmark. Next up was Ghirardelli Square where we all indulged in deliciously rich chocolates and ice cream including Max B, who had his first bite of chocolate in years and is happy to report that it's not so bad! The cable-car ride to China Town was also really fun; Ryan J., Zach K., and Bobby said it was like going back in time. Dinner at Oriental Pearl was delicious as Sam M., Mike, PJ, and Kyle reflected on how much we've grown as a group and how close we have all become since our first day meeting at the Denver airport! We can't believe it's almost halfway through but we are so excited for what the rest of the trip has in store!!
Day 12
Here in San Fran, Alcatraz is only a ferry ride away, so we braved the deep waters and made our way to the former military base and more notably former maximum security prison. Dani, Alyssa, Blake, and Alex were captivated by the stories of the former prisoners, guards, and attempted escapes. Zach S., Matt H., and Sami had fun riding the ferry back and forth – the views of San Francisco were great and the Bay was calm and serene. For lunch at Fisherman's Wharf, Eli, Eddie, Luke, and Olivia checked out some of the fun shops, Ryan A., Max R., and Zach H. tried some local foods and, of course, enjoyed the NFL shop with team gear from all over the country! Now we're ready for a great dinner at Mel's Diner and then to dance the night away at a disco. Ventura Beach tomorrow!!!
The Westcoast Blogger
Do you want to experience academic life and have fun in California? Join our 21-day or 28-day UCLA summer program for high school students and then finish it with 4 days in San Diego and 2 days in Las Vegas.