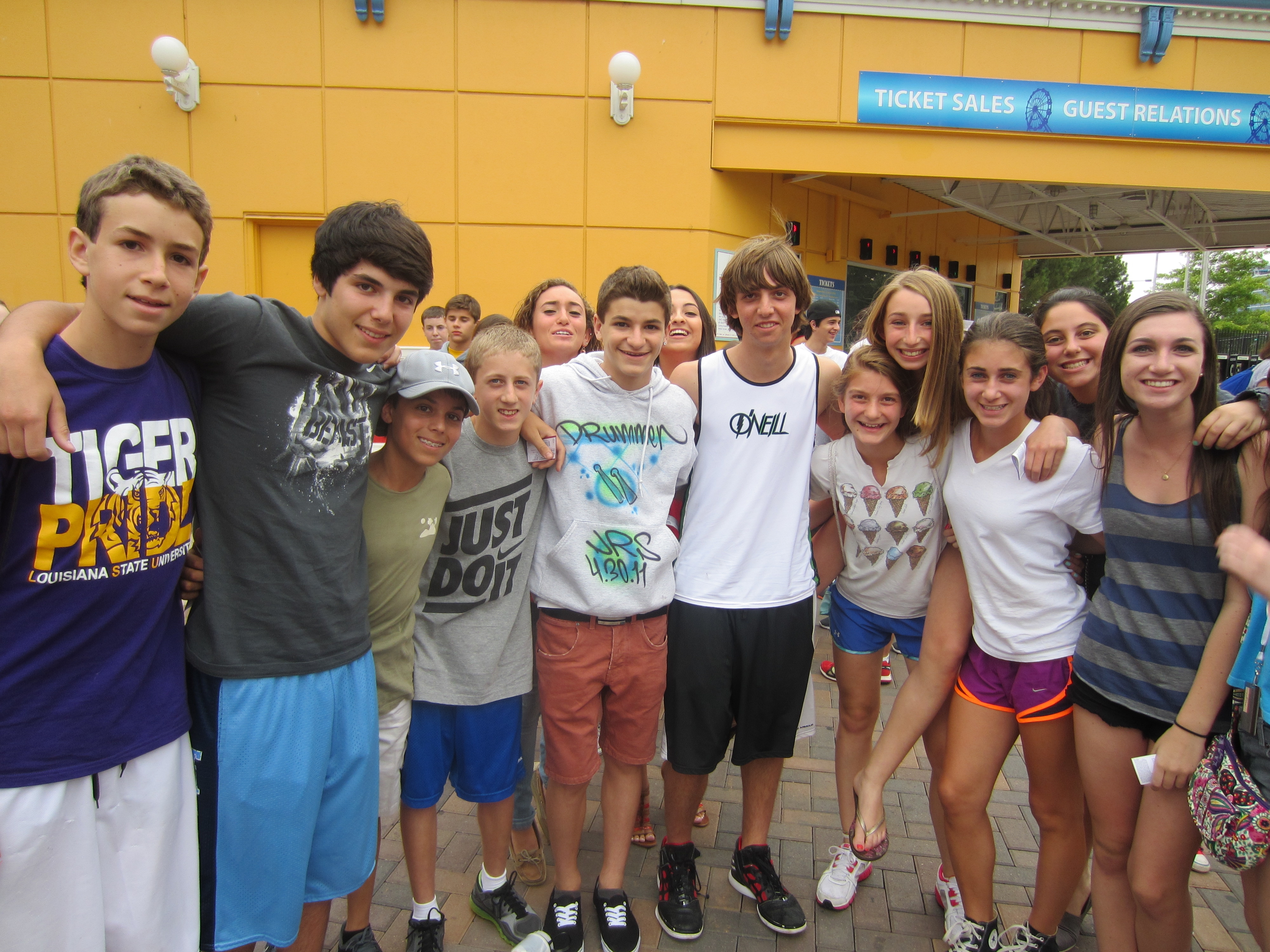 An update from the Californian Extravaganza!
Day 1
None of us can believe the day is finally here, but we are so happy that our trip has begun. After meeting our 57 new best friends and our awesome bus driver RC at the Denver airport, we kicked off our trip with fun games, songs, and conversation at the University of Colorado, Boulder. It is SO beautiful here… the mountains are the perfect backdrop to this awesome city and we couldn't ask for a better place to get to know one another. Zach S., Morgan and the Trip Leader Estee realized they all went to the same summer camp, and Jordan and Trip Leader Ashley found out they have mutual friends from home!
After fun and games at the dorms, we headed to The SINK for an incredible dinner. Learning that the restaurant was on Diners, Drive Ins, and Dives we knew the food had to be good. Alex claimed a Man vs. Food victory over his BBQ Bacon Burger and Chipotle fries as Luke, Max B., Jesse D., and Zach H shared one of the restaurants famous extra large pizzas. Olivia and Cole added our trip name to the ceiling graffiti as part of the Westcoast tradition. Bowling at "The Connection" was the perfect end to long day. Gail and Madi discovered hidden talents while Bobby showed off his skills with several spares and strikes in a row. Jessica surprised herself by coming in fourth in her lane and claims she hasn't bowled in over 3 years!! All in all, a great first day and a sign for what's to come during our summer of a lifetime. Now off to bed to rest up before biking tomorrow!
Day 2
Biking and a stroll on Pearl Street kicked off our second day in Boulder, CO. The first group of bikers had a blast riding along the river. Jamie was a star on her bike, and having only just learned how to ride, she was cruising! Eddie, PJ, and Sam L. helped lead the way for the second group and Ryan J. and Corey had the need for speed! Meanwhile, at Pearl Street, Hannah and Leah shared a love for the same ice cream flavor from one of the street vendors and Matt A., Ryan A,  Sam checked out some of the cool local shops. On the bus ride back to the dorms, we shared some fun facts about roller coasters to get psyched for Elitch Gardens in the afternoon and we found out that Eli has ridden King-da-Ka at Six Flags Great Adventure, the world's TALLEST roller coaster!
The day wasn't over yet though, and our trip to Elitch Gardens amusement park was much anticipated. Jesse D. dominated the basketball toss and won our trip a new mascot: a giant stuffed flamingo, name to be determined! Kyle and Jake also came away with their share of prizes showing off their skills at the different arcade booths. Liv and Alyssa discovered a common love for roller coasters and, hand in hand, were the first ones to conquer all of the biggest rides in the park including the Boomerang and the Mind Racer. Rachel braved it out and conquered her first roller coaster! Alec was a perfect gentleman and accompanied terrified Trip Leader Ashley as she screamed her head off on all the rides. Sarah and Sami took in the beautiful view of Denver's mountains atop the ferris wheel – we were sure to take lots of pictures! Day Two was really a blast and we can't wait for our next stop and camping in Jackson, WY.
Day 3
Our first day camping was a success! Matt H, the birthday boy, was King of the Tents and helped get his tent up first. Ariana and Sabrina took the lead on the girls side and had their team's tent up before anyone else at camp. Izzy was a huge help, showing off her strength hammering the stakes into the ground and tying down the ropes all around the site. After everything was set up, we enjoyed fondue and Matt's birthday cake around a campfire.Day 4
We made our way to Yellowstone park today and Ava, Jon, and Liv were enamored by Old Faithful. We got there just in time for the geysers to explode and Sydney and Cutler took some great videos and photos of the sky high water and steam.   Following lunch, Cayla and Dani raced down the alpine slide tracks. Andrew and Blake were amazed by the breathtaking views from the ski lift. Jason and Mike had an exciting walk around downtown Jackson while Jesse L., Sam M., and Zach K., shot some hoops in Miller Park. The finishing touch to the exiting and packed day was a BBQ picnic in the park with steak, salmon, and chicken…everyone was stuffed!! Zach S. was a huge help preparing the table of food an setting up the garlic bread. Can't wait for Battle of the Sexes and S'mores around the campfire tonight! See you in Salt Lake City!!
The Westcoast Blogger