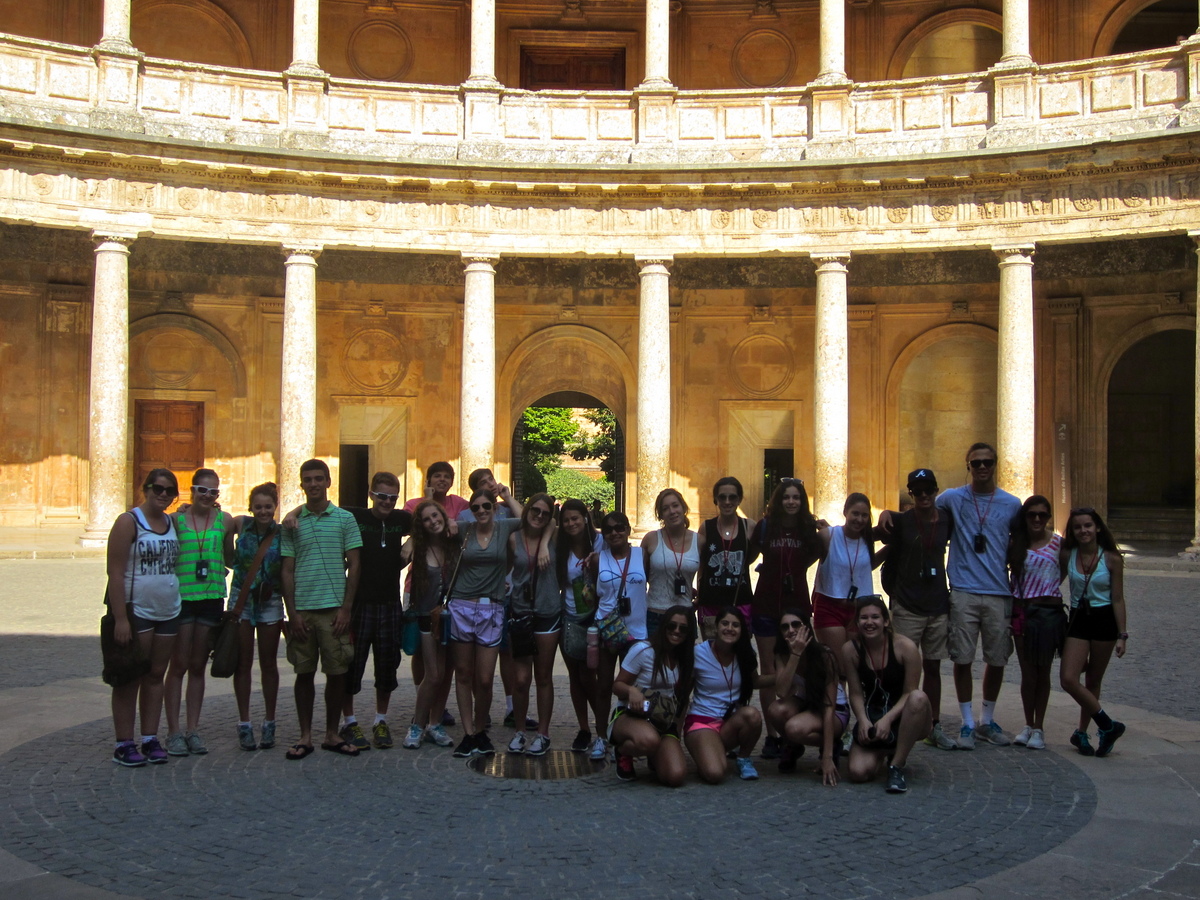 Barcelona ha sido la ciudad más impresionante que visitamos. Desde los museos hasta Las Ramblas, por la comida y la playa, nunca paramos de explorar nuevas cosas. Barcelona tiene algunas de las obras de arte moderno más increíbles del mundo. Particularmente, disfrutamos del arte de Antoni Gaudí. Primero, caminamos por su parque, Parc Güell, el equivalente español del Central Park de Nueva York, y sacamos fotos panoramicas de Barcelona. Seguimos al complejo residencial de Gaudí, La Pedrera. Finalmente nos cautivó el magnum opus de Gaudí, La Sagrada Familia, una de las basílicas más únicas e impresionantes del mundo.
Barcelona has been our most exciting stop yet. From museums to Las Ramblas, to great meals and to the beach, we have not stopped moving and exploring new things! Barcelona has some of the most incredible modern artworks in the world. In particular, we have really enjoyed Antoni Gaudí's work. First we strolled through the park Gaudí designed, Park Guell, the Spanish equivalent of New York's Central Park, and took gorgeous pictures above the Barcelona skyline. Then we toured the Gaudí residential complex, La Pedrera. Finally, we were enthralled by our guided tour of Gaudí's magnum opus, La Sagrada Familia, one of the most unique and stunning basilicas in the world.
Después de semanas viajando juntos, despedimos a nuestros viajeros de tres semanas. Pero primero disfrutamos una cena de despedidas fantástica en la que celebramos también el cumpleaños de Jenn. Después sacamos las últimas fotos juntos encima de la antigua plaza de toros en la Plaza España. Muchísimas gracias a Haley, Sabrina, Samantha, Noah, Sam, Kia, Ben, Dylan, y Daphne por las risas, memorias, y amistades que durarán toda la vida.
After 3 weeks of travel together we had to say goodbye to our three-week trip members. But first we enjoyed a wonderful farewell dinner, where we celebrated Jenn's 17th birthday, and then stopped for some final photos atop the retired bullfighting ring in Plaza España (now a classy mall and dining center). Many thanks to Haley, Sabrina, Samantha, Noah, Sam, Kia, Ben, Dylan, and Daphne for all the great laughs, memories, and friendships that will last a lifetime!
Aunque nos puso tristes separarnos de nuestros amigos, todo el mundo sabía que había mucho más a venir. La próxima noche asistimos una clase de cocinar sorpresa. Todos participaron en la creación de una maravilla culinaria—gazpacho y pan de tomate, paella con pollo, y crema catalán. Sarah P. y Amanda nos impresionaron en cocinar la paella, Eddie y Eva separaron hábilmente la yema y claro del huevo para la crema, y Jenn toco los tomates por primera vez durante la preparación del gazpacho y pan de tomate! Fue la cena más abundante del verano, y a todos nos satisfizo. Sentíamos tan llenos que no compramos gelato.
Although we were sad to see our friends go, there was so much more to look forward to. The very next evening we attended a surprise Spanish cooking class for dinner. Everyone participated to help create a culinary masterpiece—gazpacho and tomato bread for our appetizer, chicken paella for the main course, and crema catalán for dessert. Sarah P. and Amanda were impressive on the paella grill, Eddie and Eva skillfully separated the egg white from the yolk in preparation of the dessert, and Jenn touched tomatoes for the first time to help make the gazpacho and tomato bread! It was the most fun, and filling meal of the entire trip. We were so full that most of us skipped our nightly gelato.
La próxima mañana hicimos un breve desvío de la ciudad de Barcelona y viajamos por las ciudades más pequeñas Figueres y Girona. En Figueres exploramos el museo loco de Dalí, y Ali, Eva, Ilana, Sarah S., Brittney, y Amanda se hicieron pedicuras con peces. En Girona, nos pusimos en equipos para hacer una búsqueda de fotos, sacamos fotos sobre un puente de piedra con una vista espectacular del río y la ciudad entera, y disfrutamos una cena italiana relajante antes de regresar a Barcelona. Todavía, era bastante temprano, y por eso fuimos a la fuente de Montjüic para bailar y ver el espectáculo de luz brillante antes de regresar al hotel.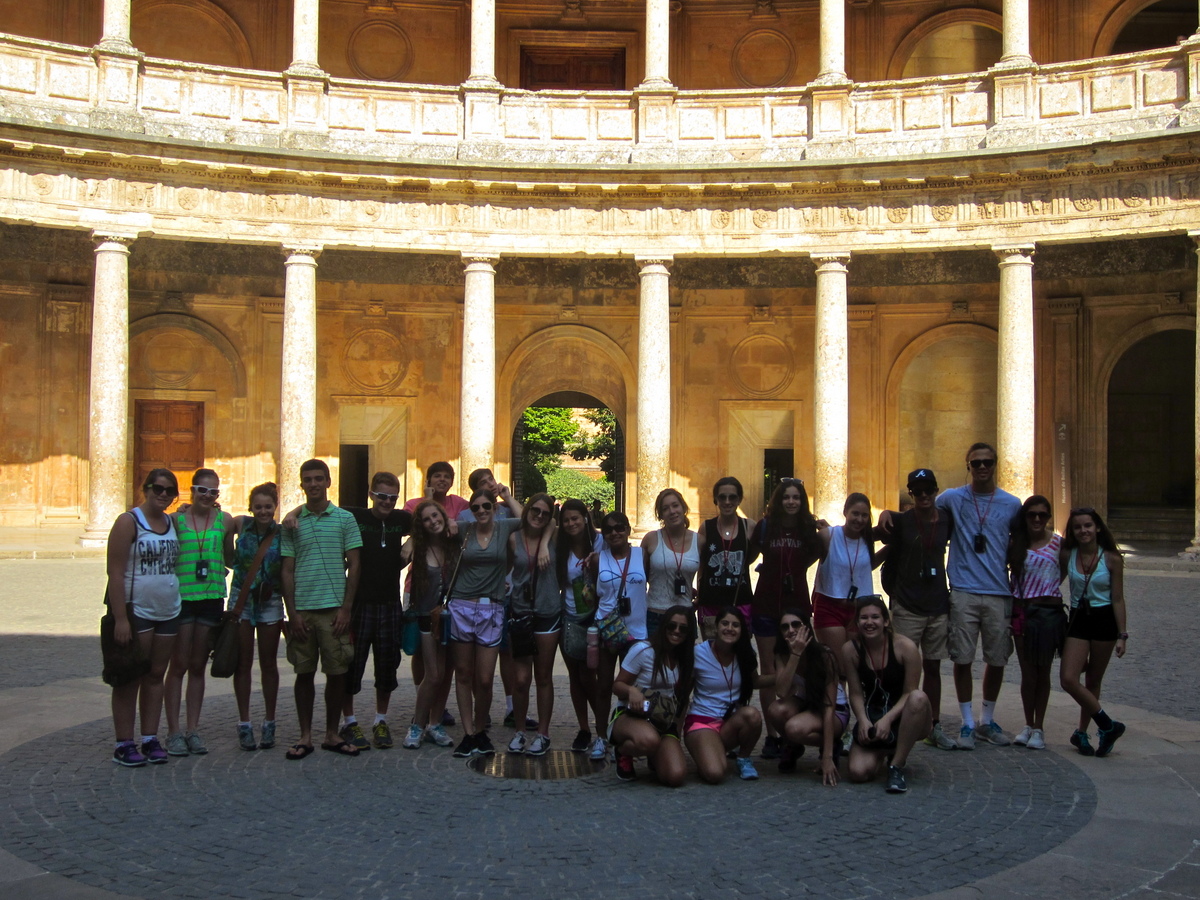 The next morning we took a brief detour from our Barcelona sightseeing to explore the cities of Figueres and Girona. In Figueres we toured the wacky Dalí museum, and Ali, Eva, Ilana, Sarah S., Brittney, andAmanda enjoyed fish pedicures. In medieval Girona, we broke up into teams to compete in a photo scavenger hunt, took pictures on a bridge overlooking the river and gorgeous city, and enjoyed a relaxing Italian dinner before heading back to Barcelona. The night was still young though, so we headed over to the Montjüic fountain where we danced and gazed at the brilliant lightshow before bed.
De vuelta a Barcelona para el fin de semana, pasamos el sábado por el muelle que la cuidad construido para los juegos olímpicos del año 1992. Nos encanto la playa Barcelonetta, donde almorzamos en las discotecas como los famosos y ricos del mundo. Brittney, Amanda, Jenn, Taylor, Ilana, Jay, Stephanie, y Sarah S. ilustraron sus talentos de voleibol toda la tarde. Después de bañarnos en el hotel estábamos listos para regresar a la playa para una cena española y para bailar en las discotecas locas de Barcelona. Toda la gente que nos vio esa noche sabe que este grupo de Westcoast tiene los mejores movimientos de baile en el mundo!
Back in Barcelona for the remainder of the weekend, we took advantage of the exciting pier that was recently renovated for the 1992 Summer Olympics. We loved Barcelonetta Beach, where we ate lunch like the celebrities do at Barcelona's waterfront clubs, and Brittney, Amanda, Jenn, Taylor, Ilana, Jay, Stephanie, and Sarah S. showed off their volleyball serves and spikes all afternoon long. After cleaning up in the hotel it was time for a night out on the town—a Spanish dinner and hitting the discotecas. Everyone on the pier that night knows that this Westcoast360 crew has the best moves in town.
Hoy para nuestro ultimo dia en Barcelona, fuimos a hacer un recorrido del estadio de F.C. Barcelona, el "Camp Nou". Dicen que el equipo es "más que un club," porque estan muy involucrados en la identidad catalán y su popularidad mundial.  Pudimos visitar donde se cambian los jugadores, sentarnos en la galeria de prensa y entrar en el estadio por los mismos passillos que tomaron los jugadores la noche antes cuando jugaron a contra de Valencia.
Today we spent our last day in Barcelona touring "Camp Nou", the F.C. Barcelona Stadium. They say that the team is "more than a club," for its role in maintaining the Catalan identity and its expansive international popularity. We visited the locker rooms, sat in the press gallery and even got to walk out onto the field by the same entrance the players took the night before to play against Valencia. What an experience!
Mañana pasaremos el dia caminando en la montaña hasta el monasterio de Montserrat y despues llegaremos a Sitges para estas ultima etapa de nuestro viaje!
Tomorrow we are going to hike up to Montserrat's monastery for the day and then off to Sitges for the final leg of our trip!
Hasta luego,
The Westcoast Blogger
For more experiences like this, join our 21-day or 28-day trips to Barcelona with our summer spanish language programs for high school students.