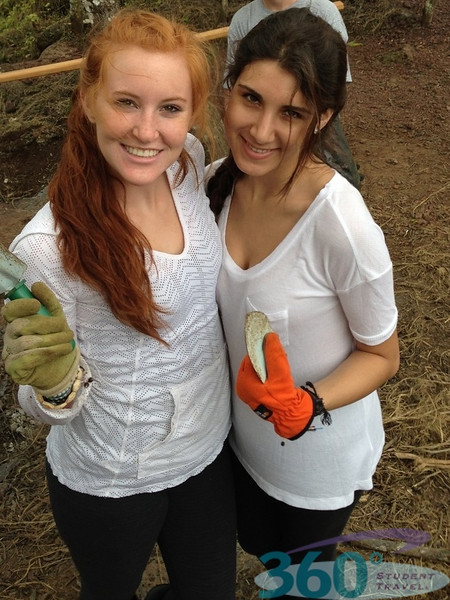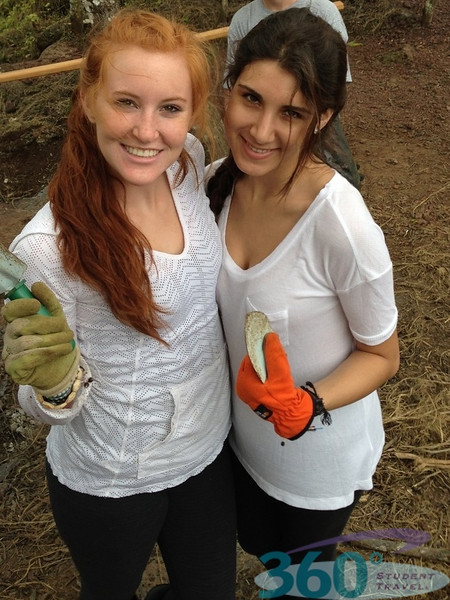 It's hard to believe we're at the end already.
These past 18 days have been a blast.  In one way they've gone by so quickly, but on the other, when we look back at the service or activities we did right at the beginning of our time in Ecuador it's hard to imagine that was only a little while ago.
We finished our service at the Primicias Ranch, where we planted endemic trees and pulled out guavas plants and other invasive species that don't belong in the Galapagos. We started an assembly line going at one point, with Adam and Matt chopping the roots, passing them to Max to pass to Lizzie to throw in our big pile.  The girls continued to keep us entertained with songs and impromptu dancing.  In the afternoons we got to see the giant tortoises up close!  We even climbed into a tortoise shell, Alex first with Jake lying on top of the shell, then Lizzie, Sophia, Gaby and Matt all crawled in.  We also spent some time on the gorgeous beach in Tortuga Bay, where Alex and Gaby caught a baby crab and made friends with it.  Then, Adam with some help from Allie,  drew a cube in the sand to see if it would look real from 50 feet out in the water.  When we were out kayaking we saw tons of bright red-and-blue crabs, stingrays and sharks, as well as the heads and fins of sea turtles popping up to the surface every once in a while.  On our last full day in the Galapagos we traveled to nearby island by boat to snorkel and explore. We saw tons of sea lions and while we were in the water, a baby sea lion came in close to Lizzie, Chloe, Maddie and others, playing in the water!  They were beautiful and so playful.
Our last night in Galapagos, we did a giant Scavenger Hunt where we looked for people who could sing certain songs, $5.31 in exact change, and Adam let Maddie cover his face in pie for 8 points!  Chloe's team won in the end, with points for creativity trying to find a one-legged pirate who would sing Justin Bieber songs.
Our last dinner was spent at a beautiful restaurant/museum, with traditional Ecuadorian dancing from a Mestiza Highlands group, with swirling skirts, kerchiefs and headdresses–it was a really unique send-off.
We did a slideshow our final night, and it's amazing how many memories you can make in two and a half weeks.  Our group of thirteen has done so many unique things together.  As we write this, the guys are writing a constitution for their Gentleman's Union to honor their new friendships; the girls sang Call Your Girlfriend together one last time (with a lot of laughing). We accomplished so much.  Everyone's remembering the things we did together, the mountain we climbed, the communities we helped, the lantern-lit dinners in the Amazon and the weird but awesome jokes that can't help but happen when you put 13 fun, joyful people together and said, "Now do something great."
Until next summer,
The Westcoast Blogger