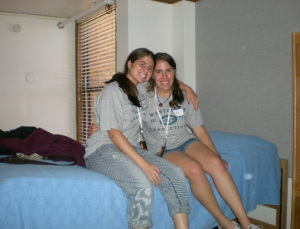 A word from the Californian Extravaganza!
The Westcoast Blogger
Californian Extravaganza is off to a great start.  We started at the Denver airport eagerly anticipating the beginning of our voyage.  New friendships soon developed.  We met our bus driver, Smitty and rolled on to Boulder.  After a short trip, we arrived at the University of Colorado at Boulder – our home away from home for the next two nights.  As we stepped off our bus we couldn't help but stop and stare at the beautiful scene in front of us.  The backdrop of our dorm rooms was the Front Range of the Rocky Mountains.   After unloading our belongings in our rooms we met with our Tour Director, Andy, where we received a warm introduction to the amazing adventure we had before us. 
We met our staff Justin, Ryan, Nikki, Lindsay, and Liz, and went to have our first sit-down meal of the trip.  "The Sink" might sound like an ordinary household fixture to parents but to us it was a scrumptious meal.  We dined on typical American cuisine.  Salads, burgers, and sandwiches filled our stomachs.  "It was neat and I had a good salad" Carly K. exclaimed.  Jen M. thought the handwriting on the walls was very interesting.  She had never seen a restaurant where they allowed people to leave their mark! 
With our bellies full, we then headed to the bowling alley for a fun night of laughter and games.  While some chose to shoot pool, others put on their bowling shoes.  Jordan C. scored 110 and Ross G. mastered the spinning throw.  All in all it was a great first night of Trip 5!
We woke up Tuesday morning to a beautiful sunrise peaking through the mountain tops. We made our way to breakfast to start our day where Nick R. commented, "I want something to start my day off right.  They have an awesome create-your-own omelet station.  I had one with green peppers, and cheese".  After breakfast, we made our way to the Boulder Bikesmith, where half of our group biked and the other half went exploring along famous Pearl Street. 
Liz B. described her feelings about our bike trip.  "I really liked the bike trails.  That was the first time I had biked since I was four.  The landscape was beautiful and serene."  After enjoying some sandwiches from Panera Bread, we got ready for an adventurous evening at Elitch Gardens Amusement Park. "I really enjoyed the Ferris Wheel.  It was a great time," exclaimed Melissa W. when asked what her favorite ride was. Elizabeth G. was able to view an interactive game show themed around her favorite TV show, Survivor.  At the end of the night we headed back to our downs to get a good night's rest for our travel to Wyoming.
Wednesday was Canada Day and we had some surprises in store for us.  We played fast friends – a game much like (adult) speed dating, where we met different people on our trip and  discussed topics like our most embarrassing moment, our favorite food, and our dream job.  Counselor Ryan played a game of Famous Canadians with us as part of our Canada Day celebration.
Looking forward to updating you in a few days with all of our stories from Jackson Hole and Salt Lake City.
Your Trip 5 Staff