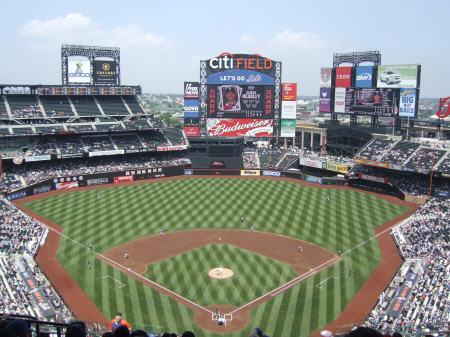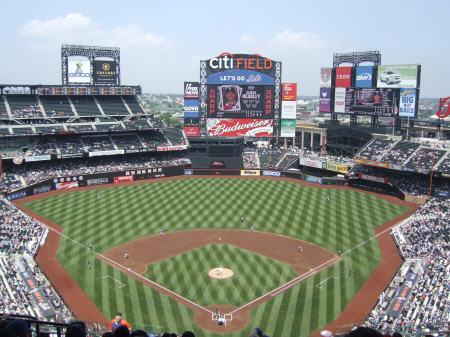 Our trip is rounding third and heading home in a couple of days, but we're not quite there yet. We have had some ultra-exciting moments over the last couple of days. We arrived in Laurel MD. which is equidistant from Washington and Baltimore. We stopped for dinner at Famous Dave's where Isaac displayed his passion for ribs. We all concur that the food there was top notch. Good times at golf and cages came next. Adam took a chance on the driving range for the first time. His swing is pure. However, it's Jack B, our 11 handicap that displayed power and precision off the tees. Jared R crushed some balls as well. All of the guys took advantage of their time in the batting cages. Andrew loves the 80MPH fastball and wowed all of us with his consistent contact.
The next morning, we went to Camden Yards for a thrilling tour of the stadium. The boys certainly appreciate the beauty as well as the brief history of this fantastic ball park. After the tour we left to Washington which was highlighted by The Spy Museum. The tour started with each of our boys acquiring new identities. They had to remember their new identities and answer questions about their own personal missions at various checkpoints throughout the tour. The highlight of the tour was a special exhibit dedicated to 50 years of James Bond. That evening, we headed over to see Washington play Pittsburgh. Greg was so excited for his former Montreal Expos now the Nationals to play. Unfortunately, Pittsburgh came out on top but this loss would not allow Greg to even momentarily take his joy away from the total experience of this trip.
Two days in New York was next on tap. Mets on Day 1, Yankees on Day 2. Let the rivalry begin. We have fewer Mets than Yankees fans, but wow are they passionate. Between Justin and Brandon, the whole group was able to feel their passion. We started the game with a special surprise. Through Westcoast Connection arrangements, compliments of the generosity of the Mets ownership we entered the stadium through a VIP entrance and proceeded right under the stands into the "tunnel" and walked right onto the field for pregame photos. Wow what a thrill and a few of the boys got autographs from Mets Manager Terry Collins as he came over from the dugout to talk. We then proceeded to our VIP upgraded seats and each boy received a MLB goodie bag of souvenirs. Thankfully for our Mets fans, they came away with a big win. The celebration took place that night at Dave and Busters where the boys enjoyed Fajitas, but not as much as their video games. Our bus is now "stuffed" with animals and other prizes that the boys won by exhibiting their gaming skills. Day 2 in New York began early with a tour of Yankee stadium. Our Yankees fans especially enjoyed Monument Park, led by Jesse and Sam. Our boys' knowledge of the history of baseball is truly remarkable. After the tour we had another opportunity to play softball. This wasn't any softball game though. Our game took place on the field on the very site of Old Yankee Stadium. What an incredible experience to be able to play on this field, staring right at the new Yankee Stadium. We were running on sacred ground where all the greats and legends ran before us. Jordan hit multiple bombs to left field and displayed great sportsmanship by supporting the rest of his team. Oh yeah, they also happened to take the win for their second straight. Unfortunately, the same could not be said for the New York Yankees. There wouldn't be a second straight home team win and our Yankee fans left distraught. When we got to the bus, we quickly realized that the sadness wasn't nearly as much about the Yankees loss, as it was about the anticipation of the end our trip. We have just completed attending 11 baseball games in 19 days. We want more!! These boys just can't get enough.
At least we get to finish our trip with Cooperstown, a fitting ending for a trip highlighted by the baseball knowledge of our kids. This will be a blast for them and I can't wait to tell you about their experiences there.
Until next time,
The Baseball Blogger.