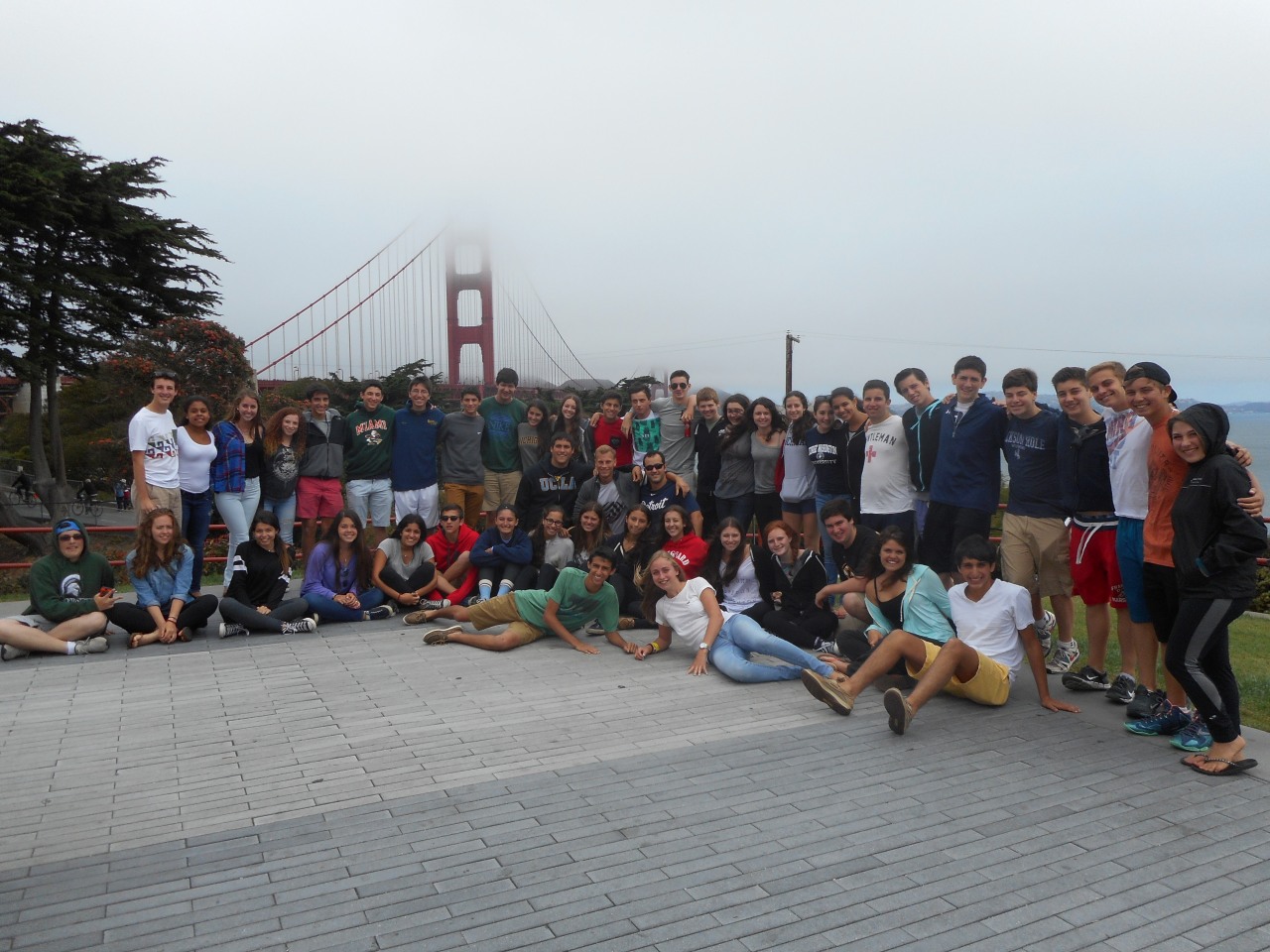 Parents oh Parents!
With one more night to go, we can hardly believe how fast the trip has gone by. So much has happened in the last 10 days, and we couldn't have asked for a better end to the summer.
Our 5-day stop in L.A. started with a visit to the world famous Madame Tussauds Wax Museum, where Noah R. and Matt had some fun posing with a few Hollywood icons. That night, we hit up the Hollywood Walk of Fame, Grauman's Chinese Theater, and posed in front of the historic Hollywood sign for some more sightseeing. We spent the next two days at Universal Studios and Disneyland Theme Parks. At Disney, Jacky, Olivia, Lily, Carrie, Remi, and Emily C. let their inner princesses shine by getting their faces painted like Frozen's Princess Elsa. The following morning, we visited the Museum of Tolerance. A truly eye-opening experience, trip members got a chance to learn about accepting others, and approaching situations from different perspectives. That night, we headed to Santa Monica for dinner, and ended off the evening with a ride on the ferris wheel, where Sam, Ashley, Sydney and Sammi S., all took in the bright lights of the city from high above it. The next day, we headed back to Santa Monica for a walk on the pier, before heading to the famous Rodeo Drive. While all the trip members had their eyes peeled for celebrities, Jordan and Will got a chance to meet Detroit Piston's player Andre Drummond. That night, Allison, Rachel, Alexa, and Carly laughed their heads off during stand-up at L.A.'s famous "Improv" comedy club. Upon our arrival back at the dorms, the Westcoast games broke, and the trip members were divided into two teams, the Black and Blue Ninjas vs. the Red and White Cowboys, which were captained by Sloane and Brent, and Madi and Josh, respectively.
Our Westcoast games got started on the way to Lake Tahoe, with trip members participating in a variety of competitive trip-themed bus games. Once we arrived at our campsite, the fun didn't stop as the two teams squared off in a cook-off extravaganza! The next day, we took our competition to the beaches of Lake Tahoe, where in between tube and boat rides, trip members faced off in a nail biting game of volleyball. Back at the campsite, things got even more heated as the Ninjas and Cowboys raced to complete a series of tasks during the apache relay. Ultimately, it was the Black and Blue Ninjas who were victorious!
The final three days of our trip have been spent in beautiful San Francisco. We started off with a trip to the Coliseum, home of the MLB leading Oakland A's, where to the delight of the crowd, the home team won! We've toured the inside of the infamous "Rock" – Alcatraz, the delights of Pier 39, had our sweet tooth satisfied at Ghiradelli Square, gotten our groove on at a local disco, and walked across the Golden Gate bridge!
While we are sad to see our trip come to an end, we hope that you at home have enjoyed our blog, and that it's made you a little (o.k., a lot) jealous. We've had a total blast with your kids, and we'll be sending them back to you full of good laughs, memories, and stories to tell!
That's all folks,
The Westcoast Blogger