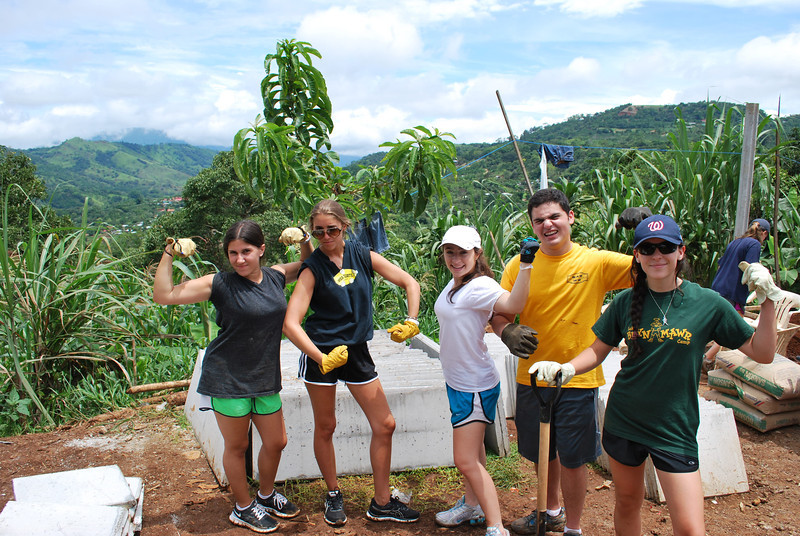 Dear Parents,
It's been a busy past few days in Costa Rica, I don't know where to begin! On day 4 we drove about 2 hours to an area right by the school to the home of a Costa Rican family. This home shocked everyone in that it was a small room with no separation, being held up by tin.
The family welcomed us into their home and their need for a better place to live was immediately apparent. The family was comprised of a pregnant mother, her husband and two children. We arrived at the location and immediately set out to work. The energy was positive and everyone was excited to get down to work. Though it's hard to pinpoint individuals who did specific jobs, we'd like to highlight some standouts. From the get go Nina, Allison, Emily B., Julie, Dana, Francesca and Randi began to chip away at the dirt to create packing soil for the foundation of the house. Sam, Katie, Grant G., Alexa, Morgan, and Grant D., set to work lifting cement slates that would be stacked to comprise the walls of the new house. Fortunately, there were two men Don Henry and Don Anthony who were helping with the heavy lifting and placement of the slates. Jaime, Julia, and Rachel took turns scrubbing down the chairs, so that there would be clean places to sit outside.
Emily G., Mia, Sophia, were immediately drawn to the kids and made a point of getting to know them, despite the language barrier. Maddie, Nick, and Jordana started working on the foundation wheeling dirt into the area where the house would soon be, and packing it down to create the floor. By lunch time everyone had worked up an appetite and we went back to the school to enjoy a home cooked meal! By the end of the day, a lot had been done. The air was filled with excitement and exhaustion. Everyone was tired, but still looking forward to continuing the next day. That evening we went to an intimate restaurant with authentic Costa Rican food!
The next day we went back to the project area with bells on! Everyone was ready to work and took turns working on the different project areas. We made a big card for the family that everyone signed, and left feeling like we made a significant difference. It is truly inspiring what we are doing and we're excited to share even more stories as the trip continues.
Until next time, take care!
The Westcoast Blogger