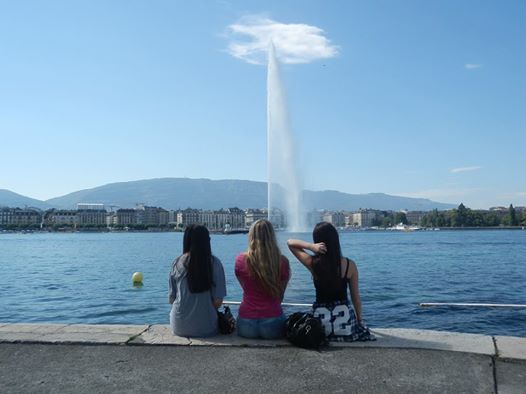 The past few days in Switzerland have been filled with fun and excitement! Our short and sweet stop in the beautiful town of Geneva included a private tour of the United Nations, which we learned is the original UN headquarters. We had an authentic Swiss meal of cheese fondue which was both tons of fun and delicious. Austin found a new love for eating, which he now shares with the Swiss.
We relaxed and took photos by the crystal clear Lake of Geneva as the famous jet d'eau shot water way up into the sky before our eyes.
Hayley pushed her fears aside as she powered through Europe's largest indoor high ropes course. She even climbed down the rock wall at the end of the Zipline! Matt F, Matt W, Kayla, Sarah, Jason and Jordan conquered every possible obstacle as they worked their way up to the hardest course. Cole of course, found time to snap pictures of every one on the course once he completed his route.
The people of Interlaken proved to be warm and generous as we determined in our game of trade it up. We got creative for a little friendly competition in our pursuit of the attempt to trade a pencil for items deemed most valuable and unique. Matt F, Chloe, Alex, Julia and Johnny stole the show as they managed to attain a leather umbrella, a mug, and a t-shirt! We all had a lot of fun comparing all the quirky things we came back with.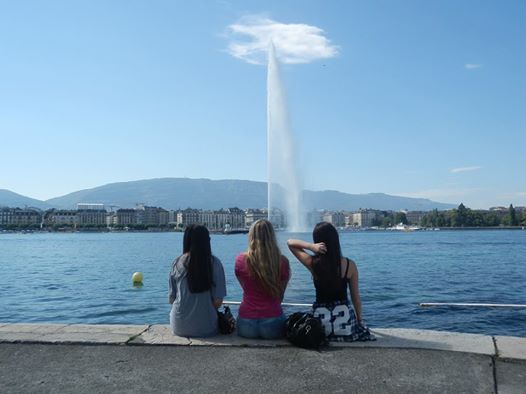 On their pursuit of "the best pizza in town" Matt S. and Cole discovered a restaurant which they enjoyed so much at lunch that they brought the whole group back there for dinner. Despite the fact that we are still on Swiss grounds, this was our first real taste of Italy!
A street magician truly impressed Alex and Chloe with his ability to read their minds by performing a card trick he had up his sleeve. Johnny discovered cookie flavoured Gelato which quickly became a hit amongst us all.
All decked out in wetsuit gear, we became a group of thrill-seeking adventurers as we rafted down a white water river through the Swiss alps. Luckily Tessa was able to snap some pictures of the beautiful views along the way with her waterproof camera! Johnny, Jason and Matt F used their strength to lead the front of one raft through the rapids. Harley, Marta, Jordan and Andrew R. really had a great time!
As we stood on the final train platform, we listened to our morning song, Pompeii, one last time all together. Although we are sad to say goodbye to our friends who are leaving us, we cannot wait to embark on the second half of our journey in Italy!
See you in Cinque Terre,
The Westcoast Blogger
Do you want to join this amazing adventure? Get ready for our one-of-a-kind Italy, France and Switzerland tour with a small group of high school students.