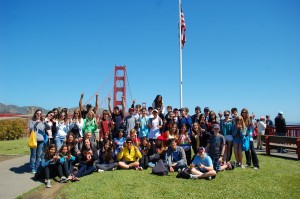 We all know we're turning 30 (happy birthday to us!) but we should also let the Golden Gate Bridge join in on the celebrations as it is turning 75!
The bridge opened in 1937 and connects the northern tip of the San Francisco Peninsula to Marin County (home to  Sausalito, a small fishing town we village on many of our western Active Teen Tours). The bridge has been named one of the Wonders of the World and it is arguable the most photographed bridge in the world. When the bridge opened, it was the longest suspension bridge in the world and had the world's tallest suspension towers.
Some fun facts …
To build the bridge today would cost $1.2 billion.
The bridge is coated in orange vermillion or International Orange, a color chosen to compliment the surrounding scenery and improve the visibility in fog.
38 painters continually paint the bridge and 17 ironworkers continually replace corroding steel and rivets
As of April 2011, 1,929,896,448 vehicles have crossed the Golden Gate Bridge.
Some recent movies that have featured the Golden Gate Bridge as the backdrop include Going the Distance, Star Trek, Mega Shark vs. Giant Octopus, Monsters vs. Aliens, X-Men: The Last Stand and the Core.
The bridge has been closed three times when wind gusts were over 70 mph – fortunately that has not happened when our groups have been there!
Join the celebration this summer on a western Active Teen Tour.
The Westcoast Blogger
Have we piqued your interest? Join us on a 14-day escorted tour of California. It will be the travel experience of a lifetime. Start planning your next adventure with Westcoast Connection today!